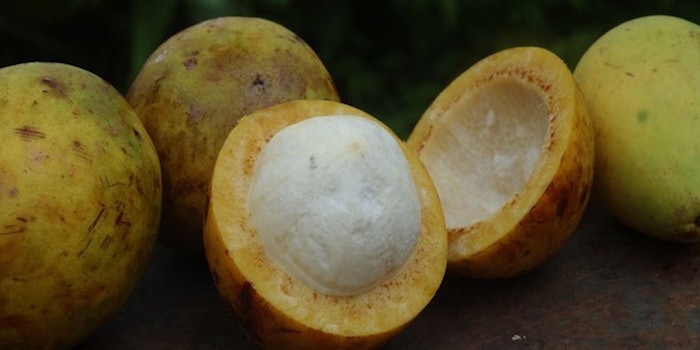 Sourced from Brazilian biodiversity, Beraca's bacuri butter (INCI: Platonia Insignis Seed Butter (and) Tocopherol) was developed to meet the demand for youthful, healthy-looking skin. This nourishing ingredient is rich in magnesium, zinc and calcium, and contains vitamins D2, E and K. It increases energy production at the cellular level and delivers deep hydration. The ingredient's nourishing and energizing properties also are suggested for scalp care products.
In addition to high nutritional value, the bacuri butter is a source of tryptophan amino acid, which, in the presence of light, is metabolized into biologically active compounds such as serotonin. This neurotransmitter is associated with the sense of well-being.
To assess the ingredient's nutritional properties, Beraca conducted in vitro assays with human skin cells that revealed a 40% increase in the transport of chemical energy (ATP) within cells. Furthermore, 15-day clinical trials with bacuri butter at concentrations of 2% and 4% performed in female volunteers over 45 years of age revealed a 30% improvement in the integrity of the skin barrier, an 8% reduction in trans-epidermal water loss and a 15% increase in skin's moisture levels.  
Beyond the natural active cosmetic benefits, bacuri butter plays an important role in the social and economic development of the Amazon region. This ingredient is sourced from local communities that use the bacuri pulp for the production of sweets, ice creams and juices, and previously, the seeds were discarded. By identifying the potential of the butter extracted from the seeds for the cosmetic industry, Beraca empowered the communities to turn waste into an extra source of income.
Beraca will launch its ingredient during in-cosmetics Latin America on Oct. 5 and 6, 2016.