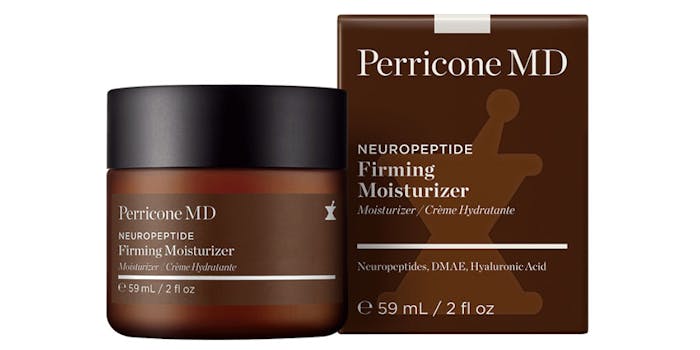 Perricone MD's Neuropeptide Firming Moisturizer purports to be one of the best hyaluronic acid moisturizers on the market.
Formulated with neuropeptides, it claims to visibly correct skin wrinkles, sagging, imperfections and discoloration. Dimethylaminoethanol (DMAE) is utilized to lift saggy skin while hyaluronic acid imparts essential and deep hydration, quenching skin for a plump, youthful appearance.
This column will review the ingredient listing for claims substantiation and functionality.
Editor's note: This article aims to provide an idea of the ingredients cosmetic manufacturers are using that could potentially support the stated product claims. Without specified use levels or access to clinical studies, the author is drawing conclusions based on speculation; albeit from years of clinical experience and, in some instances, evidence in the literature. The following is offered for your consideration and further verification.
Emulsion Base
The product is an oil-in-water emulsion with the lipid phase containing the emollients isopropyl palmitate, cetearyl alcohol, glyceryl stearate, PEG-100 stearate and ceteareth-20. Caprylyl glycol is emollient and humectant. Further, phosphatidylcholine is an emulsifying agent. Disodium EDTA serves as a buffer, and dimethicone is an emolliency-improving silicone.
Phenoxyethanol, sorbic acid and potassium sorbate serve as preservatives. The product also contains fragrance and the potential allergens citral, citronellol, geraniol, hydroxycitronellal and linalool.
Active Ingredients
The active ingredients in the hydrophilic phase are the amino acids taurine, shown in vitro to improve epidermal barrier, and tyrosine, a dopamine precursor. Dimethyl MEA, an amine, has had mixed results in terms of hydration and firming of the skin in clinical studies. However, in vitro studies support its effect on the metabolism of dermal fibroblasts.
The acetyl hexapeptide-8 imparts reported anti-wrinkle efficacy and penetration profiles from a spectrum of vehicles. Finally, the hygroscopic sodium hyaluronate provides moisture.
Conclusions
In my view, the ingredients in the formula support the claims for hydration and a reduction in the appearance of wrinkles; in fact, acetyl hexapeptide-8's anti-wrinkle efficacy has been studied in Chinese populations. However, the mode of action of DMAE on the skin should be further investigated, as discussed in past clinical studies.
Ingredients: Water (aqua), Isopropyl Palmitate, Cetearyl Alcohol, Taurine, Tyrosine, Glyceryl Stearate, PEG-100 Stearate, Ceteareth-20, Phosphatidylcholine, Dimethyl MEA, Acetyl Hexapeptide-8, Sodium Hyaluronate, Disodium EDTA, Dimethicone, Caprylyl Glycol, Phenoxyethanol, Sorbic Acid, Potassium Sorbate, Fragrance (parfum), Citral, Citronellol, Geraniol, Hydroxycitronellal, Linalool
Source: Perricone MD website