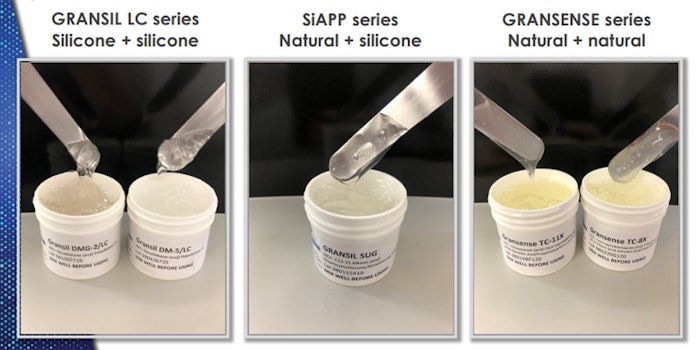 Gransense (INCI: Dilinoleic Acid/Propanediol/PDI Crosspolymer) is a next-generation elastomer technology from Grant Industries, offering silicone-like sensory traits, but also compatibility with naturals and sunscreens. 
Tania Viana, technical manager for Grant, gives a brief overview in this video, recorded during the December 2019 SCC Annual Meeting and Technology Showcase. She will also present full details, including formulating tips and tricks; concepts of biodegradation vs. degradation; an elastomers toolbox and more in a free webcast, coming April 21, 2020. Register now.
Briefly, Gransense's biodegradability, USDA certification and COSMOS approval provide formulators an attractive option for today's consumer demands. As Viana explains in this video, silicone elastomers are usually compatible with one side of the formula spectrum—the nonpolar side. However, Gransense can cover the full spectrum, as is compatible due to its polyester base with natural oils and organic sunscreens. It also provides the same sensory characteristics as silicones: a cushiony, velvety after-feel with hydration and moisturization.
Watch the below video for a sneak peek. For more information, visit the Grant Industries website and register for the upcoming webcast.