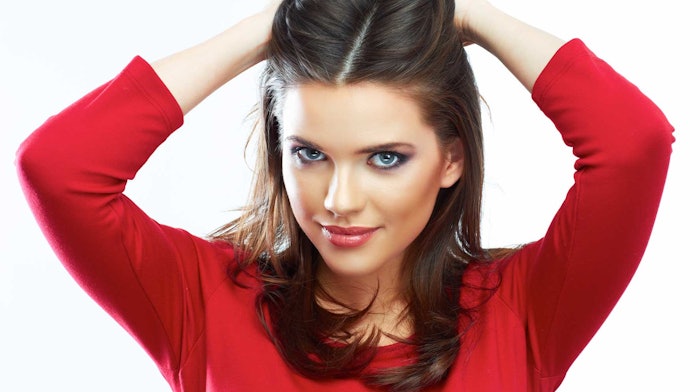 Inolex highlights its LexFeel N350 MB (INCI: Diheptyl Succinate (and) Capryloyl Glycerin/Sebacic Acid Copolymer), a 100% plant-based dimethicone alternative and hair color protectant. The ingredient pairs a highly versatile copolymer with a soft and lightweight ester, creating a synergistic blend superior to one component alone. 
See related: Can Natural Polymers Replace Synthetic Carbomers?
According to the company, the natural and sustainable emollient has the sensory feel and spreading profile of dimethicone. It provides color protection in hair care products and conditioning comparable to dimethicone 350 cSt.
The product is said to be non-persistent in the environment, yield only water as reaction byproduct, offer 98% atom economy and be non-irritating to skin or eyes. Its manufacturing process requires low energy, compared with the manufacture of silicones, and is based on 100% renewable plant feedstocks including coconut, palm, castor and corn.
LexFeel N350 MB is designed to enable silicone-free formulations. I imparts hair color protection and wet comb and dry comb performance comparable to dimethicone. It is recommended for use in conditioners, anti-frizz products and styling products.
In addition, the ingredient:
can serve as a dispersing emollient for color pigments and inorganic UV filters;
improves skin feel in creams and lotions;
enhances the shine and texture on hair;
reduces the greasiness of natural oils; and
is suitable for all applications.