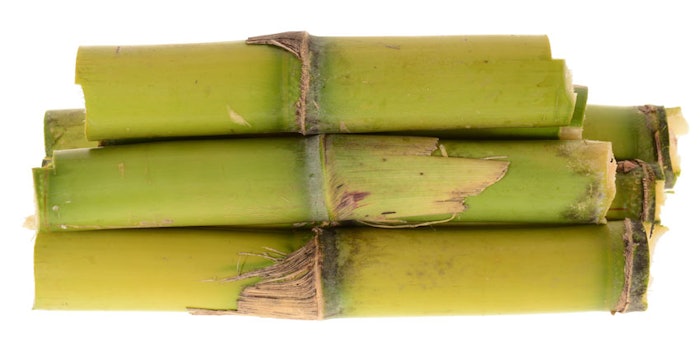 More than 35,000 products were launched between 2014 and 2019 containing cyclomethicones, according to Mintel. 'These are widely used to achieve even makeup coverage, spreadability and a light and dry feel in antiperspirant, sun care, color cosmetics and makeup removal,' John Toner, senior marketing manager of Aprinnova explains. But as the industry is well-aware, consumers are demanding silicone-free products.
"Furthermore, in recent months, the European Chemicals Agency has listed cyclomethicone as a 'Substance of Very High Concern,'" Toner writes, and "as such, it will now be restricted to levels of no more than 0.1% in the EU in wash-off products by 2020, and similar bans for leave-on applications are under consideration for as early as 2021."
He continues, "Currently, there isn't a drop-in replacement, as [potential replacements face challenges] including sustainable sourcing (for instance, being non-palm derived), naturality and non-VOC. Within this context, we are positioning hydrogenated farnesene as the complete natural and sustainable alternative to D5."
This material aligns with ISO 16128 Standards, as hydrogenated farnesene is 100% naturally  derived from sugarcane, and is sustainably sourced and manufactured. "The data we are sharing demonstrates its performance qualities are equivalent to D5 or better," Toner adds.
The data will be presented at the SCC Annual Meeting and Technology Showcase, to be held Dec. 17 and 18, 2019, in New York. There, attendees will learn the various efficacies of the material, as demonstrated in antiperspirants and deodorants; sun care; color cosmetics, e.g., for lasting effects and sensorial benefits; and makeup removal. Following is a preview.
Antiperspirants/Deodorants
In a 12-expert panelist evaluation of antiperspirants and deodorants, based on the Skinfeel Descriptive Analysis Method (ASTM MNL13), users did not perceive statistically significant differences in performance between materials. The immediate after-feel of the company's Neossance Hemisqualane (INCI: Hemisqualane) was equal to that of D5, and in fact perceived as slightly less sticky. In addition, 15 min after application, the residue left by D5 was perceived as more greasy and whitening on fabric, whereas hemisqualane had a higher gloss and slip.
Sun Care
In sun care, 52 individuals compared the sensory benefits of a sunscreen containing hemisqualane applied once daily for three days, and another containing D5 applied once daily for three days. They reported on parameters including spreadability, dry feel, absorption, rub-in, texture, greasy/non-greasy and lightness on skin. Test participants perceived the performance of the two formulas equally.
Color Cosmetics
A clinical evaluation examine the long-wear characteristics of a cream foundation containing 15% hemisqualane or 19% D5 in a half-face comparison of seven panelists. Image analysis of facial texture and pores was captured instrumentally at initial application and 6 hours post-application.
Regarding facial texture, no significant difference in texture was perceived immediately or six hours after application. Similarly, facial pore analysis revealed no difference between D5- and hydrogenated-farnesene-containing foundations immediately and six hours post-application.
Furthermore, sensory evaluations of the color formulas were performed by eight expert panelists. Wear, coverage and playtime were nearly identical between the D5 and hemisqualane samples. In an additional 50-panelist consumer sensory evaluation, results indicated parity in key performance parameters attributed to D5, although hemisqualane rated higher than D5 for a non-greasy and non-sticky texture, elegance, ease of application, ease of blending and for evening out skin tone.
Makeup Removal
Finally, to compare makeup removal attributes, 100% hemisqualane or 100% D5 was used to remove benchmark lipstick, foundation and mascara. Samples of these products were evenly applied to tape substrates and allowed to dry for 12 hours at room temperature. Then, 0.2 g of D5 or hemisqualane was applied to the set product and rubbed by hand in a circular motion 20 times, with any excess sample removed by tissue. Hemisqualane was found to perform than D5 for makeup removal.
Taken together, these studies show the efficacy of the naturally derived hydrogenated farnesene matched or surpassed D5, offering formulators a comparable alternative for silicone-free formulating.
For more information, contact Aprinnova.