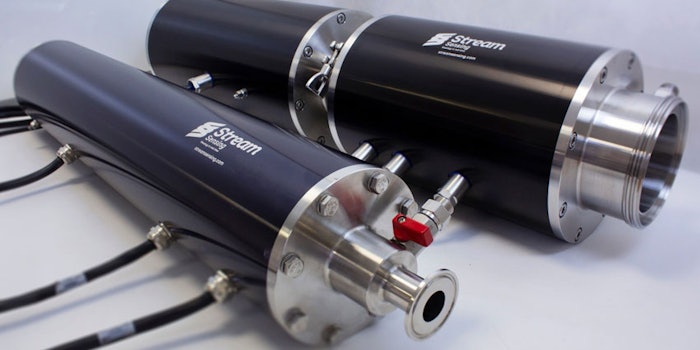 Stream Sensing
Stream Sensing Ltd., a spin-off of Industrial Tomography Systems (ITS), has launched the Stream Line Rheometer to enable automated, in-line rheology measurements for fluid process optimization.
Suitable for complex fluids, the Stream Line Rheometer and accompanying software is designed to help improve process efficiency in the personal care, household cleaning, food, pharma, specialty chemical, and oil and gas sectors.
Measuring rheology is crucial when products undergo multiphase mixing, the company explains. This is especially important for personal care products such as liquid soap, shampoo and toothpaste, where maintaining appropriate ratios is critical to product quality and safety.
See archived: In the Thick of It; A Primer on Polyelectroyte Crosspolymer Rheology Modifiers
The patented rheometer, developed at ITS, is based on an electrical resistance sensing technology and provides continuous measurement. It does not interfere with the production process and it eliminates the need for sampling or time-consuming, lab-based testing. According to the company, the technology has been proven to provide 98% accuracy compared with offline rheology measurements.
Early in 2021, Stream Sensing secured an investment from NPIF–Maven Equity Finance, managed by Maven Capital Partners and part of the Northern Powerhouse Investment Fund, allowing the business to fully commercialize the technology and support its planned growth.
"The ability to accurately measure the flow profile of liquid in a pipe in real-time is a game-changer for FMCG manufacturers and other process companies," said Ken Primrose, CEO of Stream Sensing. "Until now, they have used sampling solutions that measure flow properties during the manufacturing process, resulting in the loss of millions of pounds each year because of time and materials wasted while waiting for test results."
Primrose added: "... Ensuring the rheology is right is key to product quality and effectiveness. We're already in the advanced stages of trialing the technology at processing plants of leading blue-chip manufacturers, and are excited to be offering this unique digital technology to global processing markets as part of the Industry 4.0 revolution." 
See archived: In the Thick of It; How Viscosity Shapes Packaging Choices