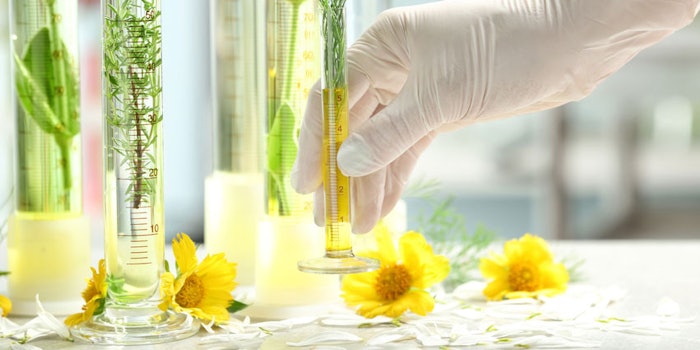 Naturein Wheat Peptides (INCI: Water (aqua) (and) Hydrolyzed Wheat Protein)—a natural thickener obtained from 100% French origin, locally-sourced wheat and crafted by green fractionation—were highlighted by Givaudan Active Beauty during in-cosmetics Latin America, held on Sept. 18 and 19, 2019.
According to the company, ecological and natural beauty are two of the biggest hair care market trends in the industry. In fact, its Clean and Natural Study 2019 demonstrated 91% of consumers are interested in clean beauty for hair care. In addition, 80% of those surveyed felt that wheat proteins fit the idea of clean beauty for hair well, and 78% thought the local wheat biomass aligned with the concept. The new Naturein Wheat Peptides were built upon these two tenets.
Reportedly a perfect alternative to cationic guar, the product acts as a conditioner to smooth and detangle the hair. Amandine Scandolera, Ph.D., head of biological evaluation for the company, noted "Cationic guar is the most used chemical ingredient in the hair care market. To prove the effectiveness of our natural asset, we opted for tests that put Naturein Wheat Peptides in competition with cationic guar. Results prove that it is more effective in record time."
Clinical tests were carried out in 100 individuals and showed 3% of the wheat peptide extract significantly improved (+20%) detangling in wet hair, versus a +15% improvement with 0.3% cationic guar. In addition, the wheat peptides significantly improved (+22%) the combing and smoothness of dry hair versus 5% with 0.3% cationic guar. In panel testing, 80% of subjects thought their hair felt good (versus 40% placebo) and 70% thought their hair was easier to untangle (versus 45% placebo) after applying the active product. 
To inspire would-be formulators, Givaudan's formulation experts crafted a leave-in conditioning spray based on the Naturein Wheat Peptides, additionally including the company's ResistHyal (INCI: Water (aqua) (and) Sodium Hyaluronate (and) Hydrolyzed Hyaluronic Acid (and) Phenoxyethanol (and) Lactic Acid) hair beauty enhancer. These solutions were mixed with natural buruti and moringa oils for repair benefits, and saffron flower and guarana extract to strengthen the hair.