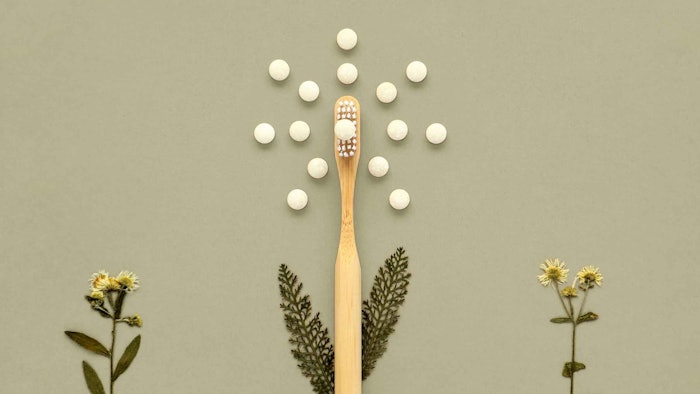 Olena
The trend for natural personal care extends beyond topical products and into health and hygiene routines. Herbarom Laboratoire, an Herbarom Brand, sought to address this demand with novel natural oral care introductions at Cosmetic 360, held Oct. 18-19, 2023 in Paris. Two demonstration products, a solid toothpaste and a mouthwash, were developed using Herbarom's mint essential oils, distilled peppermint water and lemon rind extract.
See related: Herbarom to Showcase Solid Line, Apple Line at in-cos 2023
According to the company, traditional oral care ingredients such as chlorhexidine, triclosan or cetylpyridinium chloride pose environmental and safety concerns. As such, essential oils and plant extracts have become key alternatives thanks to their antiseptic, antibacterial, antifungal, anti-inflammatory or pain-killing properties. Herbarom notes that it puts its natural ingredients through a rigorous selection process — from sourcing to traceability and gentle extraction techniques.
Solid Chewable Toothpaste
The solid chewable toothpaste with a mild minty flavor was developed using 100% natural origin ingredients, includingHerbarom's spearmint (Mentha viridis L.) and peppermint (Mentha x piperita L.) oils. Besides mint's natural antimicrobial benefits, it can impart anti-inflammatory properties, per the company. Also, when incorporated in oral care formulas, mint can reduce the appearance of various pathologies and stimulate the secretion of saliva, which is essential to good oral hygiene.
See related: Formulating Zero Waste Cosmetics
Mint and Lemon Mouthwash
The mint and lemon mouthwash was designed for a refreshing, antibacterial effect. The 98.50% natural origin formula contains 45.38% organic ingredients, including the company's spearmint (Mentha viridis L.) and peppermint (Mentha x piperita L.) essential oils, distilled peppermint water (Mentha x piperita L.) and hydroglycerine extract of lemon rind (Citrus limon (L.) Osbeck).
Per the company, lemon is widely used to whiten teeth. It also contains citric acid, which helps to prevent the tartar that yellows teeth and causes dental problems such as tooth decay, gum disease and bad breath. The mouthwash is said to effectively strengthen tooth enamel and prevent tooth decay and tartar while freshening one's breath and purifying the mouth area.