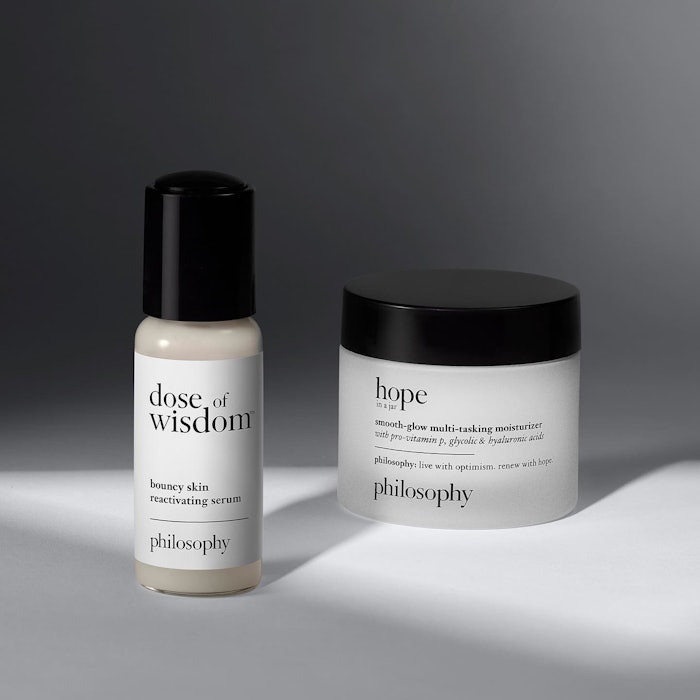 Philosophy Facebook
Coty is rolling out Philosophy this month under a new brand motto, "dermatologic wisdom" and highlighting a new franchise, Dose of Wisdom. The rollout has begun in the United States and will go global in the autumn of 2023. The brand will feature new visual codes, including the Leaping Bunny logo. 
The revamped brand mission forefronts "proprietary formulation techniques like encapsulation, microdosing, vectorization, or molecule grafting for superior, scientifically proven product efficacy with innovative, targeted, yet gentle delivery to the skin, even on sensitive skin," per the company. 
To illustrate, Dose of Wisdom has debuted with a Bouncy Skin Reactivating Serum, which comprises an oxygen-rich Vitality Booster to support the energy production of skin cells, molecule-grafted hyaluronic acid for deep hydration and molecule-grafted vitamin C for skin-friendly collagen support.
The Leaping Bunny certified cruelty-free formulation is said to support plumped, revitalized skin.
"It is an exciting time for skincare brands in the Coty portfolio," said Coty chief scientific officer Shimei Fan, Ph.D. "Philosophy is a beloved brand with loyal consumers who value its authentic approach to beauty, which is reflected in its new formulation principle. Combined with Coty's deep skin care heritage and innovative IP, it is the perfect timing to give Philosophy fans the brand comeback they have been waiting for."
"At Coty, we know that consumers don't want to make trade-offs; they want efficacious, kind to the skin, and cruelty free skin care," said Coty chief brand officer, prestige, Constantin Sklavenitis. "As the original feel-good beauty brand, Philosophy believes in a better approach to beauty. We are thrilled that philosophy has joined the ranks of other Coty brands which are approved under the Cruelty Free International Leaping Bunny program."