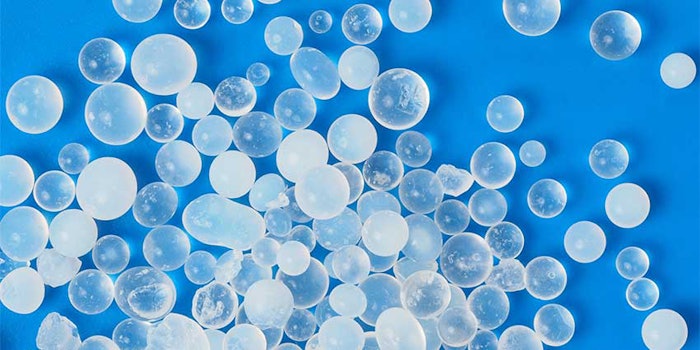 Dreamstime_28957259
AGC Chemicals has released research demonstrating its microspherical silica gels in personal care product formulations can improve performance properties by extending shelf life, imparting a softer feel and reducing shine.
Related: Microbeads Now Biodegradable with Green Science Alliance
To test for softness and smoothness, MIU (friction coefficient) and MMD (smoothness) parameters were utilized. These showed that Solesphere enhanced formulation slipperiness and smoothness versus plastic beads, even after drying.
The company explained that when plastic beads are touched, they can deform due to their softness. This increases the contact and frictional force between the beads. On the other hand, silica beads are hard and do not deform, and since they maintain their spherical shape, the spheres improve rolling on the skin.
Sebum absorption also was assessed. As sebum secretion accumulates, two things happen: light reflection is reduced and shiny spots form—and according to the company, too much sebum can cause makeup to collapse/break up. With this, AGC tested Solesphere's sebum absorption with a sebumeter in four male subjects.
After washing their faces, the subjects immediately entered a room held at a constant 68°F and 55-60% RH. After 30 min, two 1.0 mg samples were applied to the forehead, one containing Solesphere and one without. Sebum was measured for 10 sec after 30 min and after 150 min. The results showed Solesphere decreased sebum outflow.
Previously: Fine Silica for Fillers, Absorbents and More in Makeup
Analysis of sebum absorption using a gloss meter showed Solesphere better prevented shiny spots from forming, compared with plastic beads. Due to a high pore volume, the silica gel spheres can absorb considerable sebum, which helps makeup last longer.
In relation, the effects of Solesphere in lipsticks were assessed. The ingredient improved the sensory properties and formulation stability of lipstick. Adding the silica microspheres to the formulation also decreased its glossiness, providing a matte effect, and provided some physical stability.
Finally, the sensory benefits of Solesphere were evaluated in sunscreens. The microspherical gels moderated stickiness by imparting high slipperiness and smoothness into both oil- and water-based formulations. Regarding the feel, compared with different bead fillers, Solesphere provided higher slipperiness and smoothness, and hard particle and point-contact. These effects are reportedly due to its higher specific volume and more particles per unit weight.