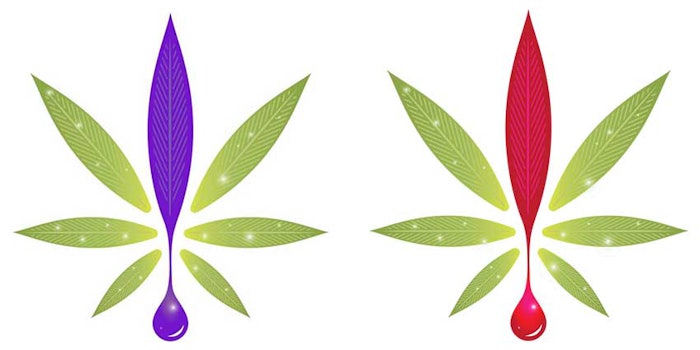 Bio Component Research (BCR)
Bio Component Research (BCR) has presented two THC-free CBD-based ingredients: Purple Haze Emulsion (INCI: Water (Aqua) Cannabis Sativa Leaf Extract (and) Glycerin (and) Cocos Nucifera (Coconut) Oil (and) Propanediol (and) Cocos Nucifera (Coconut) Water (and) Cocos Nucifera (Coconut) Fruit Juice (and) Coco-Caprylate/Caprate (and) Lecithin) and Cherry Blaze MCT (INCI: Caprylic/Capric Triglyceride (and) Cannabis Sativa Leaf Extract).
Purple Haze Emulsion
Purple Haze Emulsion is a naturally derived, multifaceted cosmetic ingredient that encapsulates the activity of broad-spectrum cannabinoids from the hemp plant into a fluid dispersion. According to the company, the lightweight fluid absorbs quickly, leaving skin soft, hydrated, rejuvenated and protected. When used in formulations, it reportedly improves esthetics, enhances stability and boosts the biocompatibility of the otherwise difficult-to-formulate broad-spectrum cannabinoids.
As BCR explains, when human dermal fibroblasts are deprived of essential nutrients, the body moves into a stressed state, resulting in decreased metabolic activity, which can lead to apoptosis. In vitro testing shows Purple Haze Emulsion increases mitochondrial respiration by 50% at a concentration as low as 1.5 µg/mL. According to BCR, bioactivity at low concentrations is important in cosmetic actives that target fibroblasts, and this product was notably active in a broad dose range from 1.5 µg/mL to 8 µg/mL.
Gene expression analysis shows Purple Haze Emulsion also upregulates SFRP1 while promoting the expression of aquaporin-9. Aquaporin-9 upregulation signals improved moisturization, as well as skin oxygenation and epidermal differentiation. Upregulation of SFRP1 signals inhibition of the Wnt pathway, and such activity has been reported to result in the inhibition of melanogenesis and keloid formation. Furthermore, in the same study, more RNA was collected from the cells treated with Purple Haze Emulsion, which further proved its metabolism-boosting activity. Taken together, these homeostasis-stabilizing effects of Purple Haze Emulsion provide an advantage in dealing with skin issues.
The suggested use level for this ingredient is 0.1-5.0% in skin, body, sun and hair care, and color cosmetics. It can be used for cold-processed formulations and is said to have complete water dispersibility with a simple mix. Additionally, it reduces the tackiness of carbomer-containing formulations.
Cherry Blaze MCT
Cherry Blaze MCT is extracted from the cannabis leaf in a mixture of medium-chain triglycerides to provide a range of skin care effects. It comes from a strain known as Cherry Blossom, which is an indica-dominant hybrid with roughly a 30:70 sativa/indica ratio. 
According to BCR, even though the genetics of this strain have not been fully elucidated, it is widely believed to have come from a crossbreeding of Berry Blossom, Cherry Pie and Harle Tsu. The cannabinoids found in these strains make Cherry Blossom particularly useful for skin care applications. Cannabinoids are potent anti-inflammatories and have the ability to treat a variety of skin ailments such as psoriasis, eczema, acne and rosacea, BCR reports. 
Cannabinoids also are effective antioxidants, helping the skin to fight off the deleterious effects of free radicals generated by pollution, UV exposure, smoke and other toxins. As noted, medium chain triglycerides (MCT) are the carrier for this ingredient, which act as an emollient and skin-replenishing agent while delivering the cannabinoids and terpenes extracted from the hemp plant.
For more information, contact Bio Component Research.