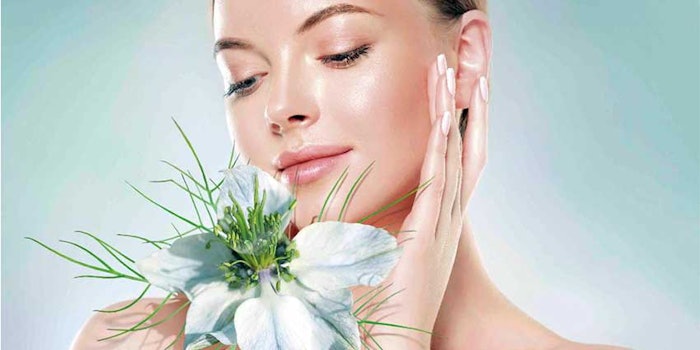 TriNutra has launched a natural anti-aging ingredient, B'utyQuin (INCI: Nigella Sativa Seed Oil) to boost the mitochondrial functions that slow with age. The ingredient is a skin energizer, diminishes inflammaging and has scalp soothing capabilities.
Related: Black Cumin Rises in Rank Amongst Herbal Remedies
B'utyQuin is a standardized, bioavailable and stable cold-pressed oil from Nigella sativa seeds for cosmetics. It is standardized to contain 3% thymoquinone (TQ), the potent and active molecule, as well as fatty acids like linoleic acid, oleic and palmitic acid. Together, they impart anti-inflammatory, antioxidant and soothing benefits. According to the company, careful standardization to contain a low level of free fatty acids (FFA) helps to keep the product from going bad and thereby maintains its high efficacy and stability.
Black cumin oil has reportedly been used for centuries to treat skin conditions such as infections, inflammation, wounds and pigmentation. Studies attribute its therapeutic use to antimicrobial, anti-inflammatory, antioxidant and wound-healing properties. While black cumin oil contains many active components, thymo­quinone is an abundant constituent to which most of the herb's biological properties are attributed. Black cumin oil potency is therefore related to both its TQ content and, as previously mentioned, FFA.
The company reports that in most commercially available cold-pressed oils, the levels of these components are not standardized and can vary between 0.2-1.5% TQ and 5%-20% FFA, which affects the oil's potency and stability. Furthermore, cold-pressing is said to have advantages over selective solvent or CO2 extraction, as it maintains the seed composition whereas extracts contain only some fractions.
Previously: Comparatively Speaking: Traditional vs. Non-traditional Natural Oils
TriNutra also reports its black cumin oil boosts mitochondrial functions, respiration, metabolism and energy production (ATP). Several changes may occur to mitochondria during the aging process. The most common is a decrease in enzymatic activity in proteins of the respiratory chain—leading to less efficient respiration and subsequent reduction in ATP production and metabolism.
Affecting mitochondrial functions and imparting additional known benefits of black cumin oil such as anti-inflammatory and antioxidant makes black cumin oil beneficial both as a nutraceutical and cosmeceutical.
Finally, the active was also found to impart anti-fungal effects against Malassezia furfur. According to the company, M. furfur is an opportunistic pathogen associated with seborrhoea, dandruff and other dermatological conditions. This finding led to the clinical application and testing of B'utyQuin in a scalp serum, which exemplified soothing relief of scalp redness, scaling and itch.