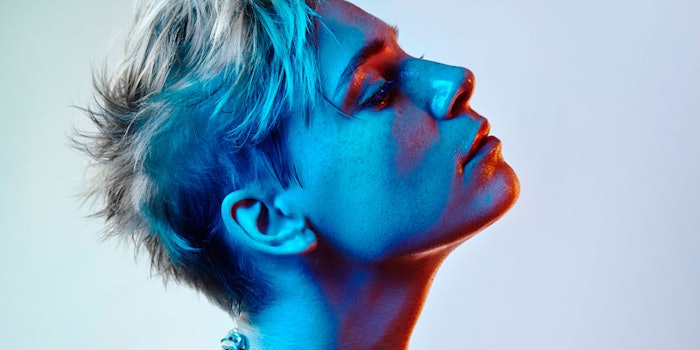 From the moment they wake, to wherever consumers journey, Lipotec's latest technologies, presented at in-cosmetics Global, will perk up their skin; connect them to their roots and beliefs; and look ahead to a bluer future.
This year's launches included a skin-awakening peptide to improve skin complexion; tree extracts to boost barrier function; a vegan stevia extract with retinoid activity; and formulation concepts for personalized skin and hair solutions. Plus, the company won silver in the Green Ingredients category for its skin care active to repair and protect against blue light damage.
Cellular Alarm Clock for Skin
According to Lipotec, the skin's complexion varies throughout the day due to biological rhythms, and tends to present lower barrier function, water content and cutaneous microcirculation in the early morning. These processes are regulated on a cellular level based on clock genes. The JARID1a protein has been shown to act on clock genes, turning "on" the cells every morning and activating their physiological functions.
In relation, the natural rhythms of the body cannot adapt to today's accelerated pace of life, which generally does not allow for sufficient or restorative sleep. As a result, skin dryness, dullness and early signs of aging occur.
In response, Dawnenergy (INCI: Not Provided) is a nona- or oligo-peptide developed with the aim to awaken the cells of the skin by activating their "alarm clock." The ingredient has been shown to increase the JARID1a protein and clock genes, visibly improving the skin's complexion via revitalizing and anti-aging activities.
Legendary Skin Care: Mistletoe and Yuzu
Following its regionally focused Actismart-branded botanical path from 2018, Lipotec now looks to trees, which are admired in many cultures throughout history and often considered as sacred symbols, appearing in myths and legends as symbolic connections between the Earth and the supernatural. In relation, two oil-based Essences of Mythic Trees were launched from distinct parts of the world: Actismart mistletoe (INCI: Not Provided), from Europe, and Actismart yuzu (INCI: Not Provided), from Japan. 
According to the company, mistletoe is a sacred plant of the druids, used to heal wounds and cure illnesses. Characterized by polyphenols, the Actismart mistletoe product has been shown to restore damaged skin through increases in the basement membrane, type IV collagen and extracellular components.
Furthermore, one of the most cold-resistant citrus trees is reportedly yuzu. According to Lipotec, there is a long Japanese tradition in the winter solstice of taking a yuzu bath to warm the body, ward off winter colds and help heal chapped skin. Also characterized by polyphenols, Actismart yuzu effectively boosts key lipids and proteins of the barrier to help protect the skin from cold and dehydration.
Vegan Retinoid Alternative
Cosmetic formulators are seeking to include vegan, environmentally friendly or safer alternatives to renown skin care ingredients in cosmetics. According to Lipotec, one example is retinoids, which are effective for skin smoothing and anti-wrinkle activity but can be irritating to users. As such, the company introduced a specially derived stevia extract, Stevisse (INCI: Not Provided) as a gentler and plant-based alternative to retinoids.
Using the patented Phenobio subcritical water extraction methodology, the company is capable of obtaining eco-consciously enriched botanical extracts to recover a broad spectrum of the plant's phytoactives without undesired chemical solvents. In vitro, Stevisse was shown to improve skin's response against oxidative stress and prevent the degradation of key ECM proteins, while reducing skin inflammation.
Personal and Individualized Future
To capture specific and extraordinary aspects of personal care's future, Lipotec designed a set of skin, hair, bath and shower formulas under the name of Infinite Beauty. These concepts are said to celebrate individuality with maximal personalization, to empower consumers. Examples include Illuminating Silky Facial Cream; Pre-workout Control Spray; On-the-Fly Sun Care Stick SPF 30; Pre-Shampoo Hair Oil Serum; Family Cleansing Kit (with shower gel and boosters); After-party Micellar Gel; All-night Hair Mask; Everyday Skin Cleansing Beans; and Extra Daily Care Shampoo.
Green Award-winning Blue Light Protection
Finally, the company's Lumicease (INCI: Glycerin (and) Water (aqua) (and) Hydrolyzed Pea Protein (and) Glucose (and) Sodium Chloride (and) Sodium Succinate) ingredient, designed to protect skin against blue light, won the silver prize in the Green Ingredient category, in recognition of its support for preserving the environment.
The active is obtained via biotechnology from one of the most radiation-resistant microorganisms, and was shown to effectively protect and repair the skin from damage caused by solar and artificially produced blue light. It acts via the opsins in skin, which promote adaptive responses including the accumulation of lipids, DNA repair pathways and antioxidant defenses.
The microorganisms leveraged to create this ingredient are isolated using Lubrizol's sustainable isolation process. Furthermore, a percentage of the sales of the Lumicease ingredient is donated to Paisatges Vius, an organization in Northern Spain focused on the conservation of the aquatic ecosystem.

For more information on these ingredients and others, visit the Lipotec website.