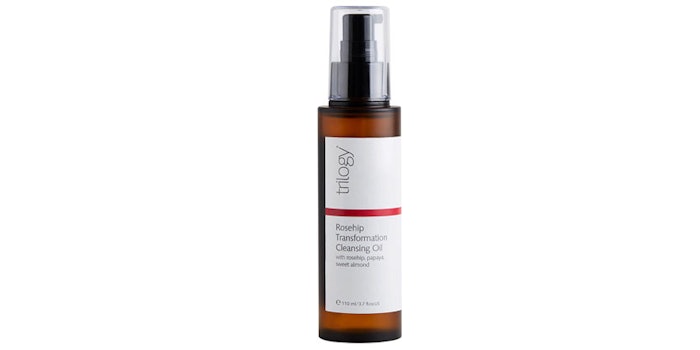 Trilogy's Rosehip Transformation Cleansing Oil is described as a silky, certified-natural oil mixture that transforms into luxurious milk when emulsified with water. Infused with nourishing rosehip, grapeseed and sweet almond oils, the gentle cleanser is designed to effectively eliminate makeup and impurities without over-drying the skin or imparting a sense of uncomfortable tightness. After use, the product leaves skin feeling soft, clean and healthy with long-lasting hydration.
Users are instructed to gently massage the product into skin daily (or as needed), then mix it with a few drops of water to create an emulsion. Following use, the product is rinsed with water or using a facial cloth, if desired.
This column will review the ingredient listing for claims substantiation and functionality.
The formula contains a mixture of plant oils to provide emolliency and antioxidant benefits while soothing cleansed skin; these include sweet almond, grapeseed, rosehip seed, sunflower seed and papaya seed oils. The oil phase further contains the emollient coco-caprylate.
Emulsifiers and More
Vitamin E and rosemary leaf extract serve as added antioxidants to stabilize the oil mixture. Further, polyglyceryl-2 sesquioleate and polyglyceryl-2 caprylate are emulsifiers. Finally, the formula contains perfume and the potentially sensitizing allergens citronellol, geraniol, limonene and linalool.
Conclusion
In my view, the ingredients in the formula support the claim for an oil-based cleanser emulsified with water into a milk form. In addition, the formulation would appear to protect the skin against over-drying and tightness, leaving it feel soft and hydrated.
Ingredients: Prunus Amygdalus Dulcis (Sweet Almond) Oil, Coco-Caprylate, Vitis Vinifera (Grape) Seed Oil, Rosa Canina (Rosehip) Seed Oil, Carica Papaya (Papaya) Seed Oil, Helianthus Annuus (Sunflower) Seed Oil, Rosmarinus Officinalis (Rosemary) Leaf Extract, Tocopheryl Acetate (Vitamin E), Parfum, Citronellol, Geraniol, Limonene, Linalool, Polyglyceryl-2 Sesquioleate, Polyglyceryl-2 Caprylate
Source: https://www.trilogyproducts.com/us/rosehip-transformation-cleansing-oil/