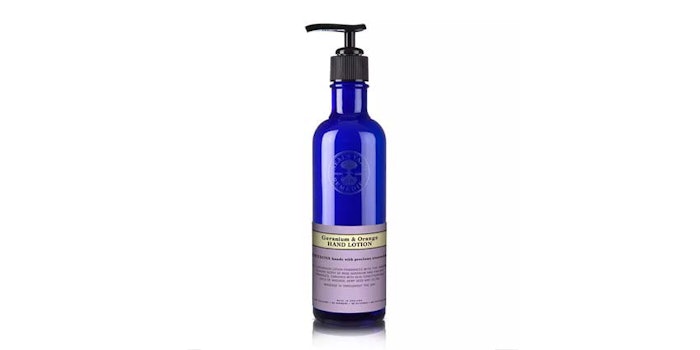 This natural edition of 'Read the Label' reviews Neal's Yard Remedies Geranium & Orange Hand Lotion. The brand certifies its products as natural and organic based upon the Soil Association/COSMOS guidelines.
The product is a lightweight moisturizer that absorbs quickly into the skin. As the name suggests, geranium and orange essential oils are used to leave a pleasant aroma while vegetable oils condition the hands and nails, leaving soft-feeling skin.
The lotion is recommended to be applied regularly, with special attention to the nails and the backs of hands. It is recommended for all skin types.
Looking at the product's ingredient list, I have highlighted raw materials that I believe to be contributing to the performance claims:
Water (Aqua), Olea Europaea (Olive) Fruit Oil*, Cannabis Sativa (Hemp) Seed Oil*, Cetyl Alcohol, Cetearyl Glucoside, Persea Gratissima (Avocado) Oil*, Citrus Senensis (Orange) Peel Oil Expressed*, Aloe Barbadensis (Aloe Vera) Leaf Juice Powder*, Pelargonium Graveolens (Geranium) Flower Oil*, Tocopherol, Helianthus Annuus (Sunflower) Seed Oil*, Cetearyl Olivate, Sorbitan Olivate, Potassium Sorbate, Xanthan Gum, Levulinic Acid, Glycerin, Citral, Citronellol, Geraniol, Limonene, Linalool.
*Organically produced ingredient. Natural constituent of essential oils listed.
Editor's note: While the "Read the Label" series provides an overview of the ingredients cosmetic manufacturers use and their related claims, without use levels or access to clinical studies, the author is drawing conclusions based on speculation—albeit from training, formulating experience and, in some instances, evidence in the literature. The following is offered for your consideration and further verification.
Cannabis Sativa (Hemp) Seed Oil
This is a vegetable oil that comes from the seeds of the Cannabis sativa plant. Like other vegetable oils, it has a high content of essential fatty acids, which benefit the skin by soothing irritation, loosening tightened skin and provide moisturization.
Cetyl Alcohol
This material has been around for years and years and although there's nothing particularly glamorous about it, I wanted to draw attention to it for any new formulators interested in emulsion technology. Cetyl alcohol is mainly used as a co-emulsifier for o/w emulsions—it helps stabilize emulsions and increases viscosity. This means it has the ability to turn a thin and runny lotion into a rich, luxurious cream. It has other benefits, too; such as emolliency and opacifying properties, and it's usually quite cheap to use.
Citrus Senensis (Orange) Peel Oil Expressed
Orange essential oil is one of the main ingredients claimed in the product. Serving as a fragrance, like other essential oils, it is a highly potent extraction from the plant. Many extraction methods are used, such as steam distillation, solvent extraction, CO2 extraction, cold-pressed methods, maceration and more.
See related: Keeping with Tradition: Essential Oil History, Use and Production: A Review
Aloe Barbadensis (Aloe Vera) Leaf Juice Powder
The leaves of Aloe vera are harvested, filleted and then dried to form leaf juice powder. Adding the powder to water during formulation simply rehydrates it. Aloe vera is a known adaptogen, which aids the body in resisting stress. Aloe vera can be notoriously difficult to formulate with, and from my own experience, it likes to turn formulas brown due to its high mineral content—a chelating agent is often necessary to prevent this.
Pelargonium Graveolens (Geranium) Flower Oil
This is another key essential oil that's used to provide a green, herbaceous note. Essential oils have been around for centuries and they are believed to offer therapeutic benefits. Lavender, for example, is known to help aid sleep and geranium may help to reduce inflammation and improve mental well-being. As essential oils are mostly considered natural,  depending on their extraction process, since they come directly from a plant, they often contain a high level of allergens, which must be listed on the product's ingredient list. These are highlighted next.
Citral, Citronellol, Geraniol, Limonene, Linalool
These materials are some of the known fragrance allergens that come from the essential oils used within this product. Note that hese allergens can also be present in synthetic fragrances. As mentioned, there are many different types of allergens but certain ones, per regulatory mandates, must be listed as they are known to cause irritation and other potentially harmful effects, particularly in high levels. These allergens are usually restricted to low levels but even if the product contains a very small amount, they must still be labeled to warn the consumer.
In-use Testing
As a chemist, I often feel as though I must defend synthetic ingredients because they face such unnecessary backlash and confusion with the general public. I'm not against natural products at all but I am biased to buy and use products that contain synthetic materials—they can sometimes be less irritating due to a lower fragrance allergen count, and as there are fewer formulation restrictions, I find synthetic based products may have more innovative textures and claims. I've read many positive reviews for Neal's Yard products, however, so I purchased this Geranium & Orange Hand Lotion a few years ago and it has been a repeat buy ever since.
I like the product because it's nourishing but doesn't leave your hands caked in lotion as it quickly absorbs into the skin. Now more than ever, I'm washing my hands as much as I can and applying sanitizer when necessary, which is really making my skin suffer.
I find that having this lotion on my desk at work is the perfect place. Seeing it daily encourages me to use it more and I'm not left with wet hands, so I can continue typing away after a couple of minutes without leaving any residue. For times like this, though, when I'm suffering with dry hands, I would use another product in combination with this lotion to provide an occlusive layer, such as a barrier cream.
It's £14 for 200 mL, which I think is reasonable for an every day product. Also, the fragrance I really enjoy. It's powerful, herbaceous and green with a burst of citrus that leaves the hands smelling pleasant for hours.
Source: Neal's Yard Remedies website
Disclaimer: This article was produced in the UK and therefore the INCI listing and INCI names comply with European labeling requirements.