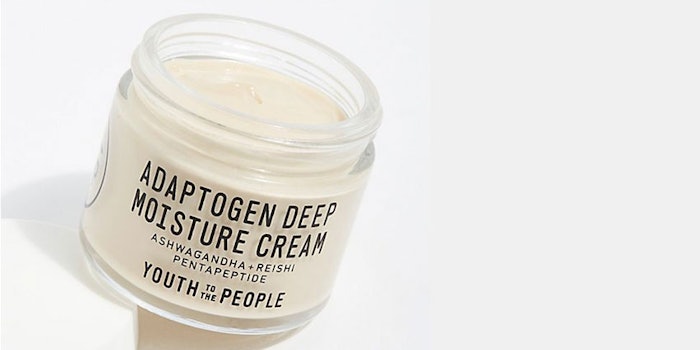 Thank you to several readers, who wrote in to us with concerns over the ingredient disclosure for this product review. (Well done!) Following this product review, please find the corrected ingredient listing, which was incorrectly listed on the source website; we have informed them of the error.
Youth to the People's Adaptogen Deep Moisturizer Cream is a unique moisturizer, designed to be used on the face both morning and night after cleansing.
The product is said to provide skin with deep moisturization, to calm and soothe it, and also has reported adaptogenic benefits to help improve skin that faces daily aggressors like UV rays and pollution. Recent trend reports show the use of adaptogens is rapidly growing in both the cosmetic and the foods industry. But what are they?
An adaptogen is a natural product that helps the body resist stress. The most common examples include moringa, ginseng, ashwaganda, aloe vera, turmeric and acerola.
The present column takes a look at the key ingredients used to fulfil this product's claims.
Editor's note: This article aims to provide an idea of the ingredients cosmetic manufacturers are using that could potentially support the stated product claims. Without specified use levels or access to clinical studies, the author is drawing conclusions based on speculation; albeit from experience and, in some instances, evidence in the literature. The following is offered for your consideration and further verification.
Skin Conditioning and Moisturizers
Butyrospermum parkii (shea) butter: An industry favourite, shea butter is a high melting point wax that deposits on the skin to provide an occlusive layer to lock moisture deep inside the skin and prevent trans-epidermal water loss (TEWL).
Prunus amygdalus dulcis (sweet almond) oil: Slightly yellow in color, this oil contains high levels of oleic acid, which provides emolliency for soft, supple skin.
Helianthus annuus (sunflower) oil: The seeds of sunflower are pressed to obtain this nutrient-rich oil. It contains several fatty acids, which help to replenish the lipid bilayer in the skin that is often washed away with powerful surfactants.
Allantoin: This skin-conditioning agent is used in medicine to aid in wound healing, and in cosmetics to protect skin against harsh sensitizing agents. It helps to reduce irritation and leaves a soft skin feel after use.
Squalane (olive): Squalane has been used in cosmetics for many years as it is a more stable version of squalene, which is present within skin's bilayers. This clear oil has a light touch and due to its natural occurrence in skin, it absorbs within seconds to leave the skin plump and moist.
Adaptogens
Rhodiola rosea: This flowering plant is cultivated for its roots. It is traditionally used to treat sensitive skin that has been triggered by internal and external aggressors.
Ashwagandha: This plant with the botanical name Withania somnifera is native to India and has been used in ancient medicine and help aid hormonal balance. On the skin, it is an excellent antioxidant and reduces inflammation caused by stress.
Ganoderma lucidum (reishi mushroom): A flat mushroom grown across the world's northern forests, this fungi is known in alternative medicine. Traditional use includes anti-aging, calming and antioxidant effects.
Ocimum tenuiflorum (holy basil): A fragrant, flowering plant native to India—not to be mistaken for sweet basil, which we all enjoy in Italian cuisine—this plant is commonly used in Ayurvedic medicine to help the skin maintain homeostasis under stress. It helps to boost the immune system, and has been reported to protect the cells against pollution and to reduce inflammation caused by UV radiation.
Aloe barbadensis leaf juice: Aloe vera can be difficult to formulate with, and usually requires a chelating agent to prevent discoloration. It has powerful soothing effects and is commonly used in after-sun products to reduce inflammation and sooth irritation.
Functionals
Xanthan gum: This natural gum originates from the bacteria Xanthomonas campestris; in fact, if you leave a cabbage in the refrigerator for too long and it turns slimy, this is xanthan gum. The ingredient is added to the water phase and helps to increase product viscosity.
An important fact: Not all xanthan gum is suitable for vegans, as an egg protein is often used in the clarification process stage. There are vegan grades available on the market, so it's worth checking.
Caramel color: This is an edible ingredient commonly used in the food industry. In this product, it is used to produce the nice caramel color. It is also often used in self-tanners to create a nice golden brown color, as dihydroxyacetone (DHA) is incompatible with iron oxides.
Phenoxyethanol (and) ethylhexylglycerin: This preservative is growing in popularity as consumers want to avoid parabens regardless of the strong scientific evidence showing many of them are, indeed, very safe. Phenoxyethanol is synthetically produced, as is ethylhexylglycerin, but it is partially naturally derived with the glycerin so consumers find it more acceptable in products.
Pentapeptide-59: This is a peptide used for skin-calming benefits. It is an interesting addition to the product as it already contains many emollients and adaptogens, so is not entirely necessary. It shows that the brand combines nature and science with traditionally used plants and effective peptides to produce high performance skin care.
Conclusions
This product is certainly crammed full of goodness, with many nutrient-rich superfood ingredients—which the brand is proud to claim. At £48 for 2 oz., this product doesn't come cheap but with an INCI list so full of effective ingredients, it's a no-brainer that this product will likely fulfil its claims.
[CORRECTED] Ingredients: Purified Water (aqua), Helianthus Annuus (Sunflower) Oil, Octyl Palmitate, Glyceryl Stearate, Propanediol, Stearic Acid, Rhodiola Rosea, Ocimum Tenuiflorum (Holy Basil), Withania Somnifera (Ashwagandha), Ganoderma Lucidum (Reishi Mushroom), Aloe Barbadensis Leaf Juice, Glyceryl Mono Laurate, Squalane (Olive), Phenoxyethanol, Simmondsia Chinensis (Jojoba) Seed Oil, Pentapeptide-59, Hydrogenated Lecithin, Butyrospermum Parkii (Shea) Butter, Phenethyl Alcohol, Ethylhexylglycerin, Maltodextrin, Carbomer, Mixed Tocopherols, Ethylhexylglycerin, Allantoin, Panthenol, Prunus Amygdalus Dulcis (Sweet Almond) Oil, Borago Officinalis (Borage) Oil, Caramel, Xanthan Gum
Source: Youth to the People
[INCORRECT PREVIOUS DISCLOSURE: Ingredients: Phenethyl Alcohol, Propanediol, Butyrospermum Parkii (Shea) Butter, Prunus Amygdalus Dulcis (Sweet Almond) Oil, Octyl Palmitate, Carbomer, Panthenol, Helianthus Annuus (Sunflower) Oil, Rhodiola, Hydrogenated Lecithin, Maltodextrin, Purified Water, Ethylhexylglycerin, Glyceryl Stearate, Aloe Barbadensis Leaf Juice, Phenoxyethanol, Xanthan Gum, Stearic Acid, Allantoin, Withania Somnifera (Ashwagandha), Ashwagandha, Ganoderma Lucidum (Reishi Mushroom), Reishi, Pentapeptide, Rhodiola Rosea, Ocimum Tenuiflorum (Holy Basil), Glyceryl Mono Laurate, Squalane (Olive), Simmondsia Chinensis (Jojoba) Seed Oil, Pentapeptide-59, Mixed Tocopherols, Borago Officinalis (Borage) Oil, Caramel Color]