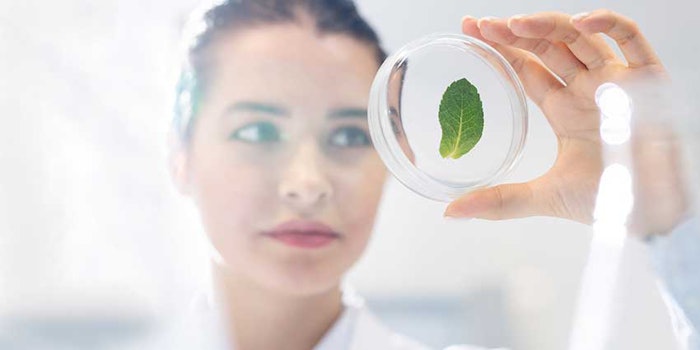 Naturals—consumers have rallied for them, but are they always as effective as their synthetic counterparts?
For this month's Supplier Forum, industry experts weighed in on methods to make natural ingredients functional, for, as mentioned below, they have moved from a "nice-to-have" to a "necessary" addition to many of today's formulations. Read on for responses on utilizing multifunctional materials, boosting trendy CBD ingredients and more.
Jacques Delafosse, Functional Naturals Product Manager and EMEA Business Manager—Hallstar Beauty
Over the last decade, the beauty industry's commitment to using more natural ingredients has evolved from a formulation nice-to-have to a mandate from increasingly educated consumers. The rise of social media and concerns over the environment's impact on health have created discerning label-readers who won't tolerate fillers or lack of transparency. Formulators must ensure their natural ingredients contribute to performance in terms of skin benefits or consumer experience, leading the way for what we at Hallstar term "functional naturals."
What makes naturals functional? Chemists and formulators view the distinction differently. A chemist typically "functionalizes" a raw material by reacting it with another material to form something new, i.e., with different physicochemical properties. For the formulator, an ingredient is functional if it plays a critical role in the overall performance or consumer experience of the final product. In most cases, both perspectives align. For example, there is no way to create a stable emulsion just by mixing water with natural oil; the addition of a "functionalized" material or some other modification is needed to make it happen.
Today's most advanced functional naturals provide multiple benefits. The biomimetic, COSMOS-approved, liquid crystal-forming emulsifier Olivem 1000 (INCI: Cetearyl Olivate (and) Sorbitan Olivate) provides skin hydration, anti-inflammation properties, SPF boosting and active delivery, in addition to creating the formula's functional base and texture. Biodegradable and 100% natural Sensolene Light ET (INCI: Ethyl Olivate (and) Olea Europaea (Olive) Leaf Extract) combines the skin emolliency and hydration benefits of olive oil together with the antioxidant benefits of olive leaves that have been extracted using the original emollient, producing a superior consumer experience in terms of sensoriality.
Mélanie Coirier, Communication Officer—Silab
Silab has designed and patented IBPN technology, a breakthrough technological innovation to develop a natural and protective film featuring high resistance, a powerful retraction force and excellent sensorial efficacy. To do so, the company has drawn inspiration from the Interpenetrating Polymer Network (IPN) technology in the field of polymer chemistry. Making use of its expertise in mastering naturals, Silab transposed this technology to biopolymers. The resulting novel ingredients have the ability to meet the current expectations of the cosmetic market in terms of efficacy and naturality.
Filmexel (INCI: Kappaphycus Alvarezii Extract (and) Caesalpinia Spinosa Fruit Extract) is the first natural film-forming ingredient produced from the IBPN technology, initially launched in 2016. It is composed of galactomannans from Caesalpinia spinosa, a South American shrub considered as the "green gold of the Incas," and sulfated galactans from Kappaphycus alvarezii, a warm-water alga that grows in Southeast Asia.
Using a controlled water extraction method developed by the company over several decades, the two biopolymers were extracted and then interpenetrated with the IBPN technology in order to boost the effect of their intrinsic qualities. This eco-design results in an advanced network providing both outstanding biomechanical properties and superior film-forming capacities compared with those resulting from a simple mixture of individual biopolymers. Indeed, this targeted cross-linking technology creates a dense and tight meshwork, providing the film with multiple and innovative benefits.
With the IBPN technology, Silab paves the way to a new dimension of film-forming natural ingredients, resulting in universal solutions with multiple applications both in skin and hair care.
Rishabh Shah, Director, Technical Services—Acme-Hardesty Co.
The importance of natural formulation in present times cannot be overemphasized. With the ever-changing regulatory landscape and market trends from a global to local level, street-smart consumers have led to the exponential increase in natural product formulations. Additionally, independent beauty companies are disrupting the cosmetic industry by providing natural-based product solutions to consumers.
It is important to strike the right balance between maintaining human health and well-being, and helping to create new vistas that further the development of newer formulations with unique properties.
Strategy 1: The use of multifunctional natural ingredients to maximize benefits as well as minimize the number of ingredients in a chassis.
Acme-Hardesty offers variety of natural ingredients that enable unique textures, enhanced sensorial experiences and other functional properties. Alphavelvety (INCI: Bisabolol (and) Virola Sebifera Nut Oil (and) Orbignya Oleifera Seed Oil (and) Macadamia Integrifolia Seed Oil (and) Theobroma Grandiflorum Seed Butter) is composed of a unique balance of oleic, lauric and myristic fatty acids. Other functional benefits include:
Provides a matte effect;
Enhances penetration into the skin and hair fiber;
Increases softness and moisturizes skin and hair;
Acts as an anti-inflammatory and refatting agent; and
Provides efficacy against protein loss and improves skin texture morphology.
Strategy 2: Identifying a natural replacement for an existing synthetic raw ingredient with improved efficacy.
Acme-Hardesty offers Citrue Bisabolol (INCI: Alpha Bisabolol), a natural product free of farnesol (allergen) and any synthetic contaminant or nongenetically modified origin. It is obtained by fractional distillation of the essential oil from candeia, a Brazilian native tree.
Citrue Bisabolol is rich in (-)-α-bisabolol, the only biologically active isomer. The ingredient's action potential is guaranteed by the presence of this isomer in 100% of its content, while synthetic versions of the product contain only 50% (racemic mixture (±) a-bisabolol).
Jojoba oil, such as Jojoba Desert's JD Jojoba Oil (INCI: Simmondsia Chinensis (Jojoba) Seed Oil), is one of the most stable natural oils on the market. Now, studies show that jojoba oil's stability could also prove critical in bringing formulations with long shelf life to the market.
Recently, the oxidative stability of different vegetable oils was tested by the common Rancimat method. In this experiment, jojoba oil showed the highest oxidative stability among tested oils, which is attributed to its unique chemical structure—straight chain esters, in comparison with other vegetable oils having a branched triglyceride structure, which have a tendency for oxidative degradation.
Not only is jojoba oil one of the most stable natural oils on the market, but adding jojoba oil to other carrier oils can improve their stability to much higher levels. In the case of avocado oil, it was improved by 400%.
In relation, as hemp oil and CBD are the hottest trend in the marketplace, it was vital to examine how jojoba oil could affect their stability. The results aligned with previous findings: that adding jojoba oil in a 20:80 ratio significantly improved the stability of hemp oil and resulted in a lower peroxide value.
"By the addition of jojoba oil, the stability of a whole formulation could be improved in the case of oil-based formulations," explained Anna Aharoni, R&D manager, Jojoba Desert. "Moreover, including jojoba oil could extend the shelf life of unstable materials and will streamline product formulation–instead of two starting materials, you can just add one."
Hair damage with breakage commonly occurs due to hair weathering and traumatic grooming practices. Furthermore, lipids are major determinants of the natural physical properties of the hair. In relation, Miracle Fruit Seed Oil (INCI: Synsepalum Dulcificum Seed Oil) is a naturally occurring organic fruit oil derived from the seed of the miracle fruit plant. The Miracle Fruit Oil Company developed and patented the highly purified, highly active supercritical extract component of the oil, Fraction FM, in its native unchanged state, which has physicochemical properties ideally suited to penetrate deep into hair, in order to strengthen and repair while preventing and reducing hair breakage. The ingredient's native functional capacity is the scientifically enhanced capacity to effectuate hair repair.
Fraction FM was evaluated for hair repair properties in a randomized placebo-controlled clinical study performed by a board-certified dermatologist in association with University of Florida research scientists. The serial analysis of hair breakage, in real time over 8 months in more than 50 volunteers having different ethnicities and hair types, was made possible with the use of a high-tech quantitative trichometer device that accurately measured hair mass.
The results of the clinical study were published in a major peer-reviewed dermatology journal. The effects of Fraction FM on hair repair and strength included: 1) highly significant compared to placebo; users of Fraction FM had a 200% increase in healthier hairs and 3x stronger hair; 2) long-lasting; spanning the 8-month duration of the study; 3) more effective than a leading argan oil brand; and 4) capable of restoring even thin hairs to healthier hairs. Consumers also reported they were satisfied with its lightweight consistency, smell and performance.
Future Forums
To participate in a future Supplier Forum, contact Cosmetics & Toiletries assistant editor Brooke Schleehauf at bschleeh­­­­­­­auf@​allured.​com. Upcoming topics will cover:
Approaches to Wellness Beauty (August)