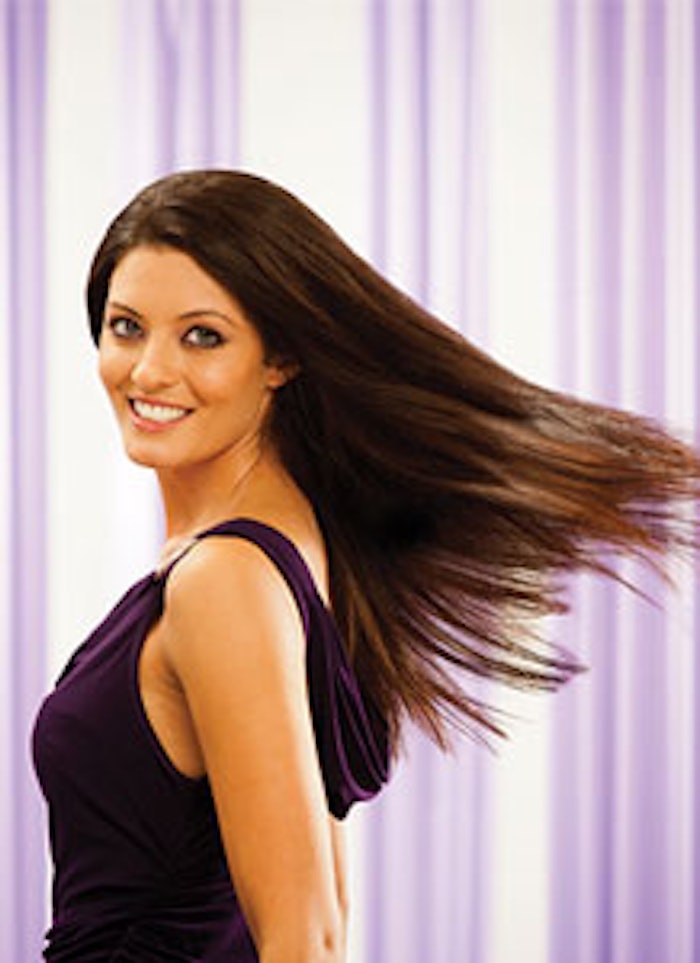 The visual appearance of hair is important from both a psychological and a social point of view. Consumers value the appearance of their hair, and a "bad hair day" can ruin an otherwise perfectly good day. Hair is an integral part of one's persona and is an important part of how you present yourself to the world. In some cases, it may be more important than a makeup routine. According to Euromonitor, the 2011 global hair care market was 40% greater than the global color cosmetics market in US dollar value, lending some data to this argument.
Healthy Hair Movement
The judgments made on the hair's appearance are not limited to properties such as color and style but also include the "healthy" look of the hair and its ability to move in a visually appealing way. It is well known that the hair can be damaged in a variety of ways, from the application of chemical treatments or thermal tools, such as blow dryers or flat irons, to just basic grooming rituals such as combing. When the hair becomes damaged, the hair's surface lipids are removed and cuticle lifting occurs, which creates greater friction and increased tangling of fibers. Researchers at Croda hypothesized that hair in this damaged state would show reduced movement, in comparison to undamaged hair, and that the application of a highly specialized conditioning product designed to minimize inter-fiber friction to damaged hair could restore the hair back to its natural state.
As a result of this hypothesis, the Croda team partnered with The Centre for Visual Computing at the University of Bradford in the United Kingdom. Together they created the Hair Dynamics Test to measure the movement of healthy hair and compare it to the movement of damaged hair. Then the research team at Croda set out to create a chemistry that would specifically seek to improve the movement of damaged hair by reducing inter-fiber friction. This understanding allowed for the development of KeraDyn HH (INCI: Bis-Ethyl(isostearylimidazoline) Isostearamide), a patented conditioning agent designed to specifically improve the movement of damaged hair, thereby restoring the freedom of movement only healthy hair enjoys.
Hair Dynamics Test
As part of the development of the test methodology for measuring the movement of damaged hair, instrumentation was designed that could generate reproducible movement of hair tresses that mimicked the natural swaying motion of the hair during everyday movement. The movement of the hair was then captured with a high definition video camera. Using custom developed image analysis software, it was possible to identify, track and plot the coordinates of moving hair tresses in a video file. A series of parameters was identified and extracted from the video files to describe different aspects of the movement of the hair, such as its shape, size and motion path. From graphical input, a numerical output was achieved that allowed data analysis to be performed.
By testing tresses of hair both before and after a damaging treatment, the effects of damage on hair movement could be observed. Damaging treatments such as bleaching, coloring and lye relaxing were used as negative controls, whereas a conditioner formulation containing KeraDyn HH was tested as a positive control in comparison to virgin, undamaged hair.
Video imaging easily displayed that a treatment with KeraDyn HH, when applied to European, bleached, damaged hair, significantly improved the swing height of the hair tresses. In measuring this swing height, and using European, bleached, damaged hair as a baseline, the treatment with KeraDyn HH improved the swing height by 4.5 times, and nearly restored the tresses to the swing height of virgin European hair.
By developing a methodology to measure hair movement, and creating an ingredient that can be added to a hair treatment formulation to reduce inter-fiber friction, Croda has offered formulators around the globe a means to restore healthy hair movement to the end consumer.
Disclaimer:
The above paid-for content was produced by and posted on behalf of the Sponsor. Content provided is generated solely by the Sponsor or its affiliates, and it is the Sponsor's responsi­bility for the accuracy, completeness and validity of all information included. Cosmetics & Toiletries takes steps to ensure that you will not confuse sponsored content with content produced by Cosmetics & Toiletries and governed by its editorial policy.