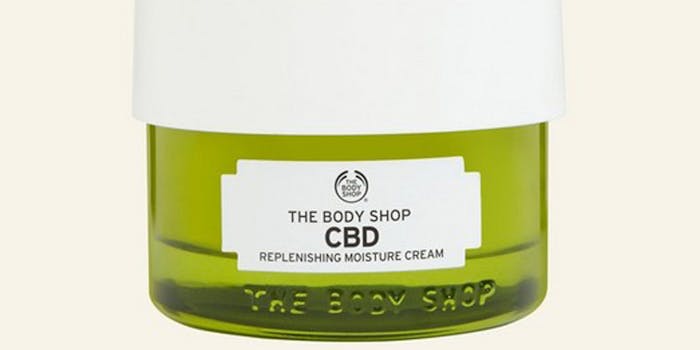 This 'Read the Label' focuses on The Body Shop's CBD Replenishing Moisture Cream, which is claimed to provide quick, long-lasting hydration.
Featured: Calming the Storm: Cannabis Sativa Cell Culture Extract Eases Neurogenic Inflammation
The Body Shop began in 1976 when founder Anita Roddick opened a cosmetics shop in the small seaside city of Brighton, UK. The brand's ethos states it uses ethically sourced and natural-based ingredients, and creates packaging that is easy to refill.
Efforts Toward Human and Animal Rights
For me personally, the most powerful message from the company is they do not test on animals and do not exploit workers making the cosmetics–something far ahead of the brand's time when they launched 45 years ago. Roddick is also an activist supporting human rights and empowerment for women. She has campaigned on various issues including fighting the cruel practice of whaling and has promoted jojoba oil as a substitute for sperm whale oil.
The Body Shop, now a global brand, works fairly with farmers and suppliers and buys directly from the source with the Community Fair Trade program. This program allows the company to cut out the middleman and pay a fair price directly to local farmers and artisans across the world. Some suppliers also receive additional support such as education, health care and sanitation from the brand.
As we all are becoming increasingly aware, there is a plastic pollution crisis happening right now, with an estimated 3 billion people living in countries around the world who do not have formal waste management. This has led to an estimated 1.5 million "waste pickers" based in India, who are considered to be the lowest social group there, and are often subject to discrimination, exploitation and poor working conditions.
In 2019, The Body Shop set up a Community Fair Trade partnership with Plastics for Change where the company buys recycled plastic from "waste pickers" in India and uses the plastic in its packaging for certain cosmetic products. The company offers a fair price directly to the "waste pickers," giving financial stability to workers.
CBD Moisture Cream
This replenishing moisture cream is claimed to deliver a fast-absorbing, rich feel, restoring moisturization levels and enriching the skin with a blend of naturally derived CBD, hemp seed oil, patchouli and squalane. The Body Shop has claimed this product instantly soothes dry areas of the skin and leaves a lasting, soft feel.
The skin is said to look more luminous and is left feeling less stressed, in terms of skin discomfort, dehydration, dryness, loss in luminosity and overall appearance. The product is reportedly suitable for all skin types, vegan-friendly and contains 97% ingredients of natural origin. The ingredients below in bold are ones that I believe are strongly contributing to the product's performance and claims:
Ingredients: Water (Aqua), Propanediol, Butyrospermum Parkii (Shea) Butter, Coco-Caprylate/Caprate, Glycerin, Arachidyl Alcohol, Squalane, Behenyl Alcohol, Cannabis Sativa Seed Oil, Olea Europaea (Olive) Fruit Oil, Octyldodecanol, Phenoxyethanol, Sodium Polyacrylate, Arachidyl Glucoside, Caprylyl Glycol, Cetyl Alcohol, Panthenol, Sodium Stearoyl Glutamate, Xanthan Gum, Parfum, Trisodium Ethylenediamine Disuccinate, Cannabidiol, Sodium Hyaluronate, Pogostemon Cablin Leaf Extract, Geraniol, Citric Acid, Limonene, Citronellol, Linalool, Sodium Hydroxide.
Editor's note: While the "Read the Label" series provides an overview of the ingredients cosmetic manufacturers use and their related claims, without use levels or access to clinical studies, the author is drawing conclusions based on speculation—albeit from training, formulating experience and, in some instances, evidence in the literature. The following is offered for your consideration and further verification.
Butyrospermum Parkii (Shea) Butter
Shea butter has a melting point of roughly 35°C, which allows it to melt on contact with the body. As it is fairly high up on the ingredient listing, this indicates the shea butter is used at a high concentration. The ingredient will thicken the formula to make it rich and nourishing, and will also help to support the claim of "leaving a lasting, soft feel." Shea butter has a thixotropic behavior, meaning the finished cream will be quite heavy at first but after energy is applied, the cream will have a quick shear-thinning rheology.
The shea tree is native to Africa where it produces small green shea fruit that can be eaten. Inside the fruit is the shea nut, which contains high levels of oleic and stearic acid. The levels of these two fatty acids change the physical properties of the butter, as higher stearic acid levels can make the butter firmer. Depending on the area where the shea tree is grown, the fatty acid component can vary and the physical properties of the butter can differ. Shea butter is commonly used in intensive nourishing treatments for dry, cracked skin.
Squalane
Squalane is listed in this moisturizer. Humans naturally produce squalene in the body, which is an oil found within our lipid bilayer that contributes to our skin's natural moisturizing factor (NMF). The difficulty with squalene is that it is often unstable due to its alkene structure. This means it can turn rancid over time, discoloring or forming an unpleasant odor.
Squalane is a hydrogenated version of squalene, meaning it contains more hydrogen and is therefore more stable due to its alkane structure. Because squalane is similar to squalene, it has a natural affinity for the skin and is fast-absorbing, to provide moisturization and suppleness.
Cannabis Sativa Seed Oil
Hemp seed oil is not only a claimed ingredient in this product, but also something that The Body Shop has used for many years in some of its best-selling products, prior to the recent surge in popularity.
Hemp is one of the fastest-growing plants in the world and it is mainly harvested to create fibers, which can be used in textiles, paper and insulation, etc. Hemp seed oil derives from the Cannabis sativa plant but hemp production usually comes from cannabis strains that have a much lower tetrahydrocannabinol (THC) content (the psychoactive substance) and higher cannabidiol (CBD) content.
Related: Medical Cannabis-loaded Dermocosmetic Smoothes Skin Texture
In cold-pressed form, hemp oil is usually green in color but there are refined grades available, too, that can be slightly yellow or colorless. The oil is fairly lightweight with good spreadability and leaves a velvet after-feel. It is an emollient that aids moisturization.  
Olea Europaea (Olive) Fruit Oil
Olive oil contains a high level of fatty acids that are essential for skin moisturization and barrier function, including typically ~70% oleic acid, 10% linoleic acid (omega-6), 15% palmitic acid, 5% stearic acid and 0.5% α-linoleic acid (omega-3). It is also known to contain traces of squalene. These fatty acids and alkenes will overall help to improve skin luminosity and reduce dry patches. 
Octyldodecanol
Octyldodecanol is a medium-spreading emollient that has a natural origin of 100%. It can be used alone to improve moisturization or it can be used as a carrier for other natural active ingredients due to its high solubility, high pH tolerance and good penetration ability through the top layers of the skin.
Panthenol
Panthenol is a well-known ingredient to back the "instantly soothing" claims, and is particularly good for dry, irritated skin. This material is primarily a conditioning agent, which can be used in both skin and hair products to smooth the skin and provide long-lasting moisturization, in addition to anti-inflammatory and wound-healing benefits.  
Trisodium Ethylenediamine Disuccinate
This a biodegradable chelating agent that helps to keep products stable. Metal ions (i.e., minerals such as iron or copper) within water or other raw materials (i.e., Aloe vera) are sometimes present in small amounts in formulations and can react with oxygen in the air to form discoloration, amongst other undesirable effects. This chelating agent will bind to the metal ions and prevent them from oxidizing, keeping the product stable over time. 
Cannabidiol
Cannabidiol (CBD) is claimed on the product's label and is currently a popular ingredient in most countries worldwide. It does not contain psychoactive substances. In recent years, studies suggest that CBD has health benefits such as relieving anxiety and epilepsy effects but studies are still under way.
Previously: U.S. Federal Trade Commission Lays Down the Law on Deceptive CBD Claims
CBD in skin care helps to radically relieve dry skin, even after the first day of use in some cases. It helps to revive healthy-looking skin and boost radiance without looking greasy.
The European Cosmetic regulation (EC) No. 1223/2009, under Annex II-List of Substances Prohibited in Cosmetic Products, states that any narcotics, natural and synthetic are prohibited for use in cosmetics. This includes all substances listed in Tables I and II of The Single Convention on Narcotic Drugs signed in New York on March 30, 1961. This includes cannabis, cannabis resin, extracts and tinctures of cannabis.
It is important to point out that THC and CBD are different. As THC is the psychoactive substance within cannabis to create a high sensation, there must be evidence that cosmetic products placed on the European market with cannabis derivatives contain 0% THC. 
Sodium Hyaluronate
This is a powerfully hydrating active that provides a plump, soft skin feel after use. There are grades with different molecular weights, each providing various benefits but generally speaking, this hyaluronic acid delivers enhanced sensory performance and helps with instant hydration claims, since it can absorb up to 1,000× its weight in water, 5-12 hr after application.
The lower molecular weight grades tend to be more expensive and penetrate deeper into the stratum corneum for longer-lasting anti-aging results–linked with increased collagen production.
Pogostemon Cablin Leaf Extract
This patchouli leaf extract is another ingredient highlighted on the label for its performance. Interestingly, patchouli is similar to cannabis as they both activate the cannabinoid receptor 2 (CB2 receptor) in humans. CB2 receptor activation in the skin is associated with epidermal homeostasis, immune competence and reduced pain and itch.
The good thing about patchouli is that it is globally compliant, whereas cannabis products are heavily regulated, so if anyone is looking for a product that performs in a similar way to cannabis or CBD, patchouli is a close alternative. Patchouli leaf extract is derived from the mint family and because of this, it has a slight green aroma that is often extracted via a supercritical CO2 process. Via this extraction method, it is completely natural and can provide other benefits such as skin soothing, reduction in stinging sensations, increased collagen production and better skin barrier recovery. 
In Use
To use the product, instructions state to pick it up using the fingers and to warm it for a few seconds between the fingers, then press gently to the face. The product should be applied to the face every morning and evening, being careful to avoid the eye area.
This product can be purchased online or in The Body Shop stores for £20.00 for 50 mL ($30.00 for 50 mL).
Source: The Body Shop

Disclaimer: This article was produced in the UK and therefore the INCI listing and INCI names comply with European labeling requirements.
Previously: Read the Label: Aveda's Color Conserve Daily Color Protect