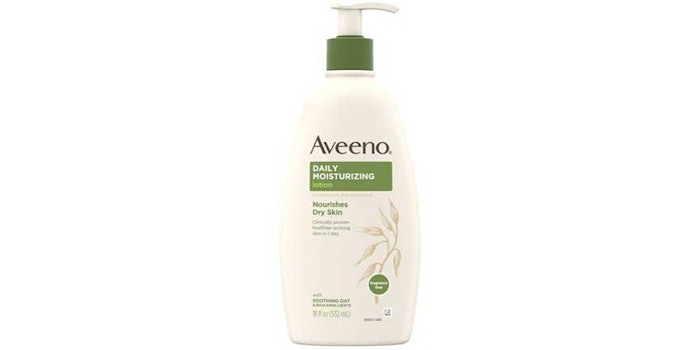 This edition of 'Read the Label' reviews Aveeno's Daily Moisturizing Body Lotion for Dry Skin. The brand claims this nourishing lotion is clinically proven to improve the health of dry skin in one day with significant improvement in two weeks.
Related: Evoking Emotion: Internal and External Factors in Sensitive Skin
Sensitive skin is a growing concern, with global reports indicating that 60-70% of women and 50-60% of men report to having some form of sensitive skin concern. This "Read the Label" column will focus on sensitive skin and the product in review is the Aveeno brand Daily Moisturizing Body Lotion for Dry Skin.
Aveeno makes quite a bold claim on this lotion–it's clinically proven to improve the health of dry skin in one day, with significant improvement in two weeks. The brand also states that it lasts for 24 hr, is fast-absorbing and locks in moisture to help protect and nourish normal to dry skin. The product contains prebiotic colloidal oatmeal, to preserve the skin's natural microbiome for healthy-looking and more resilient skin, as well as other emollients to help prevent and protect dry skin. This lotion claims to leave skin feeling soft, smooth and naturally healthy-looking, and is reportedly gentle enough for everyday use. It's also fragrance-free, non-greasy and non-comedogenic.
In the following ingredient disclosure, I have bolded some of the key ingredients used within this product and have explained how I believe they are contributing to the product's performance:
Water (Aqua), Glycerin, Distearyldimonium Chloride, Isopropyl Palmitate, Paraffinum Liquidum, Cetyl Alcohol, Dimethicone, Avena Sativa (Oat) Kernel Flour, Allantoin, Paraffin, Cera Microcristallina, Stearyl Alcohol, Myristyl Alcohol, Isopropyl Alcohol, Sodium Chloride, Benzyl Alcohol.
Editor's note: While the "Read the Label" series provides an overview of the ingredients cosmetic manufacturers use and their related claims, without use levels or access to clinical studies, the author is drawing conclusions based on speculation—albeit from training, formulating experience and, in some instances, evidence in the literature. The following is offered for your consideration and further verification.
Glycerin
This formula is what I refer to as a "classic formula." Glycerin is a "go-to" moisturizer that most brands use. Typical usage is between 5-10% but adding too much can make the formula tacky.
With glycerin being the second ingredient in this product, it will provide a glossy appearance to the lotion while providing long-lasting skin hydration. It is a humectant that attracts moisture from its surroundings and draws it into the skin. You can quite easily reduce the tackiness of glycerin by adding materials that give a powdery after-feel such as silica, talc, starch, silicones, etc.
Distearyldimonium Chloride
This quaternary ammonium salt is typically used in hair conditioners due to its anti-static properties and its cationic charge, which has a good affinity to the hair and skin. This is perhaps why Aveeno chose to use it–for its long-lasting film-forming effects on the skin to support the 24 hr moisture claim. In this lotion, it is predominantly used as an emulsifier to produce a rich, shear-thinning emulsion.
Paraffinum Liquidum
There is quite a bit of faulty news online about this ingredient. I think this is because of the "paraffinum" part of the INCI name, which suggests a synthetic origin (and is, of course, true). It is a synthetic material, coming from the petroleum industry, as are ingredients such as petroleum jelly.
Paraffinum liquidum also goes by the name of mineral oil, which has been used for decades and continues to be used particularly in oral and topical medicine due to its high safety profile. It's a colorless, inexpensive emollient that lubricates and softens the skin. It can feel a little greasy if used at high percentages. 
Dimethicone
Dimethicone is a general INCI name for a variety of silicone products; usually a chemical structure with methyl groups attached to a siloxane backbone. Depending on the chain length and positioning of the methyl groups, this affects the viscosity of the product. A trick I learned in the lab is you can mix various viscosities of dimethicone to alter the skin feel, and it is a clever way of creating a unique texture without your competitors knowing how you did it, as the INCI name remains the same.
Dimethicones are mostly used for their skin feel but they have other benefits too; the lower viscosity grades can be extremely volatile and can help a product to dry quickly (0.65 cSt). Frequently, I used the 350 cSt in the lab as it had a similar viscosity to water, just slightly thicker, which produced rich, soft emulsions. I've even used 1,000,000 cSt dimethicone before and it came in the form of a solid, clear block that I solubilized and used in a hair care product to provide gloss and smooth the hair cuticle.
Dimethicones and silicones in general are under negative pressure in the media but are used in medicine frequently. These ingredients are in the foods we eat and are even used in some coatings in space. Silicone comes from sand (silicone dioxide) and makes up two-thirds of the earth's crust, so there's plenty of it. It's a naturally derived product that has been synthesized into a purer molecule and it is safe to use. Dimethicone also works great for anti-foam benefits.
Avena Sativa (Oat) Kernel Flour
This is the main ingredient in this formula from my perspective. It's a natural oat extract that provides soothing effects against histamine-related reactions such as redness, itching, stinging and irritation.
Allantoin
This is a skin-conditioning agent and protectant. Allantoin provides a strong soothing effect and reduces itching and dry skin. It has a long history of use in the cosmetic and medical industry and is often found in oral care products, too, since it provides minor protection to small cuts and sores. It can be used at low levels in the formula (0.5%) and is effective but can crystallize out of formulas, so it's best to add it to an emulsion in the cooling phase.
Isopropyl Alcohol
I'm quite surprised to see this ingredient present in this formula, as alcohol can be quite drying on the skin. It is used at a low level, so I would assume this is added to improve the drying time of the product. This ingredient is commonly used in high concentrations in hand sanitizers to kill bacteria.
Benzyl Alcohol
Benzyl alcohol usage has skyrocketed in recent years. It's an annex V-listed preservative in Europe, and can be used up to 1%. It also has a faint aroma and is used in the fragrance industry. This preservative is more accepted by natural standards and brands.    
In-use Testing
My cousin suffers badly with eczema, and she has used many steroid creams to treat her condition but long-term use can cause skin bleaching. She tried this Aveeno lotion as a gentle, cosmetic alternative to steroid creams and she found it made a tremendous difference.
I suffered from mild eczema as a child and every now and then, when I've been traveling a lot or feeling a bit overwhelmed, my inner elbows, backs of knees and creases of my nose begin to feel dry and itchy. I didn't really notice this problem until I tried some of my cousin's Aveeno lotion one day and I did notice a difference after just one application. It immediately loosens tight skin, gently takes away any itch and leaves the area feeling cushioned and moisturized for the rest of the day.
Also, I do not know whether it is because I am used to products that are fragranced, but as this lotion has no fragrance, I did notice a faint medicinal, biscuit-like odor (I can only assume it comes from the oat), which I found unpleasant but minimal. I would recommend this to anyone with sensitive or dry skin as it is affordable (£7.69 for 300 mL) and it works. I do not use it all the time, only when needed, but after two weeks of daily application, any visible signs of dryness, redness or itching had significantly reduced–even after I stopping using the product.
Source: Aveeno
Disclaimer: This article was produced in the UK and therefore the INCI listing and INCI names comply with European labeling requirements.