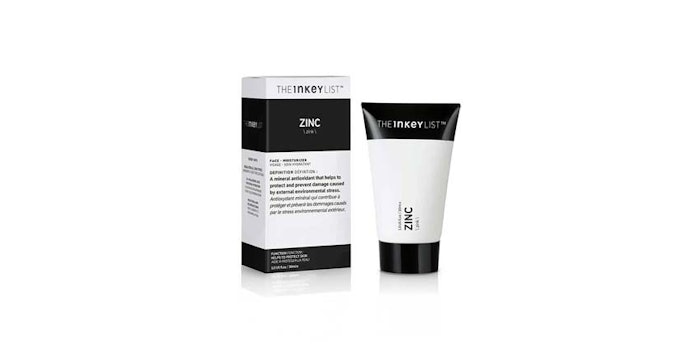 This edition of 'Read the Label' reviews The Inkey List's Zinc Moisturizer with SPF 50. The brand values label transparency for better skin care. The company is reportedly cruelty-free and in line with EU regulation.
Related: GARDskin Provides Animal-free Way to Guard Skin
The main reason why I chose this product is that I wanted to discuss zinc oxide, one of the main ingredients used within this sunscreen. It is a well-known skin care ingredient that is commonly used in baby care products to soothe irritated skin but in recent years, it was classified as a sun filter, too.
In most zinc oxide sunscreen formulas, the nano version is used. This is because the nanoparticle size is so small that it leaves less residual whitening on the skin surface, which is usually more desirable in this type of product. In The Inkey List's case, the zinc oxide used is non-nano, as it is not specified as nano on the ingredients list. I therefore wanted to test this and see how the product performed. 
This product is designed to be used in the morning and should be applied as the last step over other skin care products. The brand states it should be reapplied throughout the day, as the most important thing you can do for your skin is to wear sunscreen every day no matter what the weather. Not only will this keep the skin looking healthy, but it also defends it from harmful UV rays and prevents signs of aging.
Previously: PCPC, CHPA Respond to FDA's Latest Findings on Sunscreen Absorption
Before testing, I examined some of the key ingredients used within this product and have explained how I believe they are contributing to the product's performance: 
Water (Aqua), Zinc Oxide, Ethylhexyl Methoxycinnamate, Caprylic/Capric Triglyceride, Ethylhexyl Palmitate, Butylene Glycol, Ethylhexyl Salicylate, Glycerin, Polymethylsilsesquioxane, Dimethicone, Cetearyl Alcohol, Polymethylsilsesquioxane/ Silica Crosspolymer, Glyceryl Stearate, PEG-100 Stearate, Polyhydroxystearic Acid, Isohexadecane, Isododecane, Phenoxyethanol, Polysilicone-11, Cetyl Alcohol, Butyrospermum Parkii (Shea) Butter, Ammonium Polyacryloyldimethyl Taurate, Polysorbate 80, Tocopheryl Acetate, Ethylhexylglycerin, Disodium EDTA, Sodium Hyaluronate.
Editor's note: While the "Read the Label" series provides an overview of the ingredients cosmetic manufacturers use and their related claims, without use levels or access to clinical studies, the author is drawing conclusions based on speculation—albeit from training, formulating experience and, in some instances, evidence in the literature. The following is offered for your consideration and further verification.
Zinc Oxide
Zinc ore is a white to slightly yellow powder mineral that occurs naturally on earth. It is mined and synthetically treated to remove impurities and further reacted with other materials. It has significant soothing properties and is the main ingredient used in Sudocrem to relieve diaper rash.
As mentioned above, this is a non-nano grade, which means it has a larger particle size so it can often leave whitening behind on the skin. It is an effective inorganic sun filter that forms a physical layer on the skin that then blocks some of the UVA and UVB rays penetrating through the skin.
Also related: EU Gives Zinc Oxide, POK the OK for Certain Uses 
The key to formulating with zinc oxide is to choose the correct emollients and dispersing agents. These additional ingredients could potentially double, if not triple your SPF rating–without adding more zinc oxide. This is because zinc oxide likes to stick together (agglomerate), and to have a good sunscreen, and an even dispersion over the skin is essential. If the formulator doesn't have the time or the resource to test various excipients, there are dispersants available on the market as well as preblended zinc oxide solutions in different bases that can be simply mixed into the formula. Zinc oxide prefers the oil phase of an emulsion. 
Ethylhexyl Methoxycinnamate
This is an organic sunscreen filter that absorbs UVB radiation. It is oil soluble and is a light yellow liquid. It can be used alone but is typically used in combination with UVA organic filters, and is suitable for use in Europe up to 10% (up to 7.5% in the U.S.). It is often used with an antioxidant such as BHT to prevent discoloration and degradation. 
Butylene Glycol
Formulating with sun filters can be extremely challenging, or at least I found this to be the case. You can have a perfectly stable emulsion formula that you've successfully used for many skin care products but then, by adding even a small percentage of sun filter, your whole formula splits and becomes unstable. Butylene glycol is an excellent solvent/carrier for SPF materials, organic and inorganic. Although the synthetic version is mostly used in industry, there are now natural sources available, too. 
Previously: Expert Opinions: Sun Protection
Ethylhexyl Salicylate
This is another organic sun filter that absorbs UVB radiation. It is mostly used as a secondary sun filter ingredient and it can boost a product's SPF to high levels due to it being a great solvent for other SPF filters. I believe this material can be used up to 5% globally and it comes in a yellow liquid form.  
Polymethylsilsesquioxane/Silica Crosspolymer
Polymethylsilsesquioxane is an incredibly soft-feeling material. Although it's a powder, it flows like a liquid and spreads itself over the skin to leave a ball-bearing-like coating that's pleasant to touch. Some brands that want to avoid silicones try to replicate this sensorial experience by using something more naturally derived, such as silica. Silica also leaves a soft, ball-bearing skin feel but it's not quite as pleasant as the other material. This is an interesting ingredient for me because it's a crosspolymer of both technologies, meaning you'll get the great sensorial performance, whilst increasing the naturality percentage of the material. Best of both worlds, so to speak.
Related: [podcast] Sunscreen Innovation Act Update: MUsT Test and Penetration Potential
Isohexadecane and Isododecane
These are separate ingredients but I've grouped them together because they both have simple alkane structures and they provide similar formulation benefits. I would typically use IDD or IHD in color cosmetics, for example in a foundation to make it dry quicker on the skin. They are equally important in facial sun care where you would want the sunscreen to dry quickly so you can apply color cosmetics over the top. IDD and IHD have different volatility profiles, with IDD drying quicker than IHD. You can modify the sensorial experience and drying time by adjusting the levels of each. 
Sodium Hyaluronate
It is unusual to see this in a sun care product but consumers are expecting multifunctional products nowadays, and to stay ahead of the competition, you must think outside of the box. Because this product is only 30 mL, I would assume that it is intended for the face. This added benefit of sodium hyaluronate makes the product more luxurious and it leaves the skin looking plump, fine lines appear reduced and the skin feels moisturized. 
In-use Testing
Previously: Future Testing, Safety and Formulating Headline the Sunscreen Symposium
For an SPF 50 using non-nano zinc oxide, I'll be honest and say I was expecting a heavy white paste that left a chalky feel and a face looking like Frankenstein. How wrong I was.
This product is the opposite of that; it's lightweight, non-tacky and dries within minutes to leave a soft, powdery after-feel that is pleasant to touch. I've tried other zinc oxide-based SPFs and the products pill so badly and it's such an unpleasant experience. This one doesn't at all, and I have the type of skin that's prone to pilling. 
At the time of writing this column, a rare phenomenon is happening in the UK: the sun is out!
I applied the product to my face, arms and shoulders and it provided adequate protection. The product is quite small, so ideally it should be used for the face and not the body. I did use the product on top of my facial moisturizer, and it dried nicely so I could then apply the foundation to my face without it slipping off later in the day. One slight drawback is I felt the product could be better at spreading. It spreads well initially but after rubbing it in, the playtime isn't very long compared with other sunscreens/moisturizers. 
My overall verdict is this product is great for everyday sun protection, which is so important. I am happy to pay a bit more for facial sun care and my current SPF 50 facial sun care costs £41.00 for 30 mL, so this is a really cost-effective alternative that performs well. 
Related: Resisting Our Realm: Infrared, Blue Light and UVA-II Defense
The Inkey Lists Zinc product costs £8.99 for 30 mL, and although I believe it has recently been discontinued, it's being relaunched again soon. 
Source: The Inkey List
Disclaimer: This article was produced in the UK and therefore the INCI listing and INCI names comply with European labeling requirements.