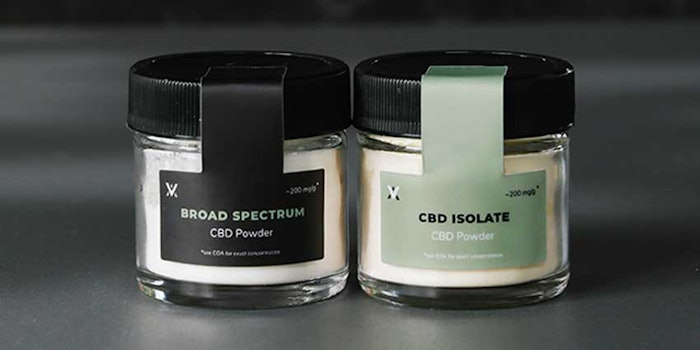 vertosa.com
Vertosa's Powder-based Cannabis Emulsion is available in two different types: CBD Isolate and CBD Broad Spectrum.
Related: Chantecaille Packs CBD and Cannabis into Redness Reducing Moisturizer
Both THC-free, the powders are packed in a nitrogen atmosphere to ensure long shelf life. The active ingredients are stable and reportedly disperse easily in both hot and cold water. The small CBD droplet size enables rapid onset and contains high CBD potency at 20-24%.
The company is previously known for its liquid emulsions of cannabis oil and water to infuse beverages, to provide better taste, and cosmetics with THC, CBD and other cannabinoids to provide faster onset and product stability. With powder emulsions, product makers can develop cannabis products across a broader range of categories.
Chief science officer and founder Harold Han, Ph.D., and director of technical services and sales Lauren Tamburro, along with their team, developed the proprietary formula to launch one of the few available powders currently on the market.
"Powder emulsions provide valuable versatility and flexibility," said Austin Stevenson, Vertosa chief innovation officer. "With this solution, product makers can address a much wider set of product categories—from beverage enhancers to pressed tablets, fillable capsules, wholesale nutritional supplements and more. Supplements, baked goods and bars also respond well to powder emulsions."
Featured: CBD in Cosmetics: A Practical Primer