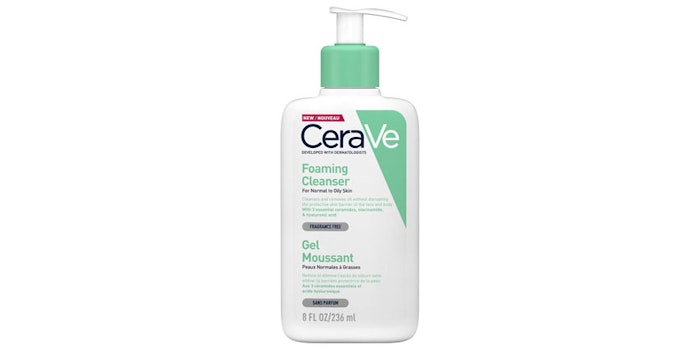 L'Oréal's CeraVe Foaming Facial Cleanser is a gentle makeup remover designed for oily and sensitive skin types.
The gel transforms into a weightless foam to sweep away dirt, excess oil and impurities while maintaining the strength of the skin's natural barrier function. Three essential ceramides and hyaluronic acid work to replenish hydration, while niacinamide soothes any irritation. The product is said to deliver calm, clear and revitalized skin.
Featured claims include suitable for normal to oily skin types, fragrance-free and non-comedogenic. Users are directed to massage the cleanser onto wet skin, then rinse.
This column will review the ingredient listing for claims substantiation and functionality. 
Editor's note: This article aims to provide an idea of the ingredients cosmetic manufacturers are using that could potentially support the stated product claims. Without specified use levels or access to clinical studies, the author is drawing conclusions based on speculation; albeit from years of clinical experience and, in some instances, evidence in the literature. The following is offered for your consideration and further verification.
Water Base and Surfactants
The formula is a water based system containing, in its hydrophilic phase, propylene glycol, a hydrating solvent; the humectant glycerin; and the hydrating macromolecule hyaluronic acid.
The surfactant and foaming cleansing system comprises: cocamidopropyl hydroxysultaine, sodium lauroyl sarcosinate, sodium methyl cocoyl taurate, sodium lauroyl lactylate and PEG-6 caprylic/capric glycerides. PEG-150 pentaerythrityl tetrastearate also is a part of the system and it modifies viscosity.
Care Ingredients
Niacinamide, the amide form of vitamin B3, has proven results in evening skin tone and controlling sebum production, as well as for the treatment of acne, melasma, atopic dermatitis and rosacea. The lipid skin barrier-fortifying fats in the formula are ceramides: ceramide 3, ceramide 6-II, ceramide 1; plus cholesterol and phytosphingosine.
Formulating Aids
Sodium chloride is a viscosity increasing agent, whereas citric acid and edetate disodium dihydrate are chelating agents. Carbomer and xanthan gum serve as thickeners. Lastly, the formula is preserved by methylparaben and propylparaben.
Conclusions
In my view, the ingredients support the claims for a gentle cleanser for all skin types including oily and sensitive skin, and for providing barrier-repairing and calming properties.
Ingredients: Purified Water (aqua), Cocamidopropyl Hydroxysultaine, Glycerin, Sodium Lauroyl Sarcosinate, PEG-150 Pentaerythrityl Tetrastearate (and) PEG-6 Caprylic/Capric Glycerides, Niacinamide, Propylene Glycol, Sodium Methyl Cocoyl Taurate, Ceramide 3, Ceramide 6-II, Ceramide 1, Hyaluronic Acid, Cholesterol, Sodium Chloride, Phytosphingosine, Citric Acid, Edetate Disodium Dihydrate, Sodium Lauroyl Lactylate, Methylparaben, Propylparaben, Carbomer, Xanthan Gum. 
Related: Search our FREE ingredient database at dir.cosmeticsandtoiletries.com.
Source: Beautyexpert.com