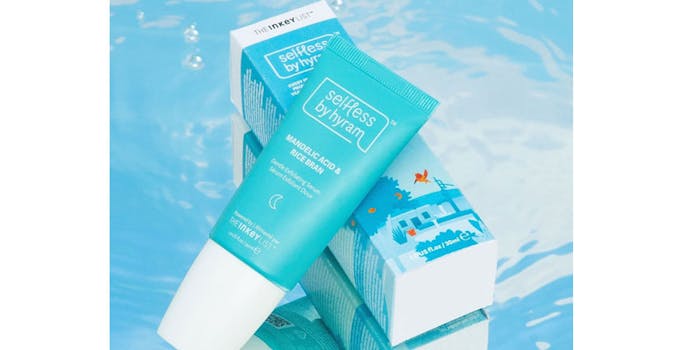 This 'Read the Label' focuses on a vegan, plant-based cosmetic: Selfless by Hyram's Mandelic Acid & Rice Bran Gentle Exfoliating Serum.

Related: Avenoir's Clinical Strength Cell Repair Serum Enhances Skin Tone
The Inkey List recently partnered with well-known skin care influencer Hyram to create a sister company, Selfless by Hyram. This range consists, so far, of five facial products:  
Centella & Green Tea Hydrating Gel Cleanser;

Retinol & Rainbow Algae Repair Serum;

Mandelic Acid & Rice Bran Gentle Exfoliating Serum;

Salicylic Acid & Sea Kelp Pore Clearing and Oil Control Serum; and

Niacinamide & Maracujá Daily Barrier Support Moisturizer.
Each of these products sparks a social change story, whether that be helping to protect the environment, to positively affect people's health or to educate and empower individuals. The brand donates 10% of sales to selected charities. As such, with each single product purchase, consumers are contributing to either: providing clean drinking water for one person for one whole year; or helping Selfless by Hyram to achieve its goal of protecting 2,500 acres of tropical forest from deforestation, which stores 370,000 tonnes of CO2.
The brand is fully vegan, claiming even to use plant-based inks on the external packaging, as well as sugarcane-derived plastic, combined with 91% recycled materials. The product itself has been designed to improve skin texture for smoother, brighter-looking skin. The brand claims the product is a gentle chemical exfoliant to deliver results without irritation.
Key ingredients used include mandelic acid and polyhydroxy acids, combined with rice bran (phytic acid) and salicylic acid to exfoliate the skin, helping to even skin texture, promote an overall smoother appearance, to brighten skin and prevent pores from clogging. The ingredients below in bold are ones that I believe are strongly contributing to the product's performance and claims.
Ingredients: Water (Aqua), Propanediol, Mandelic Acid, Annona Cherimola Fruit Extract, Gluconolactone, Sodium Hydroxide, Maltodextrin, Phenoxyethanol, Glycerin, Phytic Acid, Salicylic Acid, Hydroxyethylcellulose, Sodium Gluconate, Ethylhexylglycerin, Dextrin, Polydextrose, Amylopectin, Biosaccharide Gum-1, Niacinamide, Sodium Citrate, Cystoseira Tamariscifolia Extract, Phenylpropanol, Sodium Dehydroacetate, Citric Acid.
Editor's note: While the "Read the Label" series provides an overview of the ingredients cosmetic manufacturers use and their related claims, without use levels or access to clinical studies, the author is drawing conclusions based on speculation—albeit from training, formulating experience and, in some instances, evidence in the literature. The following is offered for your consideration and further verification.
Propanediol
The brand has been transparent about ingredients used in this product and has divulged some of its key usage levels. Propanediol has been used at 10%, so we know everything behind this ingredient on the listing must be at a lower level. Usually derived from corn, this is a natural, vegan, colorless solvent.
Propanediol is a humectant that draws moisture into the skin. It has preservation-boosting properties, which means in some cases, formulators can lower the percentage of preservatives used in products and still achieve safe challenge test results.
Using propanediol instead of a similar synthetic product such as propylene glycol can reduce a brand's CO2 consumption. Propanediol also supports additional moisturization and reduced TEWL. 
Mandelic Acid
This is a less common AHA that is used in this product at 3.5%. Most mandelic acid is synthetically produced but natural grades are available, too.
Previously: Expert Opinions on Acne Care: Natural Oils, Customizing Microbe Targets, Quorum Sensing, Modern AHAs and 'Maskne'
This material has antibacterial properties and imparts gentle exfoliation to the surface layers of the stratum corneum without irritating the skin. Due to its gentle exfoliating properties, mandelic acid is known to brighten the skin tone, improve inflammation and reduce the appearance of acne. 
Annona Cherimola Fruit Extract
Also known as "the custard apple," a cherimoya is a small and spikey green fruit that is native to regions within South America. This product is used at approximately 3% and provides skin-soothing effects, which counteract any discomfort caused by the low pH acids. 
Gluconolactone
This polyhydroxy acid is used at 2.5% in this formula. As a refresher, in chemistry, an alpha hydroxy acid (AHA) is defined as a hydroxyl group with a carboxylic acid structure that has been substituted with a hydroxyl group on the adjacent carbon.
Leading on from this, a beta-hydroxy acid (BHA) has a similar chemical structure, consisting of a carboxylic acid with two hydroxyl groups on the adjacent carbon. A polyhydroxy acid (PHA) has a carboxylic acid structure with at least two hydroxyl groups on the adjacent carbon.
It is generally the case that a PHA is much milder on the skin, and has less irritation potential and exfoliation effects than an AHA or a BHA. In this formula, the gluconolactone is providing gentle exfoliation with anti-inflammatory benefits to leave skin with a soft luster. 
Phytic Acid
Despite numerous online articles claiming phytic acid is a PHA, this is not the case as it does not contain any carboxylic acid groups in its chemical structure.
Featured: Formulating with Phytic Acid: A Mild Alternative to AHAs
Phytic acid is derived from rice bran, which has been upcycled from waste from the foods industry; more specifically as a by-product obtained through the rice milling process. The ingredient is used at 0.5% and it has key benefits such as providing gentle exfoliation and acting as a powerful antioxidant. 
Salicylic Acid
For brands to claim "acne protection" or similar claims, they are required to use materials classified as drugs in certain parts of the world, particularly the United States. Salicylic acid is a well-known drug used to treat acne or similar skin concerns. Quite often, brands will add this material to help boost claims and product performance.
In the EU, salicylic acid can be used up to 2% but in this product, it is used at 0.5%. This indicates the salicylic acid will impart less irritation.
On the brand's website, the company claims to use an encapsulated grade that shows in vivo efficacy and less irritation. In formulation, salicylic acid is particularly difficult to solubilize, so using an encapsulated version helps to improve the stability of the product. 
Hydroxyethylcellulose (HEC)
This is a unique rheology modifier to create a serum-like texture that dispenses rich and thick from the container, yet spreads easily on the skin. HEC is a nonionic, water-soluble polymer that is usually premixed with glycerin before being added to the water phase.
HEC can tolerate high salt levels and a high pH, making it a good choice of rheology/viscosity modifier for this acid serum formulation. Some grades of HEC are derived from recycled/upcycled cotton. 
Niacinamide
An ingredient loved by Hyram himself, niacinamide (vitamin B3) is a multifunctional active that is not only cost-effective, but supports anti-aging, skin brightening, anti-inflammatory and moisturization claims. It also is reported to boost cell energy and provide skin and hair conditioning benefits. 
Also related: P&G Finds Niacinamide, Carob Boost Retinoid Effects In vitro
Use Instructions
This product is reportedly suitable for all skin types. It should be used in the evenings after cleansing, every other day, by gently applying three to four drops and patting them into the face and neck. The brand cautions this product should not be used in the same routine as other exfoliating products or retinol.
This gentle exfoliating serum can be purchased online, £22.00 for 30 mL ($24 for 30 mL). 
Source: Selfless by Hyram
Previous "Read the Label:" Elemis Daily Defence Shield SPF 30
Disclaimer: This article was produced in the UK and therefore the INCI listing and INCI names comply with European labeling requirements.