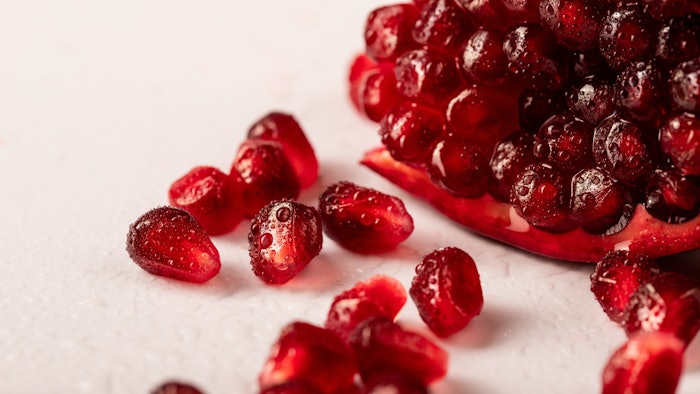 Euromed recently released research on Pomanox (INCI: Punica Granatum Fruit Extract), an ingredient sourced from pomegranates found in Mediterranean regions, which are known to provide benefits for cardiovascular and metabolic health, sports nutrition, mood and cognitive health.  
Related: Cranberry Proanthocyanidins Empower Antimicrobial Lip Gloss
According to an in vitro study from Eurecat, Pomanox may reduce signs of skin aging such as hyperpigmentation, skin dryness and loss of elasticity by reducing melanogenesis and oxidative stress while modulating collagen and hyaluronic acid metabolism.
The results from this proof of concept in vitro assay with human foreskin fibroblast cells suggest that Pomanox is a promising ingredient for nutricosmetic and beauty-from-within applications.
Further Analyses from Eurecat showed that in cells exposed to UV, both preventive and regenerative treatments with Pomanox positively influenced hyaluronic acid metabolism and decreased ROS (Reactive Oxygen Species) levels. A significant decrease in levels of MMP1, the main inhibitor of collagen synthesis, was also verified as well as a significant inhibitory effect on tyrosinase activity, potentially reducing hyperpigmentation by decreasing melanin synthesis.
A clinical study is now being prepared to further investigate and explore these insights further.