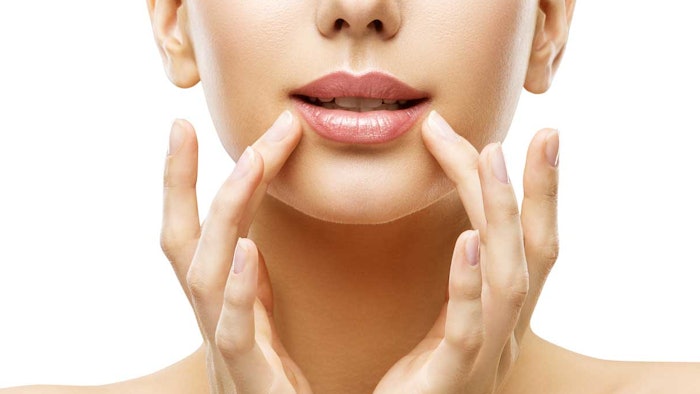 Givaudan's Spherulite HA Ultimate (INCI: Glycerin (and) Water (aqua) (and) Sucrose Palmitate (and) Glyceryl Linoleate (and) Tocopherol (and) Helianthus Annuus (Sunflower) Seed Oil (and) Sodium Hyaluronate) is a sustainable well-aging active designed to deliver high molecular weight (HMW) hyaluronic acid (HA) to deep skin layers. Dedicated to lip care, it demonstrates significant instant and long-term plumping benefits, according to the company.
See related: Spate: US Consumer Trends on Sunscreen, Lip Gloss and Scalp Serum
HA is widely used in well-aging solutions for its role in keeping skin hydrated and plumped. It is used clinically as a filler for fine lines and wrinkles, although as Givaudan reports, a majority of consumers remain cautious about injections. The active therefore provides an alternative.
Marina Egorova, Visuals and Vectorization Category Manager for Active Beauty, said: "The advanced microencapsulation technology of Spherulite allows the vectorization of HMW HA through multi-layered crystalline microcapsules. The nonionic nature of the capsule enables it to better penetrate the upper layers of the skin to the target activity site, where pure HA is slowly released for a long-lasting effect."
Additionally, according to Egorova, Spherulite HA Ultimate is highly sustainable as it contains upcycled natural vitamin E and no preservatives. The Natural Origin Content of the product according to ISO 16128 is 100%.
The performance of Spherulite HA Ultimate has been certified by Raman spectroscopy, demonstrating penetration in the stratum corneum and the epidermis up to 50 µm. The ingredient has also been clinically tested in women, and demonstrates significant improvements in lip-plumping effects—up to 12.4% after 30 min and 21.4% at D28.