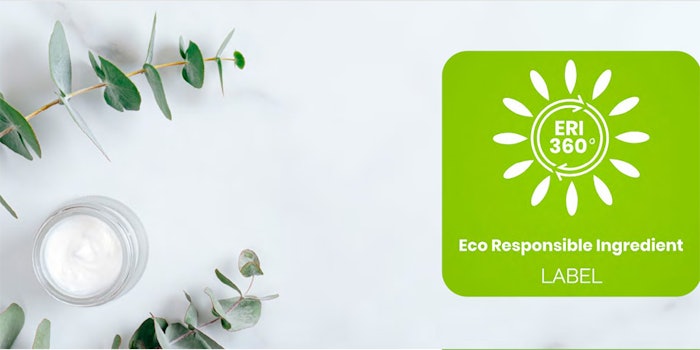 Gattefossé
Recently: Gattefossé Reveals Effects of Sunscreen, Moisturizer, Film Former Layering
The ERI 360° label combines a set of tools and indicators to measure the sustainability and degree of eco-conception of the ingredient. The standard analyzes the entire value chain from the cultivation and harvesting of the plant, through processing until the ingredient exits the factory. Through this label, Gattefossé reports it has acquired the skills and tools to carry out a complete diagnostic of its ingredients, leading to the improved conception of new products.
There are three levels of certification: bronze for a score between 75-85 out of 100; silver for a score of 85-95 out of 100; and gold for a score above 95 out of 100. Since the label's creation, 30 ingredients have been labeled ERI 360°, of which only two have obtained the gold label.
Gattefossé's ingredients achieved the following ERI 360° labels:
Gatuline Link'n Lift (INCI: Fructose (and) Glycerin (and) Water (Aqua) (and) Aesculus Hippocastanum (Horse Chestnut) Extract) - silver label): This anti-aging active is obtained by the NaDES (Natural Deep Eutectic Solvents) technology and derived from horse chestnut flower. It is reportedly rich in active molecules present exclusively in this flower. It targets vertical and horizontal wrinkles around the eyes.


Gatuline Renew (INCI: Butylene Glycol (and) Water (Aqua) (and) Cryptomeria Japonica Bud Extract - silver label): This is a natural extract of carefully selected and hand-picked Japanese cedar buds. The active is rich in phytochemicals that are said to stimulate skin renewal, rendering skin visibly hydrated, softer and smoother.


EnergiNius (INCI: Fructose (and) Glycerin (and) Water (Aqua) (and) Withania Somnifera Root Extract) - bronze label): Obtained from the roots of the Indian ginseng (Withania somnifera

) plant, this ingredient is certified organic and also obtained using NaDES technology. It reportedly protects skin cells from artificial visible light emitted by screens.
Evaluated "Gold" by EcoVadis in 2020 after a significant improvement of 16 points since its first evaluation in 2017, Gattefossé is committed to pursuing CSR efforts throughout its value chain.
"We have been working for many months to obtain the ERI 360° label for these key actives," said Paula Lennon, group director of personal care. "This label, based on an analysis grid of 100 indicators, is one of the strictest currently in use and focuses on a full cradle-to-gate evaluation of ingredients, their composition and processing. ... We intend to pursue the ERI 360° certification for other products in the coming months."
Previously: Gattefossé's EleVastin Supports Skin Elasticity by Fighting Gravity