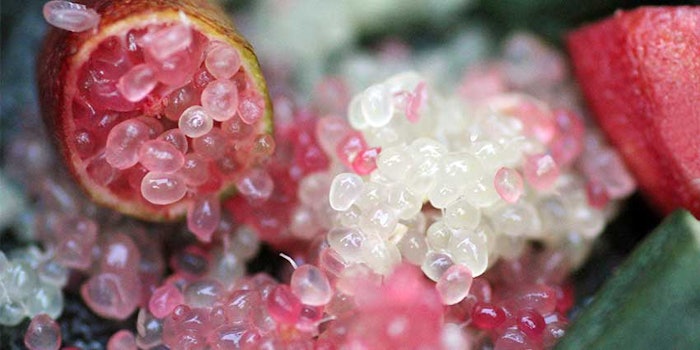 Native Extracts
Native Extracts' Finger Lime Caviar Cellular extract (INCI: 
Citrus Australasica
 Fruit Extract) offers a combination of water-soluble phytocompounds for natural skin care derived through the company's cellular extraction process.
Finger Lime Caviar Cellular extract has been formulated into numerous formats to provide relief to a variety of skin issues such as eczema, psoriasis and dehydrated, dry and flaky skin. As noted, the ingredient contains several phytocompounds such as organic acids, amino acids, tryptophan, phenolics, naringin, polymethoxyflavone (limocitrin), poncirin and citrus limonoids (obacunoic acid), for various benefits:
Organic acid

: Known for antimicrobial, anti-acne, exfoliation, emollient, moisturizing and conditioning properties;

Amino acids

: Known for skin collagen synthesis and to enhance wound healing; exert antioxidant activities; strengthen the immune system; improve skin barrier function; maintain skin vitality as anti-aging agents; and contribute to hair viability;

Tryptophan (amino acid)

: Provides broad anti-aging benefits;

Phenolics

: Known for antioxidant, anti-inflammatory, antimicrobial and anti-aging properties; additionally prevent or slow certain skin disorders and enhance wound or burn healing;

Naringin

: Known as an anti-inflammatory agent to alleviate oxidative stress and prevent tissue deterioration; also counteracts skin and body aging and protects from sun damage;

Polymethoxyflavone (limocitrin)

: Known as an anti-inflammatory, counteracts skin aging caused by sun damage and promotes skin brightening;

Poncirin

: Imparts antioxidant effects to maintain cell vitality; and

Citrus limonoids (obacunoic acid)

: impart analgesic and anti-inflammatory activities.
Previously: Native Extracts Announces Rainforest Blue Oil