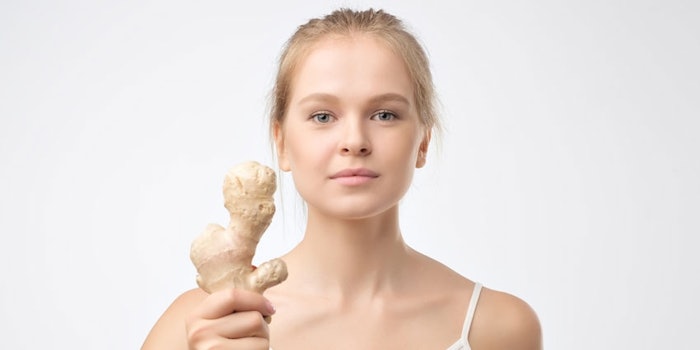 Research from the University of California-Davis and California State University, published in the Journal of Cosmetic Dermatology (JCD), confirmed the clinical benefits of a topical cream containing acetyl zingerone to address signs of photoaging.
Acetyl zingerone (AZ), a derivative of the phytochemical zingerone from Zingiber officinale (ginger), is a compound with purported anti-aging properties. As reported in the October edition of Cosmetics & Toiletries (C&T), the material serves as an "omni" antioxidant since it acts through not one, but several mechanisms. 
Chemical Effects
AZ was shown in C&T to scavenge and quench several forms of reactive oxygen species (ROS), including those that are free radicals as well as highly reactive non-radicals. Examples include peroxyl radical, hydroxyl radical, peroxynitrite anion and singlet oxygen. Studies also showed acetyl gingerone performed with greater efficacy than the benchmarks α-tocopherol and resveratrol.
Furthermore, the ingredient selectively chelated iron, inhibiting the Fenton reaction to, in turn, impede further •OH production in skin. All these actions support claims for anti-pollution, blue light protection, antioxidant effects and advanced glycation end product (AGE) quenching, among other benefits.
Clincal Results
As reported in JCD, a clinical study randomly and blindly assessed the effects of AZ on the appearance of facial skin wrinkles, redness, pigmentation and photoaging. Thirty‐one healthy participants, ages 44 ± 7 years, applied either a 1% AZ or placebo cream to the full face twice daily for eight weeks. Assessments were made using facial imaging analysis photography and software.
Results showed a significant decrease in average wrinkle severity (mean = -25.7%, p = 0.019), as well as reductions in total wrinkle volume, pigment intensity and redness intensity in the AZ group at eight weeks, compared with the placebo. Furthermore, no skin sensitization was observed.
Taken together, the chemical and clinical effects of AZ demonstrate its potential as a next-gen antioxidant for modern anti-aging, skin care and skin health applications.