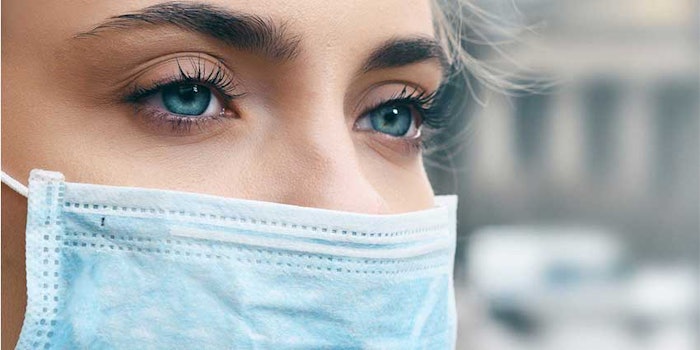 Greentech
Skin that is 'locked down' under face masks experiences redness, itching, dryness, "maskne," etc. As such, Greentech features active ingredients to limit these mask-related skin reactions.
Related: Industry Insight: Unmasking 'Maskne'—Underlying Causes and Future Innovations
The various solutions offer skin repair benefits, reduce mask acne and relieve discomfort; they are highlighted as part of Greentech's ingredient line to address the effects of long mask wear.
Expozen
Expozen (INCI: Glycerin (and) Water (Aqua) (and) Hydrolyzed Rhodophycea Extract) is a natural active for sensitive and reactive skin based on sulfated polysaccharides from Halymenia durvillei, a red alga living off the coast of Madagascar.
According to the company, Expozen rebalances the microbiota of reactive and sensitive skin, especially reducing C. kroppenstedtii involved in inflammation and redness. It decreases neurogenic inflammation and sensitive skin symptoms with an intensive soothing effect and a reduction of redness, heat and flushed sensations.
Biotilys
Probiotics keep the epidermal barrier intact while preserving the skin homeostasis. Acting as a short- and long-term protector, Biotilys (INCI: Lactobacillus Ferment Lysate) increases skin's innate immunity with antimicrobial peptides and promotes cutaneous microbiotic balance. In addition, it allows skin to withstand aggressions, maintains a healthy appearance, and reinforces the skin barrier and moisturization.
Acnilys
Acnilys (INCI: Water (Aqua) (and) Propanediol (and) Rhodomyrtus Tomentosa Fruit Extract) is another natural active based on the molecule rhodomyrtone, which is reportedly well-known for its anti-inflammatory, antioxidant and antimicrobial properties.
The ingredient balances skin microbiota by acting on C. acnes phylotypes and on the more virulent strain Cutibacterium granulosum. Acnilys also reduces seborrhea and inflammation, visibly improving overall skin appearance with fewer papules and redness, increased skin hydration and radiance.
For more information, contact Greentech.