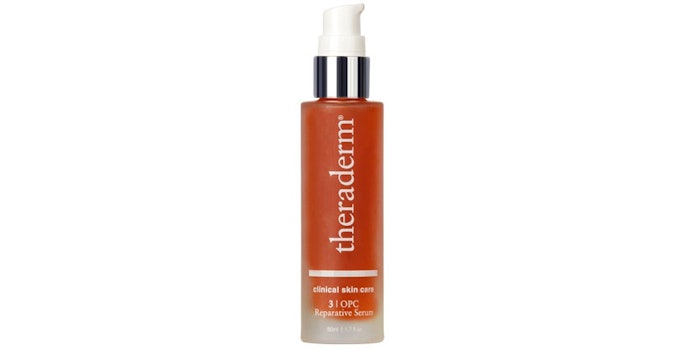 Antioxidants neutralize free radicals in the skin produced by pollution, smoke and UV radiation. While vitamin C is often considered the Holy Grail of antioxidants, Theraderm OPC Reparative Serum contains oligomeric proanthocyanidins (OPC) that, together with vitamin C, reportedly scavenge free radicals 20x more effectively than vitamin C alone.
According to the company, OPC harvested from a French maritime pine bark is "clinically proven to be the most effective of all the antioxidants," backed by more than 20 years of testing. The bark is said to be saturated in highly active antioxidant particles, which are preserved during their harvest to ensure the active remains pure and potent.  
 "OPC enables full activity from vitamin C in the body to rebuild skin collagen," said James Beckman, M.D., plastic surgeon and founder of Theraderm Clinical Skin Care. "If a vitamin C molecule captures a free radical, it cannot function to connect amino acids into collagen and elastin in skin. OPC is like a lifeguard, protecting all vitamin C as it easily 'steals' free radicals that vitamin C has attached to itself." Beckman recommends layering the OPC Reparative Serum under SPF for "ultimate free-radical protection."
According to the company, this water-based serum combats signs of aging such as dry skin, dark spots, sagging, wrinkles and fine lines. It also slows down aging processes.
Ingredients: Water (Aqua), Aloe barbadensis Leaf Extract, Ethoxydiglycol, Glycerin, Hyaluronic Acid, Thiotic Acid, Pinus Pinaster Bark/Bud Extract, Tocopheryl Acetate, Panthenol, Carbomer, Diazolidinyl Urea, Iodopropynyl Butylcarbamate, Triethanolamine.