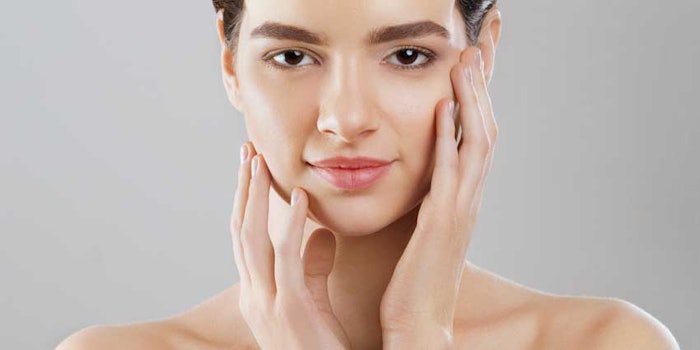 With expertise in formulation, Lessonia's R&D team has crafted five prototype products that embrace the ideas of well-aging and "me time" in a range simply called "Touch." 
According to the company, the line provides novel skin care experiences, combining the pleasure of texture with sensoriality. For each Touch product, a specific texture was designed and combined with the company's Healthyskin (INCI: Glycerin (and) Water (Aqua) (and) Gigartina Stellata Extract) marquee ingredient, originally launched in 2018, in addition to other synergistic actives for complementary efficacy.
The five prototypes include:
Velvet Gel Cream, with immediate and long-term anti-aging effects. This formula combines tightening action for immediate effects with longer-term anti-aging activity. The marquee ingredient decreases skin's microrelief on average by 6.3% and up to 42.9% after 28 days of use (t-test, p = 0.018). In addition, Tens'up (INCI: Water (Aqua) (and) Glycerin (and) Cichorium Intybus (Chicory) Root Oligosaccharides (and)  Caesalpinia Spinosa Gum) exerts an immediate mechanical tension of skin, resulting smooth lines and a softer skin appearance.


Whipped Cream renews skin from the epidermis to the microbiota. Thanks to the featured ingredient, the skin's ability to boost epidermis renewal is restored for improved differentiation, cornification and desquamation. A clinical test showed the ingredient more than doubled skin renewal after just four days of use (p < 0.001). Furthermore, the company's Bioecolia probiotic (INCI: Alpha-Glucan Oligosaccharide) is incorporated to preserve skin's microbiota; in a selective way, it stimulates the development of beneficial flora to the detriment of pathogenic and undesirable flora.


Detox Shield Serum strengthens the skin's natural barrier function and creates a protective and invisible shield against atmospheric, UV and domestic pollution. The star ingredient was shown to improve barrier function by 8.8% versus a placebo (p < .0001). In addition, Pollustop (INCI: Biosaccharide Gum-4 (and) 1,2-Hexanediol) is included to create a protective shield; it was shown to improve protection against particle encrustation by 46% versus a placebo (p < 0.01).


Skin Renewal Cream stimulates renewal by a synergic action between mechanotransduction and bioinduction. It leaves skin smoother and softer by activating all the skin renewal process: stem cell proliferation, keratinocyte differentiation, cornification and desquamation. The featured ingredient, as noted above, boosts epidermis renewal and stimulates the differentiation process. In addition, Easy WAY (INCI: Cellulose Acetate) is used to activate skin renewal by mechanobiology, with improvements up to 46.5% after eight days of use.


Finally, Sensational Balm restores the natural process of skin hydration by improving the natural barrier function to ensure optimal preservation of skin's water content. The star ingredient significantly restored barrier function by 16.5% in a clinical test. Also incorporated is plant-derived squalane, Phytosqualan, obtained from the unsaponifiable fraction of olive oil, which has a natural affinity with the skin since it is one of the main components of sebum and the hydrolipidic film. It prevents moisture loss and restores skin suppleness and flexibility.
These prototype products initally were introduced by Lessonia during Luxe Pack Monaco. For more information, contact the company.