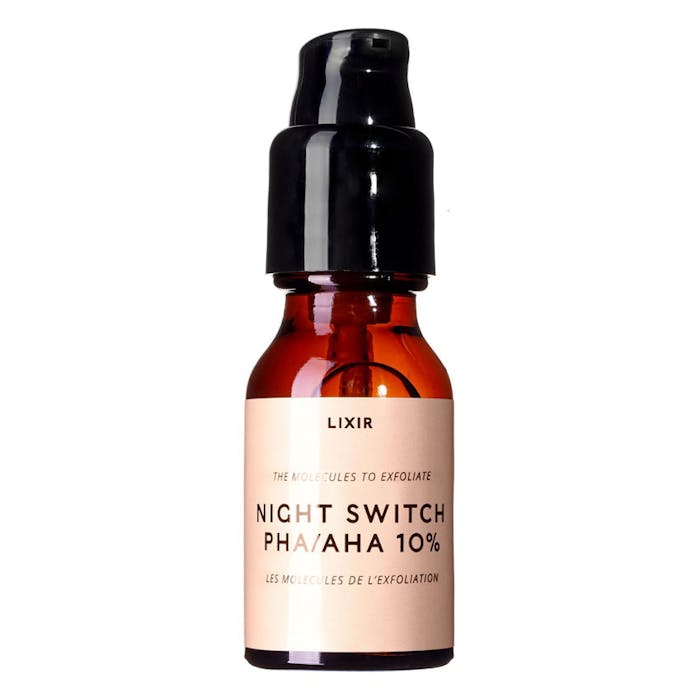 LIXIRSKIN is a brand that advocates a "less is often more" approach—in other words, too many active ingredients can "confuse" the skin, and using the same product can cause a plateau in efficacy. The Night Switch range PHA/AHA 10% product, reviewed here, exemplifies this approach.
The range provides a blend of three acids: lactic, lactobionic and phytic, which exfoliate and remove dead, dull cells to reveal more even-toned, radiant and plump skin. These also reduce pigmentation and encourage cell turnover.
Each acid is said to offer a special benefit: lactic improves hydration; lactobionic reduces oxidative stress; and phytic eliminates heavy metals to detoxify the skin. The product is positioned as ideal for use with other moisturizers.
The PHA/AHA 10% product label instructs users to apply one to two pumps to the affected area at night for three weeks, then to allow the skin to rest for a few days before switching to another Night Switch product. The product also can be used as a mask by applying three pumps to dry skin, leaving it for 10 min, then rinsing.
This column will review the ingredient listing for claims substantiation and functionality.
Base Formula: Acids Abound
This formula is water-based and, as stated, contains multiple acids as well as their salts. Sodium lactate, a sodium salt of lactic acid, is acting primarily as a hydrating and buffering agent. Lactic acid, an alpha hydroxy acid (AHA), is a keratolytic agent (exfoliant) and humectant, which is popularly used in stronger peel treatments for dry skin and melasma.
Lactobionic acid is also an AHA and exfoliant that might be better tolerated than other acids as it tends to induce less erythema and skin barrier disruption; as such, it often is used to address dry skin conditions. Phytic acid, or inositol polyphosphate, is a gentle keratolytic agent, reportly efficacious in treatment of melasma in darker skin types.
All acids stimulate epidermal turnover and have been implicated for the treatment of different skin conditions, i.e., acne and xerosis.
Finally, benzyl alcohol is used as preservative and a fragrance.
Conclusions
In my view, the ingredients support the claims for exfoliation/removal of epidermal corneocytes to improve lackluster, dull skin. Also, the acids are likely to be in high enough concentrations to achieve more even-toned and radiant skin, encouraging cell turnover and, to a degree, reducing pigmentation. The formula is also preserved.
Ingredients: Water (aqua), Sodium Lactate, Lactic Acid, Lactobionic Acid, Phytic Acid, Benzyl Alcohol