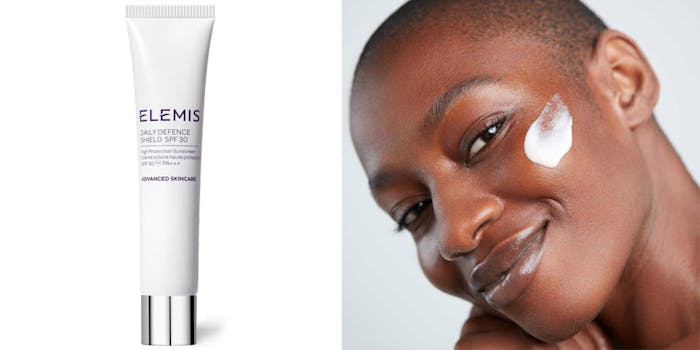 https://us.elemis.com/daily-defense-shield-spf-30.html
This 'Read the Label' column looks at UV protection, indoor/outdoor pollution and film formers. The product under review is the Elemis Daily Defence Shield SPF 30.

Related: Colorescience Expands Face Shield Sunscreen Line with Flex and Matte
Elemis was founded in London in 1989 by Linda Steiner, who had the vision to create a natural cosmetics range that was complimented by scientific performance. She was joined by the co-founding trio Noella Gabriel, Sean Harrington and Oriele Frank, who helped transform this vision into a reality.
In the early 90s, Elemis products launched in spas aboard cruise ships, which opened the brand to a global audience. In the early 2000s, it opened its first flagship spa in the heart of London and soon after, launched its famous Pro-Collagen Marine Cream. The brand continues to grow today with products sold in stores all over the world. Elemis has won numerous awards including being named Best Premium Skincare Brand by The Sunday Times Style in the UK (2020).
The product is a broad-spectrum SPF 30 sunscreen with a lightweight formula that protects the skin against UVA and UVB rays, indoor and outdoor pollution, and high-energy visible light. The sunscreen has a creamy, non-greasy formula and contains Elemis's Enviro-Age Complex–a triple defense system reported to help combat visible effects of environmental aging. As well as this, the product contains coconut and jojoba oils to provide hydration and leave the skin nourished.
Podcast: Ethically Sourced, Renewable Jojoba for Beauty Benefits
Independent user trials carried out in 2012 and 2017 support product claims including:
Clinically proven to help protect the skin from environmental microparticles and harmful UV rays;
96% of users agreed this product felt silky and weightless on their skin;
93% of users agreed this product protected their skin at all times, whether indoors or outdoors;
and 93% of users agreed this product left their skin feeling hydrated and moisturized.
The ingredients below in bold are ones that I believe are strongly contributing to the product's performance and claims.
Ingredients: Water (Aqua), Glycerin, Coco-Caprylate, Isostearyl Alcohol, Butylene Glycol Cocoate, Butyl Methoxydibenzoylmethane, Ethylhexyl Methoxycinnamate, Cetyl Alcohol, Phenoxyethanol, Panthenol, Butylene Glycol, Octocrylene, Cocos Nucifera (Coconut) Oil, Simmondsia Chinensis (Jojoba) Seed Oil, Carbomer, Sodium Stearoyl Glutamate, Chondrus Crispus Powder, Lecithin, 1,2-Hexanediol, Ethylcellulose, Tocopherol, Ethylhexylglycerin, Argania Spinosa Leaf Extract, Carnosine, Tocopheryl Acetate, Disodium EDTA, Sodium Hydroxide, Biosaccharide Gum-4, Melanin, Pentylene Glycol.
Editor's note: While the "Read the Label" series provides an overview of the ingredients cosmetic manufacturers use and their related claims, without use levels or access to clinical studies, the author is drawing conclusions based on speculation—albeit from training, formulating experience and, in some instances, evidence in the literature. The following is offered for your consideration and further verification.
Butyl Methoxydibenzoylmethane
Also known as avobenzone, this is an organic sunscreen filter that absorbs UVA rays, particularly in the 340-400 nm region. It is oil soluble and usually comes in crystal form.
Due to its sun protection factor, it helps protect the skin against photodamage and premature skin aging. The maximum use level is between 3-5%, depending on the country in which it is sold. 
Ethylhexyl Methoxycinnamate
Known as octinoxate, this is a highly effective UVB absorber. It is often used in combination with other sun filters to achieve broad-spectrum protection. It is oil soluble and is the most commonly used sun filter in the world due to its global compliance. 
Panthenol
If you have ever had a tattoo, you may know about panthenol. This material is primarily a conditioning agent that can be used in both skin and hair products. It smooths the skin, provides long-lasting moisturization and imparts anti-inflammatory and wound healing benefits.  
Octocrylene
This is a UVB absorber that allows users to create high SPF formulas. It has slight water repellence and can improve water resistance in sunscreens. It helps to improve the solubility of butyl methoxydibenzoylmethane (avobenzone). It is a yellow, oil-soluble, viscous liquid; typical use levels are between 7-10%.
Cocos Nucifera (Coconut) Oil
Coconut oil contains a high level of fatty acids to nourish the skin and provide moisturization over long periods of time. It is often solid at room temperature and melts upon contact with the skin; otherwise it is a clear and colorless oil.
Simmondsia Chinensis (Jojoba) Seed Oil
Elemis claims both coconut and jojoba oils provide hydration, leaving the skin nourished–and there is no doubting that, with these popular and effective emollients.
Jojoba oil is a lightweight, golden oil that is generally obtained through cold pressing of the jojoba seeds. Typical usage varies between 2-5%. 
Sodium Stearoyl Glutamate
This naturally-derived o/w emulsifier can be used to create all sorts of rheological profiles depending on usage level. This emulsifier works particularly well in this emulsion as it is compatible with electrolytes and certain UV filters. 
Ethylcellulose
This is the main film former used in this finished product to support outdoor/indoor pollution protection claims. It forms a protective, breathable layer on the surface of skin that prevents external particles from adhering to the skin. It also provides water resistance.
Ethylcellulose usually comes in the form of a powder and it must be solubilized into the formula usually by heating or by mixing with other solvents. It is sourced from wood-derived cellulose, is globally compliant and is used at levels between 0.5-1%. 
Carnosine
This anti-aging peptide stimulates collagen production in the skin while providing powerful antioxidant properties to scavenge ROS and metal-chelating ions. 
Melanin
As is well-known, melanin is a brown pigment produced in the skin. It is the body's natural defense against UV light. Melanin exists in nature, too, and quite often vegetable melanin is used; although by the INCI name alone, one cannot say for sure. Melanin is not listed as a legal sun filter but it does have weak sun protection effects to help boost SPF values. 
Usage Instructions
To use the product, a pea-sized amount should be applied to the face every morning after moisturizing, with reapplication throughout the day to maintain protection—especially after swimming or perspiring. It can also be used as a base for makeup.
This product can be purchased online through the Elemis website, in spas or through other beauty retailers for £46.00 for 40 mL ($60.00 for 40 mL). 
Previous "Read the Label:" Nursem's Caring Hand Wash
Source: Elemis 

Disclaimer: This article was produced in the UK and therefore the INCI listing and INCI names comply with European labeling requirements.