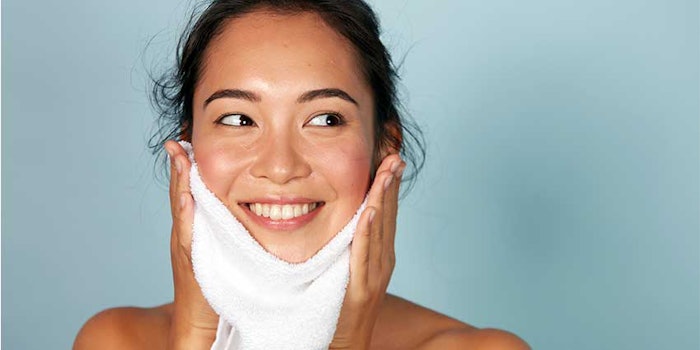 ID 190414413 © Puhhha | Dreamstime.com
As the weather gets colder and dryer in the winter months, protecting the stratum corneum becomes more important to maintain the lipid layer. When this layer is disrupted, it can lead to an increase in transepidermal water loss (TEWL) and subsequent skin irritation, or worse.
Related: Defeating Dry Skin: New Developments for Adult and Neonatal Moisturization
As is well-known, the stratum corneum is the first line of defense against the external environment. It is made up of corneocytes that assist in hydration and water retention. When the stratum corneum is compromised, it becomes increasingly difficult for the stratum corneum to maintain hydration and retain moisture. This often presents itself as dry, cracking and flaking skin. More severe cases occur in compromised skin afflicted by underlying conditions of psoriasis or eczema, and symptoms may include redness, inflammation, scaling and even peeling of the skin.1
Sulfates and other anionic surfactants have increasingly become known to consumers for their potential to disrupt the stratum corneum, turning would-be users away from products that utilize these types of ingredients. High foaming cleansers, for example, often employ anionic surfactants to effectively remove dirt, debris or makeup from the skin, which is important to skin maintenance but may cause irritation due to the "stripping" nature of such surfactants.
Featured: Industry Insight: Seeing Through Layers of Skin Care Complexity
As an alternative to anionic surfactant-containing formulas, no-foam cleaners are formulated to help break down makeup and remove dirt and debris from the skin but in a gentle, hydrating way. Indeed, the goal for such cleansers is to maintain the skin barrier by helping to support hydration and to minimize TEWL. The present column reviews the basic components of and formulating strategies for no-foam cleansers.
Thickeners
Thickeners influence the formula in several ways. In a no-foam cleanser, such gelling agents may include carbomer, acrylates steareth-20 methacrylate copolymer or acrylates C10-30 alkyl acrylate crosspolymer. These polymers function as viscosity/rheology modifiers that also affect the overall dosing of the product and type of packaging that will be utilized for the end-user.
Previously: Active Transport: How Rheology Modifiers and Preservatives Impact Release
In addition, polymers will increase the stability of the product by assisting in minimizing the effects of temperature change, pH, light and other external environmental factors. Polymers can also enhance the aesthetics of the final formula, which are dependent on the type of polymer used. For example, carbomer will provide and non-tacky/sticky feel, whereas hydroxyethylcellulose (HEC) can sometimes leave a slightly tacky residue on the skin.
Cleansing Agents
Surfactants are probably the most difficult ingredients to incorporate into no-foaming cleansers because many of them have inherent foaming properties. Choosing the correct surfactant, however, will have a vast effect on the efficacy of the final formulation.
To ensure the formulation will have minimal irritation and foaming, it is important to avoid anionic surfactants such as carboxylate, sulfates, sulfonates, phosphate esters, sulfosuccinates, glutamates, isethionates and taurates.
Cationic surfactants, on the other hand, are useful for no-foam cleansers because one of their main functions is to condition the skin. Note that in some cases, cationic cleansers can also be slightly irritating but combining them with moisturizing agents will minimize this. Some common cationic surfactants include quats, alkyl amines and amine oxides.
Amphoteric surfactants can also help to improve conditioning and reduce irritation; however, these surfactants can be foam boosters. It is important to use amphoteric surfactants carefully, especially when trying to achieve a no-foam effect. Some helpful amphoteric surfactants, if used properly, include betaines, amphoacetates and propionates.
Previously featured: Clean and Green: A Review of Modern Day Surfactants and Emulsifiers
Nonionic surfactants are a good option for no-foam cleansers because they act as emulsifiers, conditioners and solubilizing agents. Examples include: ethoxylated fatty alcohols, alkyl polyglycosides, glyceryl esters, PEG-esters, sorbitan esters, polysorbates and fatty alcohols. Nonionic surfactants will also contribute pleasing aesthetics to the formulation.
Moisturizing Agents
As noted, including skin conditioning agents in no-foam cleansers will help to counteract the feeling of "stripping" that surfactants can cause. It will also increase consumer satisfaction and product aesthetics. Incorporating humectants such as glycerin and propanediol can assist in decreasing skin irritation while increasing product aesthetics.
Aside from humectants, emollients are an excellent addition to help break down any residue or makeup that is on the skin. To ensure the cleanser does not leave a heavy residue, however, it is important to consider light emollients. Some examples include caprylic/capric triglyceride, ethylhexyl palmitate, hydrogenated polyisobutene, isostearyl isostearate and isostearyl neopentanoate.
Finally, a highly volatile silicone such as cyclopentasilxone could impart a soft and lubricous feel, and help to increase spreadability. And other ingredients that may impart moisture to the skin include Aloe barbadensis leaf extract and hyaluronic acid. 
Conclusion
As the weather gets colder and the air gets drier, no-foam facial cleansers are an option for consumers who suffer from dry, sensitive skin or who have severe skin conditions such as psoriasis and eczema. The use of mild surfactants, humectants and light emollients can help to protect the skin barrier. This minimizes any stripping effects and decreases the chance of TEWL while still removing makeup, dirt, debris and germs from the skin.
Related: Youth to the People Cooks Up Superfood Antioxidant Cleanser
It is important to note that a no-foam approach does not reduce the efficacy of face cleansers. In addition, neither a no-foaming nor foaming cleanser is necessarily "better" or "worse"—it really depends upon the needs of the end consumer. 
References
1. Murphrey, M.B., Miao, J.H. and Zito, P.M. (Updated July 2020). Histology, stratum corneum. StatPearls Publishing. Available at: https://www.ncbi.nlm.nih.gov/books/NBK513299/