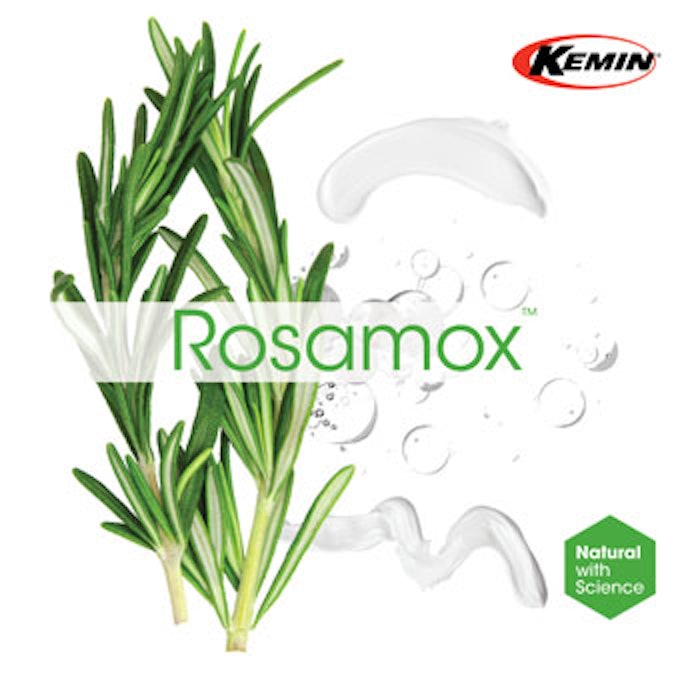 The use of antioxidants to stabilize personal care formulations and to offer skin protection from free radical damage has become mainstream. The challenge is to choose the right antioxidant. What about having this as your go-to antioxidant: Helianthus annuus (Sunflower) Seed Oil (and) Rosmarinus officinalis (Rosemary) Leaf Extract? Intriguing, isn't it?
Behind these botanical names lies Rosamox, a naturally efficient, sustainable antioxidant from Kemin's proprietary line of rosemary. Kemin challenges formulators every day to change their habit in the use of antioxidants and the perception of using a rosemary-based ingredient in their cosmetic products. Rosemary has been used as a culinary delight, but beyond that, it is highly concentrated in miraculous antioxidant molecules.
Unrivaled, Unique Beauty Performance
Rosamox contains powerful antioxidant molecules that provide a multitude of skin benefits. Rosamox has the ability to quench free radicals caused by the environment (UV-induced), which are responsible for premature photoaging, as shown in Figure 1. It has also been shown to reduce the release of Advanced Glycation End (AGE) products (see Figure 2), which result from the cross-linking of collagen proteins and sugars, known as glycation.
Photo-aging and glycation are two key extrinsic factors that accelerate the appearance of premature skin aging by impairing collagen and elastin fibers, as shown in Figure 3. Using Rosamox in formulations is the secret to boost beautiful skin featuring double protection against oxidative stress. Rosamox enhances the look of the skin by leaving the skin soothed and well-conditioned, as shown in Figure 4.
Rosemary Superstar: Ideal for Oil-based Cosmetics
The oil trend is exploding and has gained the attention of the personal care market. From facial oil treatments to cleansing, body, hair or nail oils, oil-based cosmetics have invaded the store counters. Beauty companies are launching their own formulas for almost every skin type, containing high-quality oils. Oils most commonly used in personal care products are often of plant origin such as jojoba, olive, argan, avocado, squalene or sunflower, and are highly unsaturated, which leaves them susceptible to oxidation.
Oxidative degradation of oils leads to off-color and off-odor of the final product over time, and shortens the product's shelf-life. To overcome oxidation challenges, formulators use antioxidants to protect the oils. Typical antioxidants used include butylated hydroxytoluene (BHT) and tocopherol acetate. The ingredient options given to formulators are not very appealing. On one hand, formulators can use a synthetic ingredient such as BHT, which is not favored for a "clean" ingredient label. On the other hand, tocopherol acetate is considered more natural, but it can act as a free radical donor, resulting in pro-oxidation and shorter stability of products. Therefore, we would like to introduce Rosamox, a natural rosemary-based antioxidant with stunning, unexpired oil preservation.
Kemin has tested Rosamox against BHT and tocopherol acetate using the Oxidative Stability Index (OSI) assay (see Figure 5). At 0.5%, Rosamox shows significant protection of highly unstable oils, resulting in an efficacious alternative to tocopherol acetate or synthetic antioxidants while providing an attractive label copy.
Rosamox: A Must-have for …
Kemin creates formulations that demonstrate the ingredient in its best profile, matched with the needs and future outlook of the market. Rosamox is easy to use in various types of natural formulations with its low odor and low color aspects. For example, Rosamox has been incorporated into a BB cream. With this single multifunctional ingredient, Rosamox encompasses skin claims such as soothing, smoothing, conditioning, enhancing skin look.
In addition, rosemary is known for traditional folk therapy while calming the senses. Because of the soothing, therapeutic nature, Rosamox was included into a night cream as a powerful bioactive that helps to rejuvenate and soothe the skin at night after being assaulted by daily insults.
Last, but not least, Rosamox is found indispensable in a serum product. It has been added in a delicate lotion for the eye contour to helps soothe the sensitive area around the eye as well as reducing the visible signs of aging, especially skin sagging and thinning.
Sustainable Beauty
Sustainability is a major movement within the cosmetics industry. More companies are adopting sustainable practices from undertaking eco initiatives to moving away from petrochemicals to natural ingredients. Encouraging green behavior is key to achieving a sustainable cosmetics industry.
Kemin has joined the movement towards "Green Beauty." There is a beautiful story behind Rosamox as an exemplary green ingredient. Kemin rosemary is certified "Sustainably Grown." Kemin utilizes the SCS Kingfisher Certification mark (see Figure 6) as a visual expression of proven commitment to sustainability through environmental stewardship, responsible source management, and protection of people and communities.
Kemin has designed its own proprietary line of non-GMO rosemary with one of the most advanced conventional breeding programs in the world that consistently provides the same levels of targeted antioxidant bioactives. Kemin rosemary is grown agronomically through a vertically integrated production system, with a controlled supply chain and full traceability. Kemin works diligently with family farmers in the United States to grow acres of identical rosemary plants. The rosemary is extracted using supercritical CO2 extraction, a green chemistry process. Kemin has invested many years to develop a sustainable, agronomic approach to growing rosemary, using sunlight, soil and water to fuel the photosynthesis that builds the plants. This practice is beneficial for the environment, as millions of Kemin plants clean carbon dioxide in the air, emit oxygen and produce waste matter that returns nutrients to the soil, while reducing energy consumption and carbon emissions. Formulating cosmetic products with Rosamox is a guarantee of natural sustainable manners! Rosamox is Ecocert and COSMOS approved.
World-class Personalized Support
Having trouble with oxidation? Kemin is dedicated to helping our customers be successful. At Kemin, our North America Customer Laboratory Services Department is ready to evaluate the oil preservation performance of Rosamox in your products for you through applicable testing such OSI, to ensure you receive the maximum value from Kemin products. Bring us your challenges and we'll go beyond to find solutions.
Disclaimer:
The above paid-for content was produced by and posted on behalf of the Sponsor. Content provided is generated solely by the Sponsor or its affiliates, and it is the Sponsor's responsi­bility for the accuracy, completeness and validity of all information included. Cosmetics & Toiletries takes steps to ensure that you will not confuse sponsored content with content produced by Cosmetics & Toiletries and governed by its editorial policy.