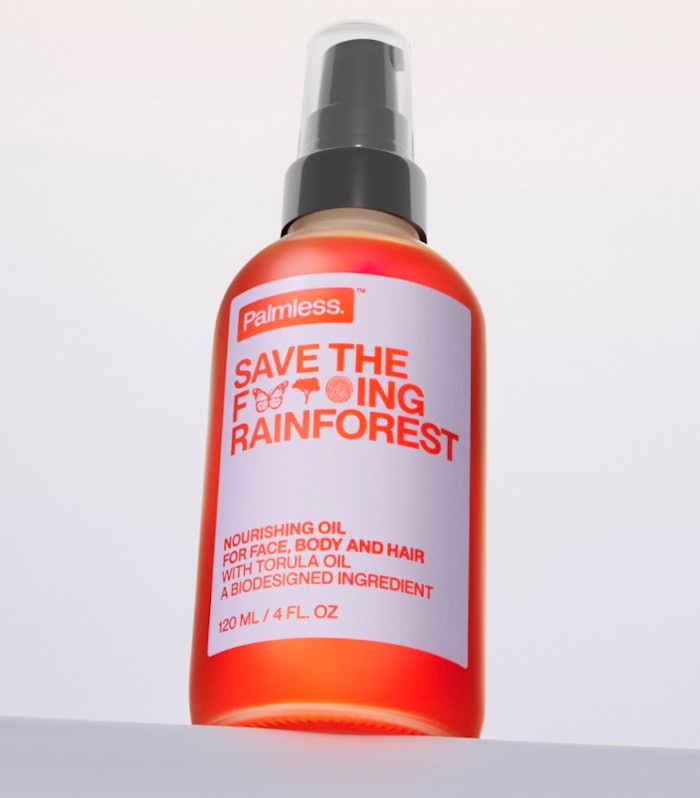 C16 Biosciences' lab-grown Palmless torula oil is launching with a concept product, Save the F#$%ing Rainforest Nourishing Oil, for the face, body and hair.
"Our brand stands for change, and this product is our protest to the industry," says Shara Ticku, the co-founder and CEO of C16 Biosciences. "The beauty industry has struggled with the palm oil problem for nearly a decade, but has failed to show meaningful action. Palmless is here, holding our protest poster high: palm oil doesn't need to be a problem anymore. Our product launch is a call to action for the industry: Let's work together to save those precious rainforests before it's too late."
In December 2022, C16 Biosciences announced the launch of a consumer-facing fermentation and biotech manufacturing platform for Palmless-branded next-generation oils and fats.
The  platform reportedly serves as a solution to the problems of agricultural palm oil tied to deforestation, greenhouse gas emissions, biodiversity loss and abusive labor practices. 
The first Palmless brand ingredient, torula oil, has been described as a "luxe bio-designed oil that sits at the intersection of performance moisturization and innovation."
The ingredient is reportedly rich in signature carotenoids and sterols due to its fungal origin, and is being promoted as beauty's new "super ingredient."
These palm oil developments come two years after C16 Biosciences closed a $20 million series A investment round led by Breakthrough Energy Ventures, Waldencast, Future Tech Labs and others. 
Related: BASF Introduces Crypto Blockchain for Sustainable Palm Kernel Oil
At the time of platform's announcement, Tiku said, "The launch of Palmless is a big step forward in making a palm oil alternative a reality. Consumer brands have been seeking a palm alternative for years, but have lacked a real solution–until now."
Carmichael Roberts of Breakthrough Energy Ventures commented: "Palmless becoming a challenger brand is an important next step as it will give consumers the power to choose products that do less harm."
Palm oil is found in approximately 50% of products on supermarket shelves and demand for the ingredient continues to grow, according to C16 Biosciences. In response, U.S. imports of palm oil have increased by nearly 30% since 2014, per data cited by C16, underscoring the need for sustainable alternatives.