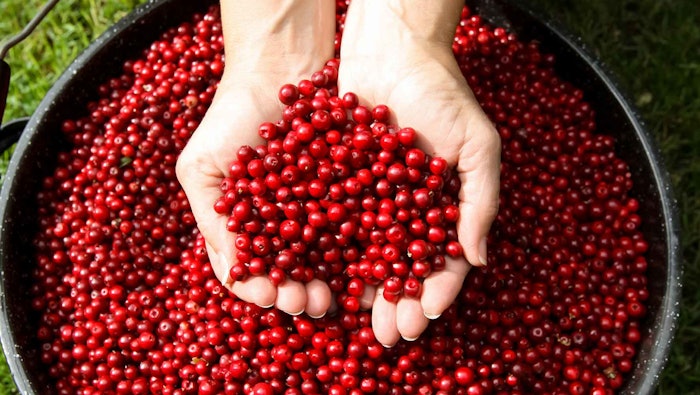 Research published in Processes describes the development and testing of cranberry seed oil (CSO) nanoemulsions (NE) to explore their potential to treat skin diseases. According to the authors, CSO can benefit various skin conditions, likely due to its omega-3, omega-6 and omega-9 fatty acid content, in addition to tocotrienols (vitamin E).
See archived: Patent Pick; Topical Cranberry Tackles Intimate Cleansing, Microflora Balance
Following the creation of NEs, one formula having a mean droplet size of ~110 nm, a narrow size distribution, a steady zeta potential and a high transmittance percentage was selected for testing. Electron microscopy showed no aggregation of droplets and high entrapment efficiency. Densitometry confirmed linoleic acid as a major component of the CSO. See the open access article for further details.
The nanogel demonstrated 3x greater cumulative permeation through the skin than neat CSO. The authors concluded the results suggest the unique CSO delivery technique could be used to treat skin diseases.