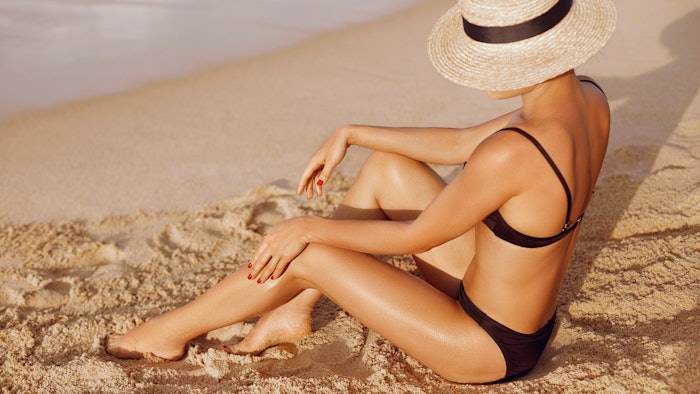 Published on April 5, 2022, a novel patent from Johnson & Johnson (J&J) discloses how balancing the silicone, ethanol and UV filter content in sunscreens improves their transparency and esthetics. The key was to focus on miscibility.
As the patent explains, sunscreen compositions often include one or more organic sunscreens to provide broad spectrum (UV-A and UV-B) protection but this often creates an oily feel. One approach to reduce this oiliness is to formulate sunscreens using an alcohol base.
See related: Industry Insight; Sunscreen Differences for People of Color
Alcohol-based sunscreens can provide pleasant and clear visual esthetics but if formulated incorrectly, they can demonstrate poor phase and viscosity stability. This makes them hazy and unacceptable to consumers.
Silicones also can be used improve esthetics but as the inventors explain, binary mixtures of silicone/ethanol and silicones/UV filters are typically immiscible. However, in this latest patent, U.S. Pat 11291621, J&J has identified the right balance to circumvent this issue.
Disclosed is a sunscreen comprising one or more oil soluble UV filters, at least ~20% w/w ethanol, ~13.5% w/w or less low viscosity silicone (< 20 cSt), and at least ~23% w/w very low viscosity silicone (up to ~15 cSt). The resulting composition is anhydrous, transparent and esthetically pleasing.
Further, the low viscosity and super low viscosity silicones provide reduced shine on the skin. The composition may additionally be substantially, or completely, free of oxybenzone while providing a surprisingly high SPF.
See archived: Dielectric Constant to Develop Clear Sunscreens for Wet Skin