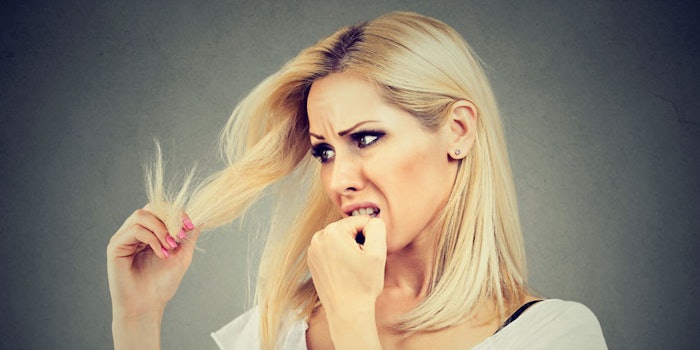 According to Technavio, the U.S. hair care market will witness an incremental growth of $1.15 billion during 2020-2024, per the latest pandemic recovery-based research. Worldwide lockdowns have impacted operations, supply chains and logistics, negatively affecting economies around the globe and resulting in an overall slowdown. But there's hope.
The firm notes that businesses are finding unique pathways to recover from the COVID-19 crisis. Except for lockdowns, increases in social distancing measures and remote working plus entries by players in digital marketplaces are likely to improve market conditions by early 2021. Moving optimistically ahead, we offer the following brief literature review of hair damage, care and repair research to support developments in this positive market direction.
Effects of pH on Bleached Hair Properties
Malinauskyte, E., Cornwell, P.A., Reay, L., Shaw N. and Petkov, J.; Biopolymers;  https://doi.org/10.1002/bip.23401
In this work, published in Biopolymers, the authors examined how pH affects bleached hair properties using several techniques. At pH 5, hair proteins showed the best structural integrity whereas at pH 10, cross‐linking decreased, and water content and cross‐sectional diameter increased. Alkaline treatment, compared with pH 5, did not reduce intermediate filament conditions or mechanical performance in the wet state.
See related: How Damaged is Hair? Part I, Surface Damage
Furthermore, in contrast to alkaline‐treated hair, bleached hair equilibrated at pH 3 contained two different cross-link density zones, and was the least stiff in dry and stiffest in wet states. It also absorbed less water and had the lowest diameter. According to the authors, pH levels from 3 to 10 did not affect the mechanical strength of bleached hair in dry or wet conditions.
Quantifying Hair Damage Perception by Coefficient of Friction
Lim, B.T., Seo, H.A., Song, S.-H., Son, S.K. and Kang, N.-G.; J Soc of Cosm Sci Korea; available at: http://www.papersearch.net/thesis/article.asp?key=3824936
In this study, the authors aimed to connect frictional coefficients for damaged hair determined instrumentally with texture test perceptions by a human evaluator. Among other observations, hair bleached three times resulted in a coefficient of friction of 0.84 and a corresponding perception of damaged hair. Also, dye-damaged hair containing > 0.42% moisture was perceived to be healthy hair but an increase in moisture increased adhesive forces corresponding to the friction coefficient, and a friction coefficient > 0.6 was perceived as damaged hair.
Biosurfactant Structure vs. Hair Conditioner Absorption
Fernández-Peña, L., Guzmán E., ... Luengoc, G.S., et al.; Colloids and Surfaces B: Biointerfaces; doi: https://doi.org/10.1016/j.colsurfb.2019.110578
This research aimed to determine the impact of the molecular structure of surfactants from natural sources on the adsorption of hair conditioning polymers. Mixtures of different glycolipids, four different rhamnolipids and an alkyl polyglucoside (APG) with poly(diallyl-dimethylammonium chloride) (PDADMAC) were evaluated for their adsorption onto negatively charged surfaces. The results showed the charge, number of sugar rings and length of the hydrocarbon in the surfactant played major roles in the control of the adsorption process. The authors noted adsorption efficiency was improved over conventional sulfate-based systems for mixtures of PDADMAC and glycolipids with the shortest alkyl chains.
Hair Care for Health Care Workers During COVID-19
Jakhar, D., Kaur, I., Kandhari, R., Kaul, S., Garg, P. and Bansal, S.; Indian Journal of Medical Sciences; doi: 10.25259/IJMS_40_2020
In this "Letter to the Editor" the authors emphasize that the importance of hygiene for health care workers during COVID-19 does not stop at washing/sanitizing the hands and using face masks, as are most frequently emphasized. It encompasses the entire body, including the hair. 
They proposed hair care practices including: covering the hair and scalp under a surgical head cap; washing potentially daily with a mild sulfate-free shampoo whose pH should not exceed 5.5; optionally using a conditioner; avoiding the use of ois, gels and styling products to avoid attracting dust and compromising the protective head cap; avoiding the use of Minoxidil, as it could induce scalp itch and make hair sticky; avoiding the use of hair color and straightening agents so as to bypass potential irritant reactions; keeping facial hair trimmed and shaped so as to fit facial respirators; avoiding full beards in part to reduce sebum secretion and avoid bacterial infections such as folliculitis; and washing the face with a mild, no-soap cleanser before and after duty.
Stabilized Butter Balm for Hair and Skin Moisture
U.S. Patent Application 20200297599; assigned to L'Oréal; published: Sep 24, 2020; accessed Oct. 14, 2020
According to these inventors, topical formulas for skin and hair substrates can include high amounts of fatty emollients to provide an occlusive effect and prevent water loss and the incursion of irritants and contaminants. Such formulations can have aesthetic and tactile drawbacks, however, such as being too soft and loose upon pick-up, and melting too readily upon application, for example, to the skin. In addition, due to high amounts of oils, dispersion of humectants such as glycols can be difficult, which limits the ability to provide moisturizing benefits.
To overcome these drawbacks, disclosed in this patent application is a hydrating composition for skin or hair that includes a stabilized anhydrous balm comprising at least one glycol humectant dispersed in a stabilized anhydrous fatty phase that includes at least one plant-derived butter, a blend of structuring waxes, and a blend of fatty compounds and a surfactant.
Controlling Flocculation in Zinc-based Anti-dandruff Hair and Scalp Care
U.S. Patent Application 20200289397; assigned to Conopco, Inc./Unilever; published: Sep. 17, 2020; accessed Oct. 14, 2020
According to this patent application, in anti-dandruff hair care, cationic polymers are often used to enhance the deposition of the conditioning agent and/or anti-dandruff agents onto the hair and/or scalp. While cationic polymers and anionic surfactants form a polymer-surfactant complex (flocculation) within the shampoo system to help deposit anti-dandruff agents, this flocculation affects the delivery efficiency of anti-dandruff agents to the scalp. 
See related: Formulating Forum, Head Start
These inventors recognized the need to develop a hair care composition that can deliver a satisfactory flocculation profile while maintaining good deposition of anti-dandruff agents. This need can be met by using a combination of a copolymer and an ethoxylated anionic surfactant with a specific degree of ethoxylation. This results in a smaller flocculation size and enhances anti-dandruff agent delivery, to ensure maximum antimicrobial efficacy.