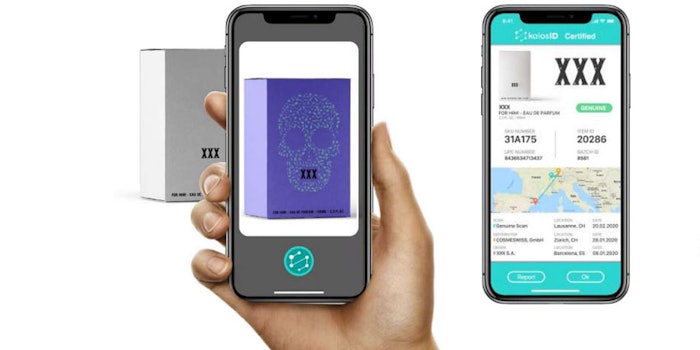 KaiosID
KaiosID has launched a security system that offers product protection while respecting the visual identity of the brand using an individual identification system.
Related: Cosmetic Valley Joins CosmetoPack Packaging Initiative
The system offers a way to identify a product through its entire packaging, covered with a hidden or invisible digitally printed pattern that is unique for each item. Since it is hidden or invisible, it does not alter the visual impact of the product and reportedly is more secure.
This covert system can impart many benefits, as reported by the company, such as:
Controlling products and usage in a secret way;
Preventing fraud in the return of products;
Detecting hot zones and implementing actions and prevention policies;
Working with trusted printers without the need for changing suppliers;
Integration without added cost in production, manufacturing and distribution, since it does not require materials or specialized workers;
Smooth implementation with training, control and follow-up processes;
Respecting the brand's profitability curve while scaling;
Authenticating and controlling products for consumers;
Generating transparency for consumers by providing access to information such as the origin of the products; and
Fostering legitimate trade.
Featured: [video] Cosmetics R&D Vlog: Packaging, Naturals and Adapting to COVID-19 Needs
Furthermore, brands can determine who scans the item and what access they have to different levels of information both in the app and on the system platform. Examples include controllers to verify the authenticity of products and the sale of products in authorized markets; and distributors that upon scanning, add the orders and include the route of the item, destination, etc. With all the information gathered from scans in real-time during different steps, the platform summarizes, in a global way, all the data of the products. 
Through this tool, brands can also establish a closer relationship with the final consumer who scans the product. This allows the user to authenticate the product while generating and tracking customer responses, e.g., to advertising campaigns and thus increases loyalty and trust. The consumer can scan the item during the purchase or post-purchase process and, again, the final information the user receives is determined 100% by the brand.
Finally, thanks to the interaction of consumers with the application, brands have access to all their profile data. This information is reflected in a global way, which allows for deeper market analysis. All information collected is covered by the General Data Protection Regulation (GDPR).
Previously: How Packaging Supports Formulations and the Consumer Experience