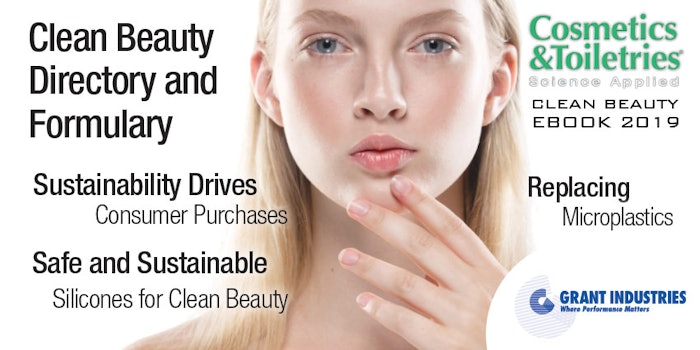 Clean beauty is something everyone is talking about without ever defining it. While the specifics may vary, most retailers, brands and even consumers agree the key pillars include: safety, sustainability, ethics and transparency.
The growing reality is consumers want brands and retailers to deliver products that are thoughtfully designed to have the least possible negative impact on human health, the environment and society—as they, the shopper, define it.
This no doubt rightfully rankles plenty of suppliers and chemists who are frustrated by the nuances and technical realities that are all too often lost in the conversation. But there are ways to use emerging green and sustainable technologies, safe synthetics, consumer education and institutional technical know-how to find new paths forward.
Combining various aspects of what clean beauty could mean to the formulator, Cosmetics & Toiletries offers this free Clean Beauty Ebook, sponsored by Grant Industries. It features articles on sustainability, replacing microbeads, and silicones as a safe synthetic option for clean beauty.
It also includes an ingredient directory highlighting products with clean, safe, alternative/replacement, sustainable and other clean beauty-related descriptors, taken from our online Cosmetics & Toiletries Bench Reference.
Finally, the ebook presents a formulary of examples incorporating silicones for clean beauty concepts; additional ingredients, formulas and articles on this subject are available through our free magazine, website, directory and multimedia channels. Download the free Clean Beauty Ebook today.