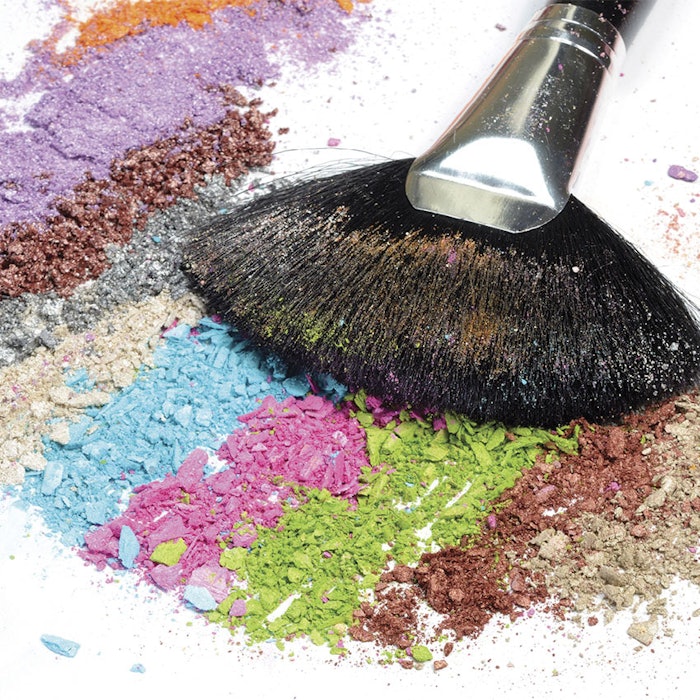 The information in this article was adapted with permission from content reported by Global Cosmetic Industry.1, 2
In North America, the multi-faceted color cosmetics market is valued at $15.7 billion and, according to Euromonitor, the segment is forecasted to expand with a CAGR of 3.4% from 2016 through 2020. What products are driving this expansion? Those with sensory cues and hues that give a nod toward other categories. Following are our top five highlights.
1. Skin sensations. Like BB and CC creams, color primers have crossed over from skin care, bringing with them sensory cues that claim to "instantly cool and recharge skin."
Texture-shifting products are also hot. These evolve from one state to another, such as from a foam to a liquid, or cream or oil to a powder. Recent analysis from Mintel notes that a focus on texture can improve the consumer's experience of other traits; for example, moisturization. Such products might incorporate jellies and waters to improve spreadability and absorption.
2. Illuminating natural beauty. K-beauty has been a big influencer for natural-looking beauty, taking the shape of wildly popular cushion compacts as well as skin highlighters/illuminators, which have also spiked in popularity. In fact, Mintel reports the top global product claim for eye cosmetics is brightening/illuminating.
3. Freshly applied. Color cosmetics have even taken cues from hair care with setting sprays for makeup, to capture that just-applied look. These products must dry quickly after application and provide a comfortable film that gives a smooth, yet not-too-shiny finish.
4. Application techniques. Trends in color are about texture and format, but also application technique. Eye shadows, for example, should be easy to apply by brush or with a finger. Their textures are preferably soft and silky to the touch, and easily blendable without any residue.
5. Matte effects. Matte lipstick in bold, bright shades is another hot cosmetic trend. Many of the latest launches are long-wearing liquids that promise comfortable wear, all day.
Matte lipsticks can be a balancing act because they often cause dryness, and cracked and chapped lips. On the other hand, emollients and butters that can moisturize lips compromise the desired matte effect, leaving a shiny finish.
Therefore, it is important to consider both the product's matteness and comfort, which paves the way for new matte lipstick launches.
Visual Impact
The color cosmetic category is a great place to introduce new formats and textures to meet increasing demand. Because behind every color cosmetic trend is the need for a great-feeling product that applies easily and delivers the powerful visual effects consumers want.
References
gcimagazine.com/marketstrends/segments/cosmetics/6-Innovative-Emerging-Cosmetics-Trends-399352771.html
gcimagazine.com/business/rd/ingredients/Transformational-Beauty-Products-Are-the-Future-390723412.html