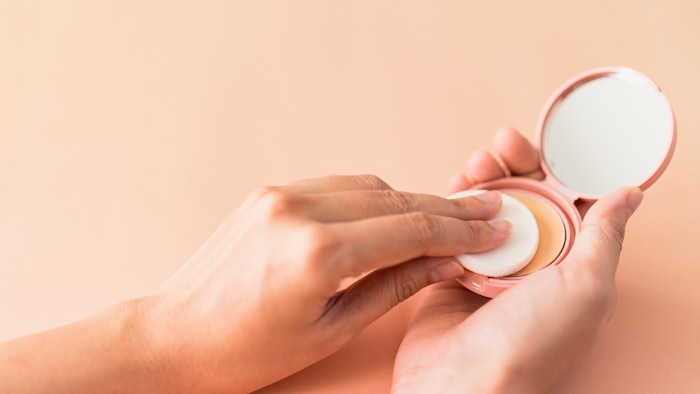 The nonprofit GMO/Toxin Free USA has filed a suit against CoverGirl Cosmetics and parent company Coty Inc. for "environmental and product safety misrepresentations due to indicators of toxic PFAS [per- and polyfluoroalkyl substances] chemicals found in their products." The complaint references the CoverGirl TruBlend Pressed Powder product.
Toxin Free USA Executive Director Diana Reeves stated, "Based on the level of organic fluorine detected in our investigation, a worrying level of PFAS is likely present in CoverGirl pressed powder. Spreading this product on the skin can potentially result in harm from exposure to this dangerous class of chemicals. If regulators and politicians can't get their acts together, then it's up to us to hold these corporations accountable. We can't let businesses hoodwink consumers by using safety and environmental sustainability claims that aren't true."
In relation, Toxin Free USA highlighted the prevalence of PFAS indicators in cosmetics by citing a study published in June 2021 in Environmental Science & Technology. Therein, 231 cosmetic products purchased in the United States and Canada were screened for total fluorine per the Environmental Protection Agency's proposed analytical method. Results identified high total fluorine concentrations in some products and in the 29 further evaluated, the most commonly detected PFAS were 6:2 and 8:2 fluorotelomer compounds including alcohols, methacrylates and phosphate esters. The authors noted these are precursors to perfluorinated carboxylic acids (PFCAs), which are known to be environmentally mobile and to cause adverse effects in both humans and the environment.
As Cosmetics & Toiletries (C&T) previously reported, of the eight product categories tested in the study, those having the highest total fluorine content included foundations, mascaras and lip products. The TruBlend product named in the suit was not included in the June 2021 study. Rather, according to Toxin Free USA, the product was tested by a third party accredited laboratory, which identified organic fluorine content therein.
"CoverGirl represents itself as being a champion of 'open, inclusive and sustainable beauty,'" the nonprofit reported. "Coty, CoverGirl's parent corporation, publishes a sustainability report that touts its environmental initiatives along with its 'Product Safety' strategy. Toxin Free USA believes that consumers are being misled as products containing toxic PFAS chemicals are neither sustainable nor safe."
According to Toxin Free USA, "PFAS (perfluoroalkyl and polyfluoroalkyl substances) are a class of over 8,000 man-made chemicals, and include PFOA, PFOS and GenX. PFAS chemicals are also known as 'forever chemicals' because they don't break down in the environment. These chemicals can bioaccumulate in bodies over time and have been linked to cancer, autoimmune disease, thyroid disease, liver damage, decreased fertility, birth defects, hormone disruption, obesity and decreased immunity."
The CoverGirl suit, filed under the D.C. Consumer Protection Procedures Act by the nonprofit's counsel, Richman Law & Policy, seeks "to end Coty/CoverGirl's deceptive marketing of its cosmetic products as 'sustainable' or 'safe.'"