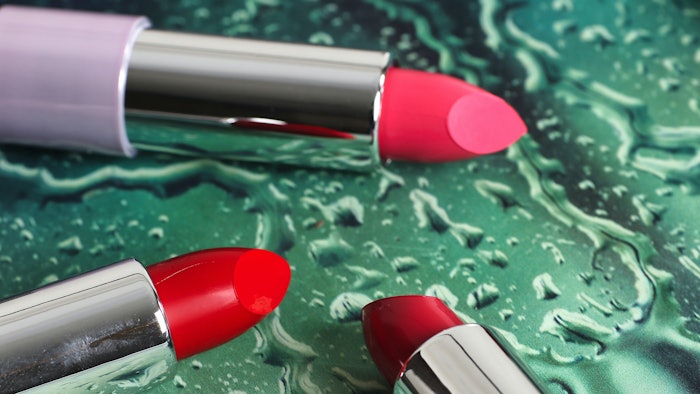 The latest U.S. Food and Drug Administration (FDA) report on the certification of color additives covers April 1-June 30, 2022. As described previously, the color certification program is mandated by the U.S. Congress for the FDA's enforcement of specifications (by batch certification) of color additives for foods, drugs, cosmetics and medical devices. Following are the numbers—along with a commentary by industry expert Kelly Dobos about what they reveal, which to some extent contradicts trend agency predictions for lipsticks.
See related: FDA's Quarterly Additives Report: Red Alert
Certification Totals by Category
Current category totals are:
146,757.69 pounds of D&C Straights
142,963.6 pounds of D&C Lakes
1,801.01 pounds of D&C Repacks
5,345,226.1 pounds of FD&C Straights
1,874,673.98 pounds of FD&C Lakes
17,002.49 pounds of FD&C Repacks
50,981.45 pounds of External Straights
2,333.2 pounds of External Repacks 
Taken together, the total of all certified additives amounted to 7,581,859.91 pounds.
See archived: Delivering High Moisturization from Lipstick
Between the Lines
"Many trend agencies and news outlets are reporting an increase in lipstick sales for 2022," writes industry expert Kelly Dobos, "but those numbers may not paint the full picture." 
She explains, "Because of their primary hues, excellent stability and cost position, Red 6 and 7 Lakes are the most commonly used color additives in lipsticks. These two pigments alone represent about 50% of the total pounds of D&C lakes certified in typical years. The FDA requires these color additives to be certified—that is, tested against specifications by the FDA's own labs—prior to use in marketed cosmetics. Any cosmetics produced outside the U.S. for sale within the U.S. must also use these FDA certified pigments.
"The FDA reports the total pounds of all color additives certified on a quarterly basis and as raw material inputs, these numbers act as a leading indicator of cosmetic manufacturing. The current upswing in 2022 lip color sales does represent growth over 2021 but it is notable that the total amount of red pigments certified in 2021 was the lowest volume certified since 2012.
"The sell through numbers likely include production from inventories of pigments that were purchased and/or manufactured in years prior. And, based on the data trends at this point, the amount of all D&C color lakes certified for 2022 may still not reach the level reported in 2012—the first year for which certification data was reported online and the lowest yearly total within that data set.
"While the overall trend for color cosmetics has been positive, a return to pre-pandemic levels appears to be progressing slowly. The final quarterly report for 2022 will be posted in early October." Following is a compilation of data for the total pounds of reds certified over the past ten years.
Certification Trend for Red Additives, 2012-2022