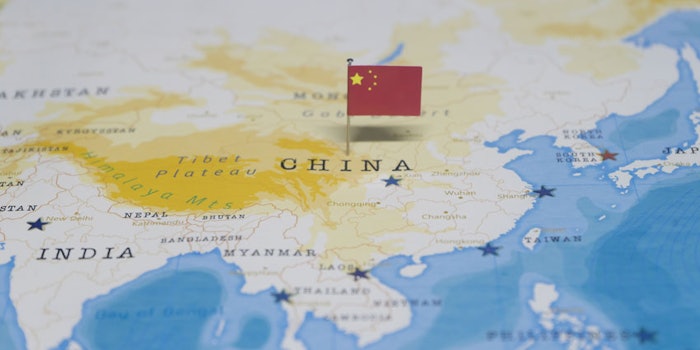 China's National Medical Products Association (NMPA) has released two key final cosmetic regulations. It also confirmed the terms for general cosmetics exempted from animal testing.
According to ChemLinked, after two rounds of public consultation, on Mar. 4, 2021, two regulations were finalized on the registration/notification dossiers of cosmetics and new cosmetic ingredients. These include:
For cosmetics, the "Provisions for Management of Cosmetic Registration and Notification Dossiers;" and
For ingredients, the "Provisions for Management of New Cosmetic Ingredient Registration and Notification Dossiers."
Beginning on May 1, 2021, companies should begin to submit registration and notification dossiers in accordance with the requirements specified therein.
See related: China Finalizes Cosmetic Supervision Legislation
Provision 1: Cosmetics
The detailed documents finalized for cosmetic registration and notification, per ChemLinked, include:
The "Cosmetic Registration and Notification Information Form" and related documents;
Information on the product name;
Product formula;
Product executive standard;
Product label sample manuscripts;
Product testing report; and
Product safety assessment documents.
In addition, as noted, imported general cosmetics can be exempted from animal testing from May 1, 2021, under certain conditions (see below). The regulation further clarifies the information required for annual reports of general cosmetics, which includes:
General situation of product production and import, and the suspension of production during the period; and
Self-inspection status of product compliance with laws and regulations, mandatory national standards, and technical norms.
Lastly, for imported products that are specifically designed for the Chinese market, the following documents shall be submitted:
Explanatory documents for formula design according to skin types and consumer demands of Chinese consumers; and
Documents of consumer testing research or human trials conducted on selected Chinese consumers in China.
Provision 2: Ingredients
Detailed documents for new cosmetic ingredients (NCI) registration and notification are were finalized and, according to ChemLinked, include:
The name, address and contact information of the registrant, notifier and domestic responsible person;
New cosmetic ingredient R&D report;
Research documents on the NCI preparation techniques, stability and quality control standards;
Safety assessment documents for NCI; and
Technical requirements (available for public).
Three additional toxicological tests are required for high-risk, relative high risk NCI and NCI with high biological activity first used at home and abroad: 1) teratogenicity test, 2) chronic toxicity/carcinogenicity combined test and 3) the long-term human trial safety test.
Lastly, animal testing alternative method data for NCI registration/notification can be conditionally accepted.
If the animal testing alternative methods (not included in the Safety and Technical Standards for Cosmetics but validated by an international authoritative alternative method validation agency) are used for toxicological tests for NCI, the evidence proving that the method can accurately predict the toxicological endpoint should be submitted.
Appropriate Integrated Approaches to Testing and Assessment (IATA) should be selected according to the ingredient's structural characteristics and specific toxicological endpoints to evaluate the NCI safety.
Animal Testing Exemption for General Cosmetics
As previously reported, "ordinary" or general cosmetics were proposed to be exempted from the animal testing mandate under specific conditions. The NMPA finalized the instructions for these cosmetics on March 4, 2021, in its "Provisions for Management of Cosmetic Registration and Notification Dossiers." Per ChemLinked, this exemption will be permitted as of May 1, 2021.
See related: Is China Ending Pre-market Animal Testing for Cosmetics?
The two preconditions and three exceptions for this exemption were previously outlined. Only by meeting two conditions can companies apply for the animal testing exemption:
General cosmetic manufacturers must have obtained the GMP certificates issue by the competent authority of the country (region) where they are located; and
Safety assessment results must fully confirm the safety of products.
If one of the following conditions applies, cosmetic companies are still required to conduct animal testing:
Products claim to be used for infants and children;
Products use new cosmetic ingredients during their 3 yr of required monitoring; and
The notifier/​responsible person/​manufacturer is listed as a key supervision target according to the results of the quantitative rating system established by NMPA.
A Note on GMP Certificates
The required GMP certificates previously were viewed as a potential stumbling block to this exemption. ChemLinked commented, "some overseas cosmetic companies may face a barrier for the animal testing exemption as they may fail to submit the GMP certificate granted by the local government cosmetic authority. In some regions, like the EU, the government cosmetic authority won't issue an official GMP certificate due to the local cosmetic regulatory scheme. The GMP certificates that can be provided are generally issued by cosmetic associations or international standardization organizations."
However, ChemLinked reports the official GMP certificates may not be as much of a barrier, now. This is because in January, France's ANSM (National Agency for the Safety of Medicines and Health Products) health authority, announced it would issue the GMP certificates for local cosmetic manufacturers and has already launched an online platform for them to obtain the certificates. In relation, more countries in Europe are considering following suit.
"The UK government is working closely with industry to create a certification system that will satisfy new Chinese regulations on cosmetics, following the removal of the requirement for animal testing on imported cosmetics," said a UK Department of International Trade spokesperson, according to ChemLinked. The authorities are also said to be connecting with China's competent authority to confirm if their GMP certificates can be recognized.