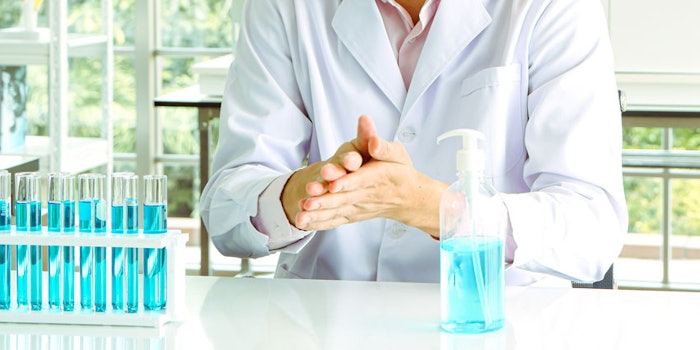 In an appeal to the U.S. Food and Drug Administration (FDA), the American Cleaning Institute (ACI) and Consumer Healthcare Products Association (CHPA) urged the agency to withdraw its emergency guidance allowing non-traditional manufacturers to produce hand sanitizers, citing safety concerns.
The ACI and CHPA wrote, "In the early days of the COVID-19 pandemic, FDA issued its Guidance for Industry: Temporary Policy for Preparation of Certain Alcohol-Based Hand Sanitizer Products During the Public Health Emergency (COVID-19), to help meet unprecedented demand, allowing non-traditional sanitizer companies to manufacture these FDA-regulated products. While FDA's temporary guidance provides instructions for developing hand sanitizers, the newer manufacturers were not required to meet FDA's typical manufacturing requirements which have historically applied to companies that traditionally make the products to ensure quality and safety."
See related: FDA Issues More Sanitizer Warnings, Posts Microbe-related Recalls
"[The] FDA issued this temporary policy in the early days of the COVID-19 pandemic in order to meet the huge increase in market demand for hand sanitizers to help address the COVID-19 public health emergency," wrote ACI and CHPA, in a letter to FDA. "We appreciate the actions of all manufacturers to provide hand sanitizer products to support peak consumer and health system demand during the pandemic."
However, they added, "We note that FDA has had to address ongoing quality and safety issues associated with many of the products manufactured under the temporary policy, likely due to lack of compliance with Current Good Manufacturing Practice requirements (cGMPs). We believe that it is now appropriate to withdraw the guidance and return to manufacturing only by those firms in full compliance with applicable requirements, including cGMPs."
See related: How NOT to Formulate Hand Sanitizers
Furthermore, the groups added the hand sanitizer supply has now stabilized to meet demand and the market has now become oversaturated with sanitizers manufactured under the temporary policy.
"ACI and CHPA recommend that [the] FDA promptly withdraw the temporary policy and require alcohol-based hand sanitizer manufacturing that is not in compliance with cGMPs and other applicable requirements to stop, allowing a reasonable period for manufacturers marketing under the temporary guidance to finish out their pre-existing supply contracts." Furthermore, they recommend that products commercially available prior to the withdrawal of the temporary policy be permitted to remain in distribution to allow distributors time to clear current inventories.