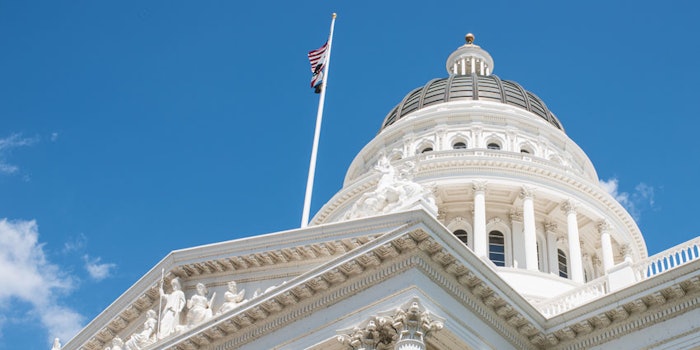 Assembly Bill 2762, the 'Toxic-free Cosmetics' Act, has been signed into law by State of California Governor Gavin Newsom, according to a report by the Environmental Working Group (EWG), which joined efforts with the Personal Care Products Council (PCPC) in support of the bill.
As previously reported, the law provides that beginning on January 1, 2025, "no person or entity shall manufacture, sell, deliver, hold or offer for sale, in commerce any cosmetic product that contains any of the following [12] intentionally added ingredie­nts..." (Note: the law does provide for unavoidable trace contaminants that occur during manufacturing.) 
12 Ingredients of Concern
Dibutyl phthalate (CAS no. 84-74-2)
Diethylhexyl phthalate (CAS no. 117-81-7)
Formaldehyde (CAS no. 50-00-0)
Paraformaldehyde (CAS no. 30525-89-4)
Methylene glycol (CAS no. 463-57-0)
Quaternium-15 (CAS no. 51229-78-8)
Mercury (CAS no. 7439-97-6)
Isobutylparaben (CAS no. 4247-02-3)
Isopropylparaben (CAS no. 4191-73-5)
m-Phenylenediamine and its salts (CAS no. 108-45-2)
o-Phenylenediamine and its salts (CAS no. 95-54-5)
The following per- and polyfluoroalkyl substances (PFAS) and their salts:
(A) Perfluorooctane sulfonate (PFOS); heptadecafluorooctane-1-sulfonic acid (CAS no. 1763-23-1)
(B) Potassium perfluorooctanesulfonate; potassium heptadecafluorooctane-1-sulfonate (CAS no. 2795-39-3)
(C) Diethanolamine perfluorooctane sulfonate (CAS 70225-14-8)
(D) Ammonium perfluorooctane sulfonate; ammonium heptadecafluorooctanesulfonate (CAS 29081-56-9)
(E) Lithium perfluorooctane sulfonate; lithium heptadecafluorooctanesulfonate (CAS 29457-72-5)
(F) Perfluorooctanoic acid (PFOA)(CAS no. 335-67-1)
(G) Ammonium pentadecafluorooctanoate (CAS no. 3825-26-1)
(H) Nonadecafluorodecanoic acid (CAS no. 355-76-2)
(I) Ammonium nonadecafluorodecanoate (CAS no. 3108-42-7)
(J) Sodium nonadecafluorodecanoate (CAS no. 3830-45-3)
(K) Perfluorononanoic acid (PFNA)(CAS no. 375-95-1)
(L) Sodium heptadecafluorononanoate (CAS no. 21049-39-8)
(M) Ammonium perfluorononanoate (CAS no. 4149-60-4)
Background
A related California Assembly Floor Analysis regarding the proposed Act (now law) offers the following explanatory background: "Cosmetic products are sold to consumers across California, including to children who are still in the formative years of development. These products are used as part of daily beauty and cleansing routines, often times on the skin's most sensitive areas, like the face, eyelids, and lips.
"Cosmetic products are most heavily used by women, including those of childbearing age, increasing the likelihood of exposing mothers, fetuses and nursing children to substances that can cause cancer and reproductive toxicity. For these reasons, it is critically important that cosmetic products are safe, properly labeled, and free of contamination."
It continues, "Neither the federal Food and Drug Administration (FDA) nor [the California Department of Public Health] (CDPH) require pre-market safety testing, review or approval of cosmetic products. Under both the federal Food, Drug and Cosmetic Act and the state Sherman Food, Drug and Cosmetic Act, cosmetics and their ingredients are not required to be approved before they are sold to the public, and the FDA does not have the authority to require manufacturers to file health and safety data on cosmetic ingredients or to order a recall of a dangerous cosmetic product."
The analysis adds that this bill, AB 2762 (now a law), bans a list (see above) of specified ingredients from cosmetic products consistent with the European Union's (EU) Annex II of regulation No. 1223/2009, which lists substances prohibited in cosmetic products sold in the EU. All of these ingredients have been banned in the EU under Annex II.
Update: Joint Efforts for Product Confidence
"We are pleased to have joined efforts with EWG and many other organizations on this important piece of legislation," said PCPC President and CEO Lezlee Westine, according to an EWG report, in response to the bill's passing. "Californians deserve a law that provides consumers with continued confidence in the products they use and trust every day."
She continued, "We all agree that this bill helps protect public health in California while safeguarding the jobs of the more than the 415,000 Californians who work for the overall personal care industry, and the more than $28 billion contributed to the state's economy."
The EWG adds the law was jointly authored by Assemblymembers Al Muratsuchi (D-Torrance), Bill Quirk (D-Hayward) and Buffy Wicks (D-Oakland). Also, Black Women for Wellness, Breast Cancer Prevention Partners, CalPIRG and EWG were cosponsors. Furthermore, other public health, environmental, consumer protection and faith-based organizations were integral to this joint effort.