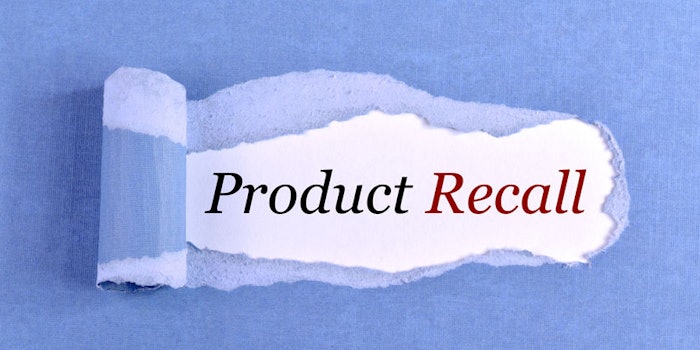 As it stands, cosmetic products do not fall under the jurisdiction of the U.S. Food and Drug Administration (FDA); although their safety must be ensured. As such, the FDA oversees voluntary recalls, which it considers one of its "most important safety tools." To assist companies in planning and executing a recall, the administration announced it is drafting new guidance documents.
"When it comes to recalls and how quickly they are executed, consumers depend on the FDA to protect their health, and we work quickly because it could minimize consumer exposure to a health risk and prevent consumers from being injured," the agency wrote. "We know that in order for a recall to be effective and timely, it's crucial that companies be prepared in advance to take all necessary steps for when a recall is initiated."
The draft guidance, "Initiation of Voluntary Recalls Under 21 CFR Part 7, Subpart C," presents recommendations in three key areas: training, record keeping and procedures.
Training
The guidance recommends that companies ready their staff for potential recall situations, including what their responsibilities are during a recall; establishing a recall communication plan; and identifying FDA reporting requirements.
Record Keeping
Thorough and organized record-keeping is especially important to improve recalls through product traceability. Modern approaches such as blockchain technology can be leveraged in this regard. The guidance also advises companies on the importance of properly coding products and maintaining distribution records.
Procedures
Written recall initiation procedures are recommended to help minimize delays and reduce the amount of time a defective or potentially harmful product is on the market. These procedures should clearly describe appropriate actions to take when the decision is made to initiate a recall. This will help ensure that necessary actions are not overlooked and could minimize the disruptive effect of a recall on company's operations.
Continued Support
Furthermore, the agency has adopted new policies to rapidly post new recalls to the FDA's Enforcement Report; i.e., the web listing of all recalls monitored by the FDA. According to the firm, the overall goal of these efforts is to quickly execute recalls and reach consumers with timely information to limit the impact of potentially dangerous products.
Moving forward, the agency will continue efforts to improve recalls and will encourage the use of new technologies and other tools to assist in those efforts. The FDA will also continue to refine and improve its ability to quickly communicate information to the public on recall situations.
For more information, read the complete FDA statement.