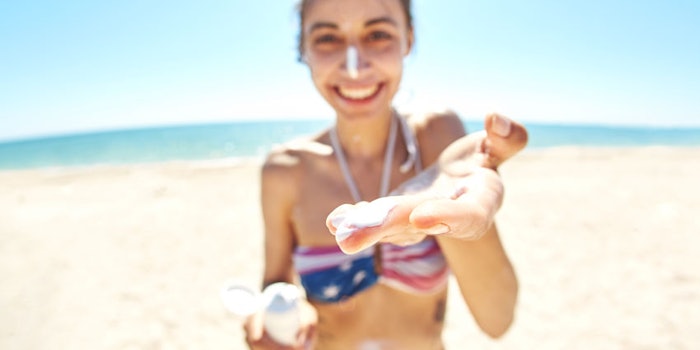 The U.S. Food and Drug Administration (FDA) is proposing updates to its regulatory requirements that will impact many U.S.-marketed sunscreens. According to the firm, this action aims to bring nonprescription, over-the-counter (OTC) sunscreens that make unapproved claims up to date with the latest science.
The proposed rule, which will officially be published for comment on Feb. 26, 2019, addresses sunscreen active ingredient safety, dosage forms, and sun protection factor (SPF) and broad-spectrum requirements. It also proposes updates to how products are labeled to make key product information easier for consumers to identify.
Proposed Changes
Following are the proposed updates:
More data on actives. Of the 16 currently marketed active ingredients, two, i.e, ZnO and TiO2, are generally recognized as safe (GRASE) for use in sunscreens; two others, PABA and trolamine salicylate, are not GRASE for sunscreens. The remaining 12 have insufficient data to make a positive GRASE determination at this time. To address these 12 ingredients, the FDA is seeking additional data.
Review of powders and other product forms. Dosage forms that are GRASE for use as sunscreens include: sprays, oils, lotions, creams, gels, butters, pastes, ointments and sticks. Powders are proposed to be eligible for inclusion in the monograph but additional data is requested.
Further, wipes, towelettes, body washes, shampoos and other dosage forms are proposed to be categorized as new drugs since the FDA has not received data showing they are eligible for inclusion in the monograph.
Raising the SPF max. The FDA is proposing an increase in the maximum allowed SPF value on sunscreen labels to be SPF 60+; up from the current SPF 50+.
Broader-spectrum ratio requirements. The firm proposes sunscreens with an SPF value of 15 or higher should also provide broad spectrum protection. Further, for broad-spectrum products, as SPF increases, the magnitude of protection against UVA radiation also should increase.
New, more prominent labeling. New sunscreen product label requirements are suggested, in order to assist consumers in more easily identifying key information; for example: listing active ingredients on the front of the package, to bring sunscreens in line with other OTC drugs; a notification on the front label for consumers to read the skin cancer/skin aging alert for sunscreens that help prevent skin cancer; and revised formats for SPF, broad spectrum and water resistance statements.
Updates to testing and record-keeping. The firm will clarify expectations for testing and record-keeping by entities that conduct sunscreen testing to ensure compliance.
Sunscreen + insect repellents. Products that combine sunscreens with insect repellents will not be considered as GRASE.
"Broad spectrum sunscreens with SPF values of at least 15 are critical to the arsenal of tools for preventing skin cancer and protecting the skin from damage caused by the sun's rays, yet some of the essential requirements for these preventive tools haven't been updated in decades," said FDA Commissioner Scott Gottlieb, M.D.
"Since the initial evaluation of these products, we know much more about the effects of the sun and about sunscreen's absorption through the skin. Sunscreen usage has changed, with more people using these products more frequently and in larger amounts. At the same time, sunscreen formulations have evolved as companies innovated. Today's action is an important step in the FDA's ongoing efforts to take into account modern science to ensure the safety and effectiveness of sunscreens," he added.
For more information, visit the FDA website.